Page 6 - bowman1988yearbook
P. 6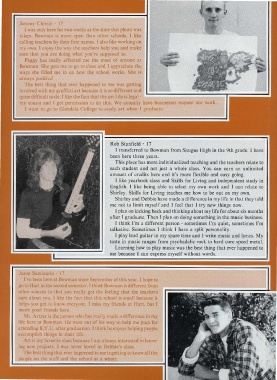 I transferred to Bowman from Saugus.High in the 9th grade.I have
                                             been  here three years.
                                               This place has more individualized teaching and the teachers relate to
                                             each student and  not just a whole class. );;ou  can earn an unlimited
                                             amount of credits here and it's more flexible  and  easy  going.
                                               I like yearbook class and Skills for  Living and independent study in
                                             English.I like  being  able to  select my own work and I can relate  to
                                             Shirley. Skills for  Living teaches  me how  to  be out on  my own.
                                               Shirley and>Debbie havemade a difference in mylife in that they told
                                             me not to limit myself and I  feel  thatI try new things now.
                                               I plan on kicking back and thinking about mylife for about six months
                                             after I graduate. Then I plan on doing somethingin the music business.
                                               I think I'm a  different person - sometimes I'm quiet, sometimes I'm
                                             talkative.  Sometimes I  think I  have a  split personality.
                                               I play lead guitar in my spare time and I write music and lyrics. My
                                             taste in music ranges from psychadelic rock to hard core speed metal.
                                               Learning how to play music was the best thing that ever happened
                                             me becausaeI  can 1 express myself without words.