Page 7 - bowman1988yearbook
P. 7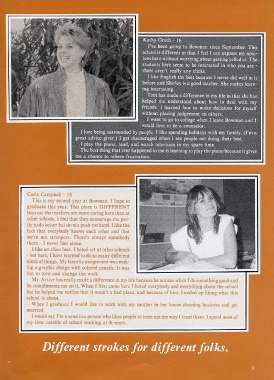 Corie Campbell - 18
              This is  my second year at Bowman.  I hope to
            graduate this  year.  This place is  DIFFERENT
            because the teachers are more caring here than at
            other schools. I feel that they encourage me gen-
            tly to do better but do not push too hard. I like the
            fact  that everybody  knows  each other and  that
            we're  not  strangers.  There's  always  somebody
            there - I  never feel  alone.
              I like art class best. I hated art at other schools
            - but here, I have learned to do so manydifferent
            kinds of things. My favorite assignment was mak-
           ing a graphic design with colored pencils. It was
            fun  to  turn and change the work.
              Mr. Artzer has really made a difference in my life because he notices when I do something good and
            he compliments me on it. When I first came here I hated everybody and everything about the school
            but he helped me realize that it wasn't a bad place, and because of him, I ended up liking what this
            school  is  about.
             When  I  graduate I  would  like  to work with my mother in her house cleaning  business and get
            married.
             I would say I'm a sensitive person who likes people to treat me the way I treat them. I spend most of
           my  time outside of school working at K-mart.