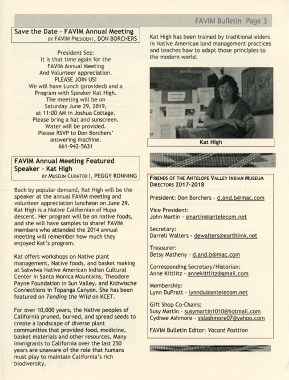 FAVIM  Bulletin  Page  3

       Save the Date - FAVIM Annual Meeting
                     BY FAVIM PRESIDENT,  DON  BORCHERS         Kat High has been trained by traditional elders
                                                                in Native American land management practices
                                                                and teaches how to adapt those  principles to
                         President Sez:
                                                                the modern world.
                  It is that time again for the
                     FAVIM Annual Meeting
                  And Volunteer appreciation.
                        PLEASE JOIN  US!
             We will have Lunch  (provided) and a
                Program with Speaker Kat High.
                    The meeting will be on
                    Saturday June 29,  2019,
                at 11 :00 AM in Joshua Cottage.
               Please bring a hat and sunscreen.
                    Water will be  provided.
                 Please RSVP  to Don  Borchers'
                      answering machine.
                          661-942-5631


       FAVIM Annual Meeting Featured
       Speaker - Kat High
                   BY MUSEUM CURATOR I,  PEGGY RONNING
                                                                FRIENDS OF THE ANTELOPE VALLEY  INDIAN MUSEUM
                                                                DIRECTORS  2017-2018
       Back by popular demand, Kat High will be the
       speaker at the annual FAVIM meeting and                  President:  Don  Borchers - d.and.b@mac.com
       volunteer appreciation luncheon on June 29.
       Kat High is a Native Californian of Hupa                 Vice President:
       descent.  Her program will be on  native foods,          John Martin - smartin@antelecom.net
       and she will have samples to share!  FAVIM
       members who attended the 2014 annual                     Secretary:
       meeting will remember how much they                      Darrell Walters - dewalters@earthlink.net
       enjoyed Kat's program.
                                                                Treasurer:

       Kat offers workshops on  Native plant                    Betsy Matheny - d.and.b@mac.com
       management,  Native foods,  and  basket making
       at Satwiwa Native American Indian Cultural               Corresponding Secretary/ Historian:
       Center in Santa Monica Mountains, Theodore               Anne Kittlitz - annekittlitz@gmail.com
       Payne Foundation in Sun  Valley, and Kidiwische          Membership:
       Connections in Topanga Canyon.  She  has been
                                                                Lynn  Du Pratt - lynndu@antelecom.net
       featured on  Tending the Wild on  KCET.
                                                                Gift Shop Co-Chairs:
       For over 10,000 years,  the Native peoples of            Susy Martin - susymartin 101 O@hotmail.com
       California pruned,  burned, and spread seeds to          Cydnee Ashmore  - sidashmore07@yahoo.com
       create a landscape of diverse plant
       communities that provided food,  medicine,               FAVIM Bulletin Editor: Vacant Position
       basket materials and other resources. Many
       immigrants to California over the last 250
       years are unaware of the role that humans
       must play to maintain California's rich
       biodiversity.