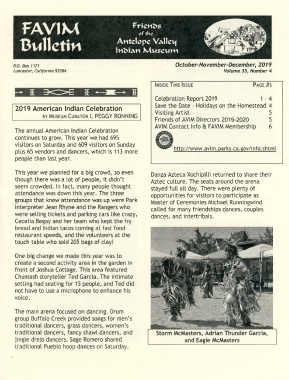 P.O.  Box  1171                                                     October-November-December, 2019
       Lancaster,  California 93584                                                            Volume 35, Number 4


                                                                  INSIDE THIS  ISSUE                       PAGE #s

                                                                  Celebration Report 2019                     1 - 4
                                                                  Save the Date - Holidays on  the Homestead  4
        2019 American  Indian Celebration
                                                                  Visiting Artist                                 5
                   BY MUSEUM CURATOR I,  PEGGY RONNING
                                                                  Friends of AVIM Directors 2019-2020             5
                                                                  AVIM Contact Info & FAVIM Membership            6
       The annual American  Indian Celebration
       continues to grow. This year we had 695
       visitors on  Saturday and 609 visitors on  Sunday
                                                                          http://www.avim.parks.ca.gov/info.shtml
       plus 65 vendors and dancers, which is 113 more
       people than  last year.

       This year we planned for a big crowd,  so even
                                                                Danza Azteca Xochipilli returned to share their
       though there was a lot of people,  it didn't             Aztec culture. The seats around the arena
       seem crowded.  In fact,  many people thought             stayed full all day. There were plenty of
       attendance was down this year. The three                 opportunities for visitors to participate as
       groups that knew attendance was up were Park
                                                                Master of Ceremonies Michael Runningwind
       Interpreter Jean Rhyne and the Rangers who               called for many friendships dances,  couples
       were selling tickets and  parking cars like crazy,       dances,  and intertribals.
       Cecelia Begay and  her team who kept the fry
       bread and  Indian tacos coming at fast food
       restaurant speeds,  and the volunteers at the
       touch table who sold 205  bags of clay!

       One big change we made this year was to
       create a second activity area in the garden in
       front of Joshua Cottage. This area featured
       Chumash  storyteller Ted Garcia. The intimate
       setting had seating for 15 people,  and Ted did
       not have to use a microphone to enhance his
       voice.


       The main arena focused on  dancing.  Drum
       group Buffalo Creek provided songs for men's
       traditional dancers,  grass dancers, women's
       traditional dancers,  fancy shawl dancers,  and             Storm McMasters, Adrian Thunder Garcia,
       jingle dress dancers.  Sage  Romero shared                             and  Eagle McMasters
       t raditional Pueblo hoop dances on  Saturday.