Page 2 - ra_annualreport2016
P. 2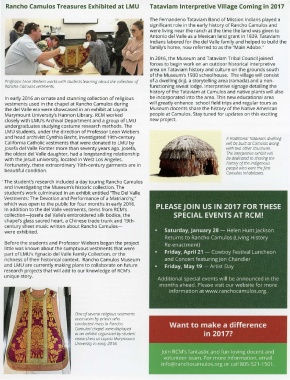 Rancho Camulos Treasures Exhibited at LMU                   Tataviam Interpretive Village Coming in 2017


                                                                The Fernandeno Tataviam Band of Mission Indians played a
                                                                significant role in the early history of Rancho Camulos and
                                                                were living near the ranch at the time the land was given to
                                                                Antonio del Valle as a Mexican land grant in 1839. Tataviam
                                                                Indians labored for the del Valle family and helped to build the
                                                                family's home, now referred to as the "Main Adobe."

                                                                In 2016, the Museum and Tataviam Tribal Council joined
                                                                forces to begin work on an outdoor historical interpretive
                                                                area on Tataviam history and culture on the grounds south
                                                                of the Museum's 1930 schoolhouse.  The village will consist
   Professor Leon Wiebers works with students learning about the collection of   of a dwelling (kij), a storytelling area (ramada) and a non-
   Rancho Camulos vestments.                                    functioning sweat lodge. Interpretive signage detailing the
                                                                history of the Tataviam at Camulos and native plants will also
   In early 2016 an ornate and stunning collection of religious   be incorporated into the area. This new educational area
   vestments used in the chapel at Rancho Camulos during        will greatly enhance  school field trips and regular tours as
   the del Valle era were showcased in an exhibit at Loyola     Museum docents share the history of the Native American
   Marymount University's Hannon Library. RCM worked            people at Camulos. Stay tuned for updates on this exciting
   closely with LMU's Archival Department and a group of LMU    new project.
   undergraduates studying costume research methods. The
   LMU students, under the direction of Professor Leon Wiebers
   and head archivist Cynthia Becht, investigated 19th-century                                 A traditional Tataviam dwelling
   California Catholic vestments that were donated to LMU  by                                   will be built at Camulos along
   Josefa del Valle Forster more than seventy years ago. Josefa,                                with two other structures.
   the oldest del Valle daughter, had a longstanding relationship                               The interpretive exhibit will
   with the Jesuit university, located in West Los Angeles.                                     be dedicated to sharing the
                                                                                                history of the indigenous
   Fortunately, these extraordinary 19th-century garments are in
   beautiful condition.                                                                        people who were the first
                                                                                                Camulos inhabitants.
   The student's research included a day touring Rancho Camulos
   and investigating the Museum's historic collection. The
   student's work culminated in an exhibit entitled "The Del Valle
   Vestments: The Devotion and Performance of a Matriarchy,"
   which was open to the public for four months in early 2016.    PLEASE JOIN US IN 2017 FOR THESE
   In addition to the del Valle vestments, items from RCM's
   collection-Josefa del Valle's embroidered silk bodice, the             SPECIAL EVENTS AT RCM!
   chapel's glass sacred heart, a Chinese trade trunk and 19th-
   century sheet music written about Rancho Camulos-
   were exhibited.                                                •   Saturday, January 28 - Helen Hunt Jackson
                                                                      Returns to Rancho Camulos (Living History
   Before the students and Professor Wiebers began the project        Re-enactment)
   little was known about the sumptuous vestments that were
   part of LMU's Ygnacio del Valle Family Collection, or the      •   Friday, April 21  - Cowboy Festival Luncheon
   richness of their historical context.  Rancho Camulos Museum       and Concert featuring Jon Chandler
   and LMU are currently making plans to collaborate on future    •   Friday, May 19 - Artist Day
   research projects that will add to our knowledge of RCM's
   unique story.
                                                                   Additional special events will be announced in the
                                                                    months ahead. Please visit our website for more
                                                                        information at www.ranchocamulos.org.




                                 One of several religious vestments
                                 once worn by priests who
                                 conducted mass in Rancho
                                 Camulos' chapel were displayed
                                 at an exhibit organized by student
                                 researchers at Loyola Marymount
                                 University in early 2016.