Page 3 - ra_annualreport2016
P. 3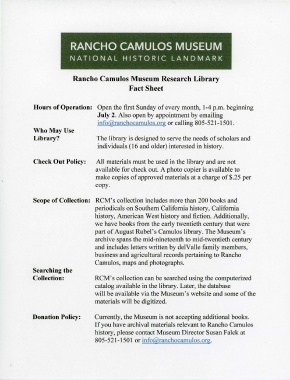 RANCHO CAMULOS MUSEUM

                              NATIONAL  HISTORIC  LANDMARK




                               Rancho Camulos Museum Research Library
                                                       Fact Sheet



               Hours of Operation:  Open the first Sunday of every month, 1-4 p.m. beginning
                                          July 2. Also open by appointment by emailing
                                          info@ranchocamulos.org or calling 805-521-1501.
               Who May Use
               Library?                  The library is designed to serve the needs of scholars and
                                          individuals ( 16 and older) interested in history.


               Check Out Policy:         All materials must be used in the library and are not
                                         available for check out. A photo copier is available to
                                         make copies of approved materials at a charge of $.25 per
                                         copy.


               Scope of Collection:  RCM' s collection includes more than 200 books and

                                         periodicals on Southern California history, California
                                         history, American West history and fiction. Additionally,
                                         we have books from the early twentieth century that were
                                         part of August Rubel's Camulos library. The Museum's
                                         archive spans the mid-nineteenth to mid-twentieth century
                                         and includes letters written by delValle family members,
                                         business and agricultural records pertaining to Rancho
                                         Camulos, maps and photographs.
               Searching the
               Collection:               RCM' s collection can be searched using the computerized
                                         catalog available in the library. Later, the database
                                         will be available via the Museum's website and some of the
                                         materials will be digitized.


               Donation Policy:          Currently, the Museum is not accepting additional books.
                                         If you have archival materials relevant to Rancho Camulos
                                         history, please contact Museum Director Susan Falck at
                                         805-521-1501 or info@ranchocamulos.org.