Page 5 - skylineranch122016
P. 5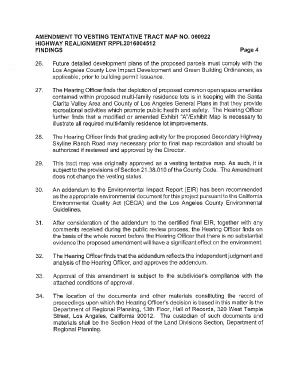 AMENDMENT TO VESTING TENTATIVE TRACT MAP NO. 060922
                HIGHWAY REALIGNMENT RPPL2016004512
                FINDINGS                                                                             Page 4


                26.    Future detailed development plans of the  proposed  parcels  must comply with  the
                       Los Angeles County Low Impact Development and Green Building Ordinances, as
                       applicable, prior to  building permit issuance.

                27.    The Hearing Officer finds that depiction of proposed common open space amenities
                       contained within  proposed  multi-family residence  lots  is  in  keeping with  the Santa
                       Clarita Valley Area and  County of Los Angeles General Plans in that they provide
                       recreational activities which promote public health and safety.  The Hearing Officer
                       further finds  that  a modified  or amended  Exhibit "A"/Exhibit  Map  is  necessary to
                       illustrate all required multi-family residence lot improvements.

                28.    The Hearing Officer finds that grading activity for the proposed Secondary Highway
                       Skyline  Ranch  Road  may necessary prior to  final  map  recordation  and  should  be
                       authorized if reviewed  and approved by the Director.


                29.    This tract map was  originally approved  as  a vesting  tentative  map.  As  such,  it  is
                       subject to the provisions of Section 21.38.010 of the County Code.  The Amendment
                       does not change the vesting status.


                30.    An  addendum to  the  Environmental  Impact Report (EIR) has  been  recommended
                       as the appropriate environmental document for this project pursuant to the California
                       Environmental  Quality  Act  (CEQA)  and  the  Los  Angeles  County  Environmental
                       Guidelines.

                31.    After consideration  of the  addendum  to  the  certified  final  EIR,  together with  any
                       comments  received  during the  public review process, the Hearing Officer finds on
                       the basis of the whole record before the Hearing Officer that there is no substantial
                       evidence the proposed amendment will have a significant effect on the environment.

                32.    The Hearing Officer finds that the addendum reflects the independent judgment and
                       analysis of the Hearing Officer, and approves the addendum.

                33.    Approval  of this  amendment  is  subject  to  the  subdivider's  compliance  with  the
                       attached conditions of approval.

                34.    The  location  of  the  documents  and  other  materials  constituting  the  record  of
                       proceedings upon which the Hearing Officer's decision is based in this matter is the
                       Department of Regional  Planning,  13th Floor,  Hall  of Records,  320  West Temple
                       Street,  Los  Angeles,  California  90012.  The  custodian  of  such  documents  and
                       materials shall  be the Section Head  of the Land  Divisions Section,  Department of
                       Regional Planning.