Page 6 - skylineranch122016
P. 6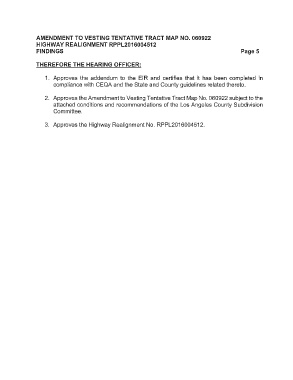 AMENDMENT TO VESTING TENTATIVE TRACT MAP NO. 060922
                HIGHWAY REALIGNMENT RPPL2016004512
                FINDINGS                                                                              Page 5

                THEREFORE THE HEARING OFFICER:


                    1.  Approves  the  addendum  to  the  EIR  and  certifies  that  it  has  been  completed  in
                       compliance with CEQA and the State and County guidelines related thereto.

                    2.  Approves the Amendment to Vesting Tentative Tract Map No. 060922 subject to the
                       attached  conditions and  recommendations of the Los Angeles County Subdivision
                       Committee.


                    3.  Approves the Highway Realignment No.  RPPL2016004512.