---
| Old Town News | Go Home to Newhall | Coming Events | Contact Us |
---
Hart Mansion's Decked Out for Christmas.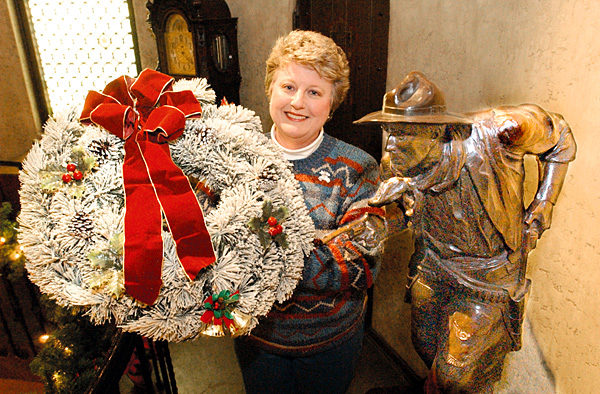 Museum administrator Janis Ashley welcomes visitors to the William S. Hart Mansion in Newhall.

Where: Wm. S. Hart Mansion,
24151 San Fernando Road, Newhall
When: Throughout December
Hours: W-F, 10a-12:30p; Sa-Su, 11a-3:30p
Cost: FREE

    The holidays have arrived at La Loma de los Vientos. The Spanish Revival mansion once owned by silent screen star William S. Hart has been decorated for the holiday season.
    William Surrey Hart, known to his fans as "Two Gun Bill," was one of the first and best of the silent movie actors. His estate is now the William S. Hart Park and Museum. Hart's personal effects and movie paraphernalia are displayed, along with native American artifacts and Western American art. these materials form a major resource for the understanding of the American West as it was perceived in the early part of the last century.

    Info: (661) 254-4584. Reservations required for groups of 10 or more.

Photos by Dan Watson / The Signal.