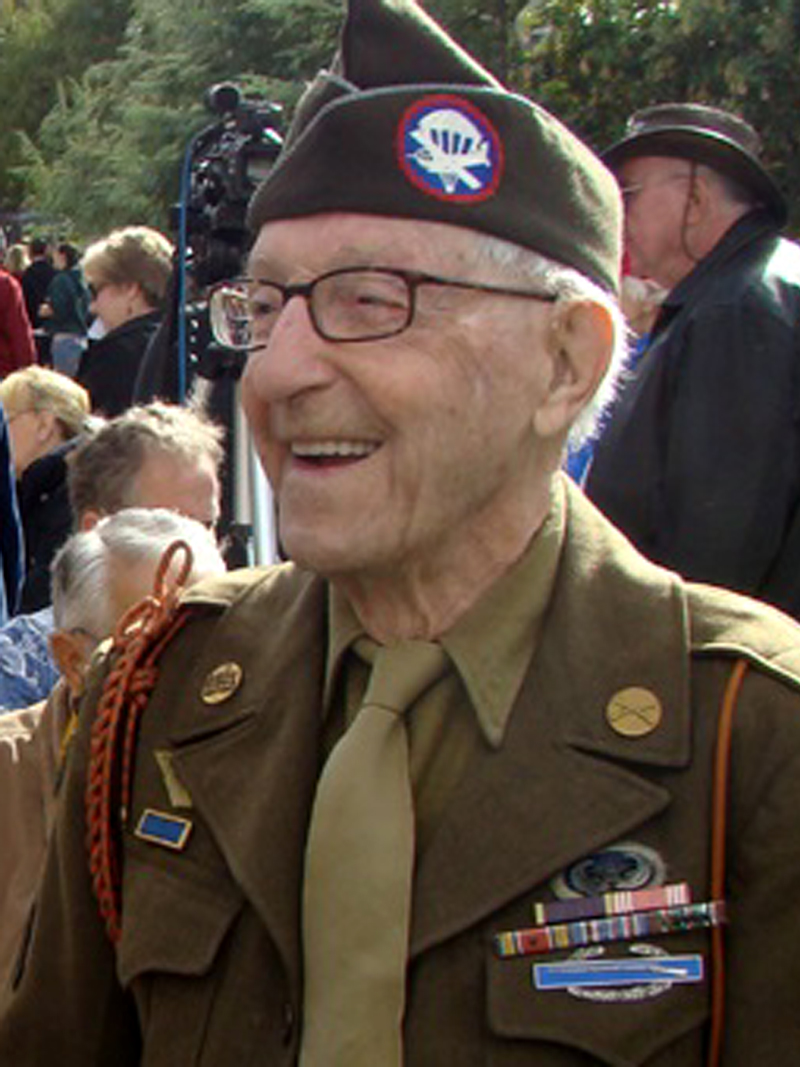 Anthony Marincola passed away on November 8, 2013, surrounded by family, at the age of 96.
Anthony Marincola was born April 21, 1917, to Nicolas and Asunta Marincola, in Watertown, New York. He grew up during The Great Depression. He graduated from Watertown High School in 1935.
In June of 1940, he married Genevieve Gingo, of Niagra Falls, New York. Tony enlisted in the United States Army during World War II. There he served as a Paratrooper in the 17th and 82nd Airborne Divisions. He fought in the infamous Battle of the Bulge,where he was wounded by shrapnel on January 19th, 1945, which earned him the prestigious Purple Heart Medal. He was discharged from the Army in February, 1946.
He and his wife Genevieve welcomed their first daugher, Suzanne, in November of 1946. Nearly 13 years later, they were joined by their second child, another girl, Donna, in June of 1959.
Job opportunities would lead the family to California in late 1959. After living in several locations in Southern California, they settled into their home in what is now Canyon Country in 1965. There, Tony worked as a manager in retail for TG&Y, Pic-n-Save, and JJ Newberrys. He also ran the Tool Crib at Magic Mountain for several years prior to his retirement, in 1984.
Tony was a past Governor of the Mint Canyon Moose Lodge, a member of the Chamber of Commerce, and Honorary Mayor of Canyon Country in 1972. Tony was a member of the Veterans Memorial Wall Committee, located at Eternal Valley. He also served as President of the 17th Airborne Association from 1961-1962.
Tony spent his retirement years enjoying his computers, Dodger games, and attending local events honoring military personnel and their families.
He is preceded in death by his wife of 73 years, Genevieve, in August of this year. Tony is survived by his daughters, Suzanne (Jim) Ward and Donna (Allan) Deans; 2 granddaughters, Terri Shelden and Lauren (Marc) Donatz; 2 grandsons, Gary Scott and Bradley Bergman; and 2 great grandsons, R.J. and Joshua Shelden.
A visitation will take place at Eternal Valley Memorial Park on Friday, Nov. 15, from 4 p.m. to 8 p.m., with a Rosary at 6 p.m.
Funeral services will be held at St. Clare's Catholic Parish in Canyon Country on Saturday, Nov. 16, at 1 p.m. Interment and Military Salute will be at Eternal Valley following the services.
Tony will be missed by his many friends and admirers, and by his family who are so very proud of their personal hero.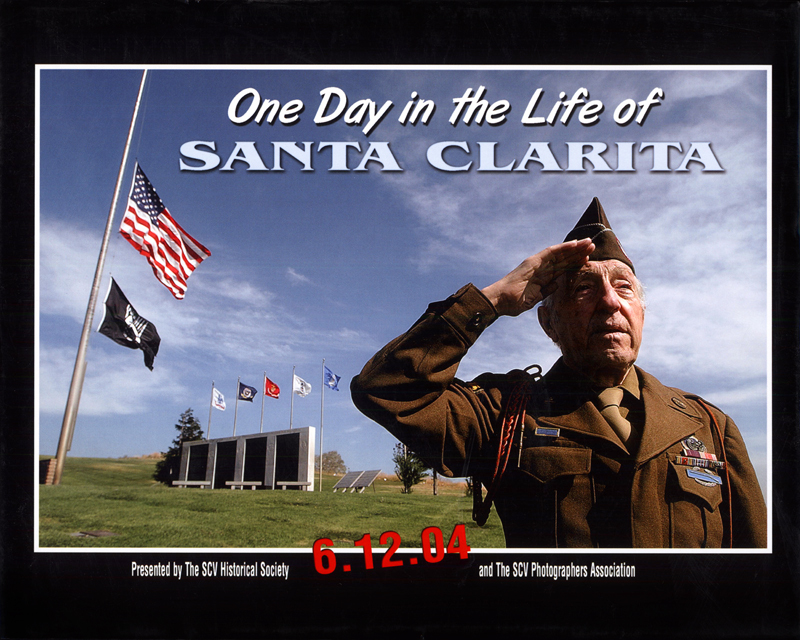 Tony Marincola graces the cover of the book, "One Day in the Life of Santa Clarita," featuring photographs shot on June 12, 2004. The book was published by the Santa Clarita Valley Historical Society and the SCV Photographers Association. Marincola photo by Bryan Kneiding; book designed and edited by Gary Choppe and Yoti Telio.