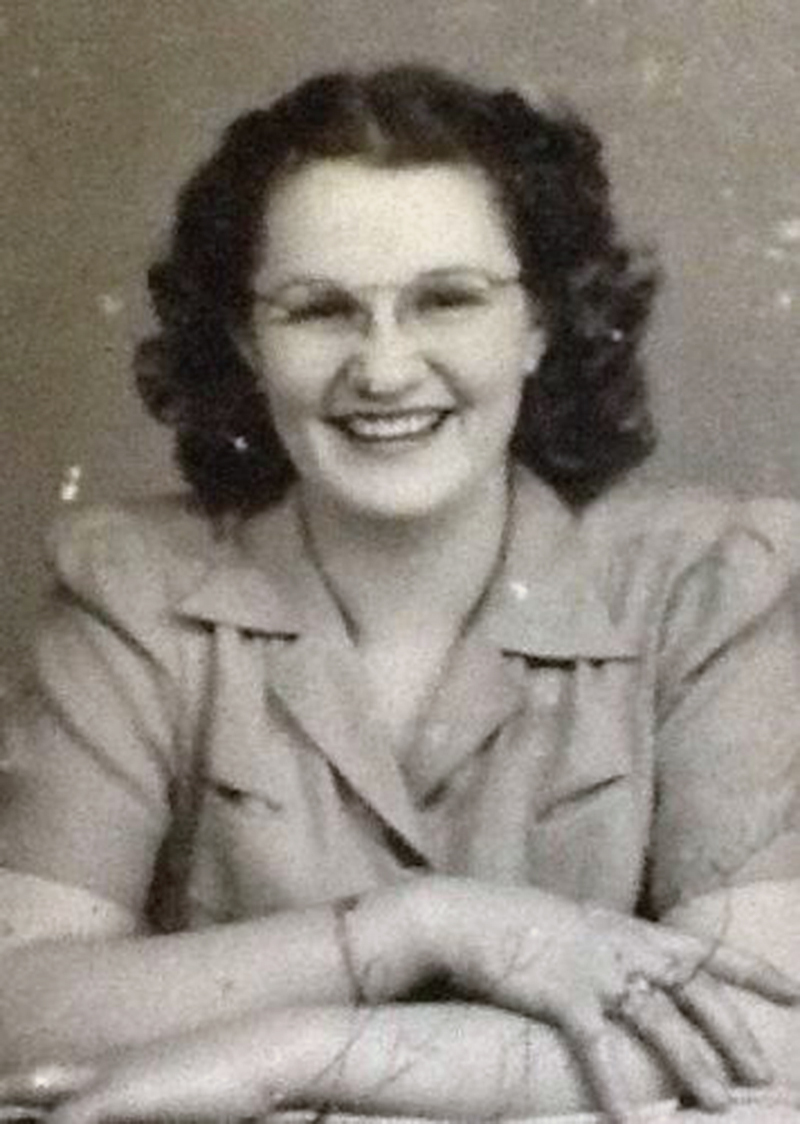 Avis Ilene Hendrickson was born Feb. 9, 1927, in Coleridge, Neb., and was raised in Fruita, Colo. She passed away July 8, 2015. Her parents were Pearl (Sherer) and Luman Earl Cisney. She was preceded in death by her loving brothers and sisters Lawrence, Warren, Weldon, Hazel and Shirley. She was a loving and devoted wife to Arnold, who passed away in 2002. They were married for 56 years. She was a loving mother to Arne (Linda) and Anne (Mark). Devoted grandmother to Sarah Stair (Russell), Mark (Sara), Su and Emily. Wonderful Great-Grandmother to Ellen, Robert and Mary Stair.
Avis was a survivor of the Great Depression. She had many vivid memories of hunger and deprivation while traveling from Nebraska to Colorado over the dangerous Loveland Pass in two rickety Model A Fords so that her father and brothers could find agricultural work to keep the family fed and housed. Her high school years at Fruita High School took place during the final years of World War II and she was a life-long patriot and believer in the greatness of our country. During her teenage years she loved going to the dances in Mack and Loma and "borrowing" watermelons at midnight from farms all over western Colorado.
Following graduation, she met Arnold, who was serving on an Army base guarding German prisoners of war. They married following a whirlwind courtship and moved to Astoria, Oregon where both of their children were born.
In 1963 the Hendrickson family moved to Southern California [Bonelli tract, Saugus] where they remained for the rest of their working years. Following retirement, they moved back up to Washington to be near their grandchildren and other family members. She and Arnold returned to Riverside, CA following the birth of Emily. She has resided for the last two years in Bellevue, WA.
She worked her entire life in various careers, including waitressing at a Chinese restaurant and working in a salmon canning factory in Astoria, finally proudly retiring as a U.S. Postal employee in 1989. She was a devoted postal employee — immediately following the devastating February 9, 1971 (her birthday) Sylmar/Los Angeles earthquake, she quickly went home from work to check on Arnold and Anne and then returned to the Post Office to make sure that the mail continued to go through despite the fear, confusion and aftershocks.
She spent her retirement caring for Arnold and also spending as many waking hours as possible with her grandkids of whom she was extremely proud. She filled her memory with thoughts of "her kids" and was never at a loss for a story of each one complete with minute details.
Avis was a wonderful cook who could create a delicious meal for a crowd of any size just with the ingredients she had on hand in her pantry. She also loved to sew and made many beautiful quilts which she gifted to friends and family. Although Avis was comfortable in her later adult life, she never forgot what life was like growing up in the 20s and 30s and as a result she was an incredibly resourceful wife and parent. One of her proudest accomplishments was encouraging and supporting her children to attend and graduate from college. College wasn't merely an option for Arne and Anne — it was a requirement and she did what she had to do to make their dreams a reality.
Avis was able to fit some travel in to her busy life — she visited New York City, the Caribbean, Calgary Canada and many other western states.
Avis had an outgoing personality and was great at reading people. She never met a stranger. Growing up she was the life of the party, making many life-long friends along the way. Her legendary mothering and friendship will live on in the hearts of her friends and family, who will always miss her.
In lieu of flowers, please make a donation in her memory to your local chapter of the Disabled American Veterans. Avis will rest next to Arnold at the Riverside, CA National Cemetery.