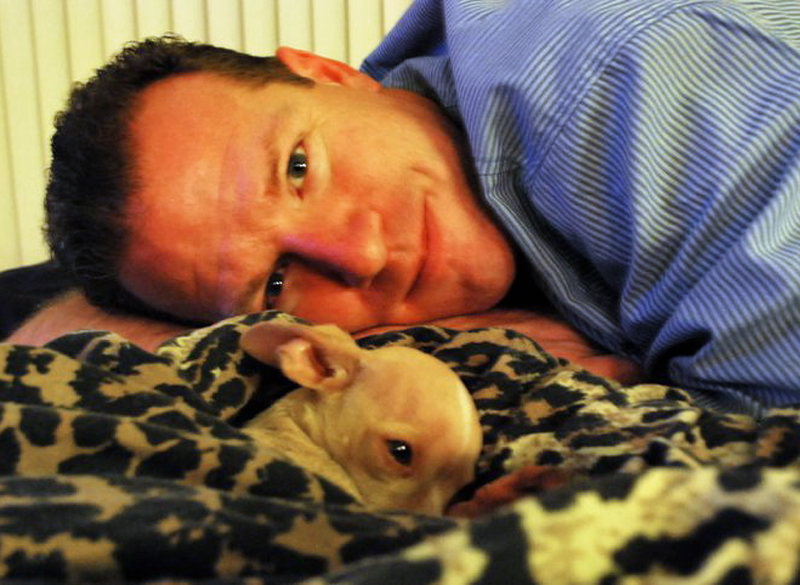 Christopher Anthony "Tony" Rasmussen passed away Dec. 8, 2013 in Sacramento, California, three days before his 40th birthday.
Tony was born in Lancaster, California on December 11, 1973 and was raised in Newhall. A graduate of Hart High School, Class of 1992, Tony ran Cross Country and made socializing a varsity sport.
Tony had a passion for life and it showed in all the different careers he chose. He attended L.A. Film School and earned a certificate in Producing in 2003. He worked for several years as a casting director in Los Angeles and also in music production in Santa Monica.
In 2010 he attended Le Cordon Bleu Culinary School in Pasadena, focusing on restaurant management. He went on to become a restaurant manager in San Francisco during the last three years.
Tony loved to snow ski and had many happy times with his family and friends in Mammoth and Park City, Utah.
His sister Lauren said, "Tony was the best big brother anyone could ask for. He made friends everywhere he went and was the life of the party. He lived life to the fullest and there was never a person he met who didn't become his friend."
Tony is survived by his mother Susan of Grass Valley, CA, his father Larry (Peggy) of Newhall, his sister Lauren (Shane) of Truckee, CA, his niece Shiloh, his beloved Chihuahua, Madison and many loving aunts, uncles and cousins who will miss him greatly.
Tony is preceded in death by his grandfather, Carl Rasmussen and grandmothers Hazel Rasmussen Parks and Peggy Joiner.
A celebration of Tony's life will be held on December 20, 2013 at 1:00 PM at Eternal Valley Memorial Park in Newhall, CA followed by a reception at the home of Charlie and Patti Rasmussen.
In lieu of flowers, the family has requested donations be made to your favorite charity in Tony's name.
---
IMDB.com
Bio: Born in Lancaster, CA, Tony was adopted by Susan and Larry Rasmussen. Tony was raised in the Santa Clarita Valley and attended Hart High School. After working in the family's construction company, Tony decided to change directions all together and give the entertainment business a run for their money. He attended the Los Angeles Film School where he obtained a certificate in Producing. He produced a short film titled Alex the Great while in school and this jump started his desire to produce. Currently, Tony is involved in extras casting and is in development for an untitled feature film.
Casting department (47 credits)
2005 The Hand Job (extras casting)
2004/I Taxi (extras casting: local)
2004 Quiet Kill (extras casting)
2003 Cheaper by the Dozen (extras casting)
2003 Stuck on You (casting: extras, Los Angeles)
2003 The Handler (TV Series) (extras casting)
2003 Dark Wolf (Video) (extras casting)
2003 Oliver Beene (TV Series) (extras casting)
2003 Net Games (extras casting)
2003 Mister Sterling (TV Series) (extras casting)
2003 Just Married (extras casting)
2002 Nightstalker (extras casting)
2002 A Midsummer Night's Rave (extras casting)
2002 Dancing at the Harvest Moon (TV Movie) (extras casting - uncredited)
2002 Hope Ranch (TV Movie) (extras casting)
2002 Champion (extras casting)
2002 Buying the Cow (extras casting: Rainbow Casting)
2002 Strange Hearts (extras casting)
2002 Gotta Kick It Up! (TV Movie) (extras casting: Rainbow Casting - uncredited)
2002 The Good Girl (extras casting - uncredited)
2001 Surviving Gilligan's Island: The Incredibly True Story of the Longest Three Hour Tour in History (TV Movie) (extras casting)
2001 The Brotherhood 2: Young Warlocks (Video) (extras casting: Rainbow Casting - uncredited)
2001 Devil's Prey (extras casting: Rainbow Casting)
2001 Lovely & Amazing (extras casting: Rainbow Casting)
2001 Crazy/Beautiful (extras casting)
2001 America So Beautiful (extras casting)
2001 Freddy Got Fingered (extras casting)
2001 The Brotherhood (Video) (extras casting: Rainbow Casting - uncredited)
2001 Say It Isn't So (extras casting: Rainbow Casting - uncredited)
2001 The Princess & the Marine (TV Movie) (extras casting: Rainbow Casting)
2001 These Old Broads (TV Movie) (extras casting: Rainbow Casting - uncredited)
2000 This Is How the World Ends (TV Movie) (extras casting)
2000 The Princess & the Barrio Boy (TV Movie) (extras casting - uncredited)
2000 Terror Tract (extras casting)
2000 S Club 7: Artistic Differences (TV Movie) (extras casting: Rainbow Casting - uncredited)
2000 Me, Myself & Irene (extras casting)
2000 Spiders (extras casting)
2000 Psycho Beach Party (extras casting)
1999 Angel on Abbey Street (extras casting)
1999 Holy Hollywood (extras casting)
1999 Redemption High (TV Series) (extras casting)
1999 Magnolia (extras casting - uncredited)
1999 Come On, Get Happy: The Partridge Family Story (TV Movie) (extras casting - uncredited)
1999 Body Shots (extras casting - uncredited)
1999 Teaching Mrs. Tingle (extras casting)
1999 Go (extras casting)
1999 The Minus Man (extras casting - uncredited)

Actor (1 credit)
2001 10 Attitudes | Marty (Attitude #8)