Clyde C. Ruble
LADWP Hydroelectric Engineer
November 20, 1882 — December 15, 1945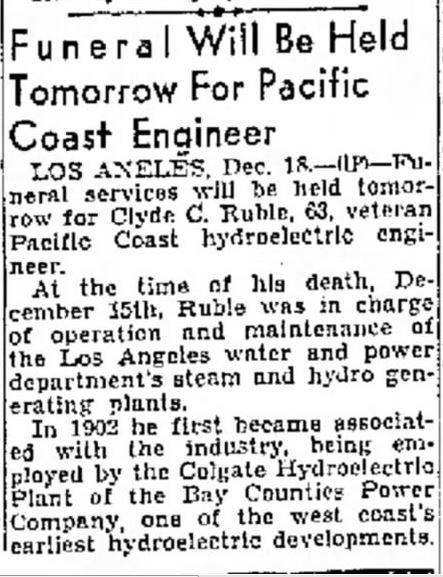 Note: During 1928, Clyde C. Ruble worked at Power House No. 1 in San Francisquito Canyon, as shown here. Ruble is buried in Forest Lawn Memorial Park in Glendale, Whispering Pines, Map 3, Lot 1106, Space 8.
Los Angeles, Dec. 18 — (UP) — Funeral services will be held tomorrow for Clyde C. Ruble, 63, veteran Pacific Coast hydroelectric engineer.
At the time of his death, December 15th, Ruble was in charge of operation and maintenance of the Los Angeles water and power department's steam and hydro generating plants.
In 1902 he first became associated with the industry, being employed by the Colgate Hydroelectric Plant of the Bay Counties Power Company, one of the west coast's earliest hydroelectric developments.
---
Obituary courtesy of Jason Brice; cemetery info courtesy of Ann Stansell.