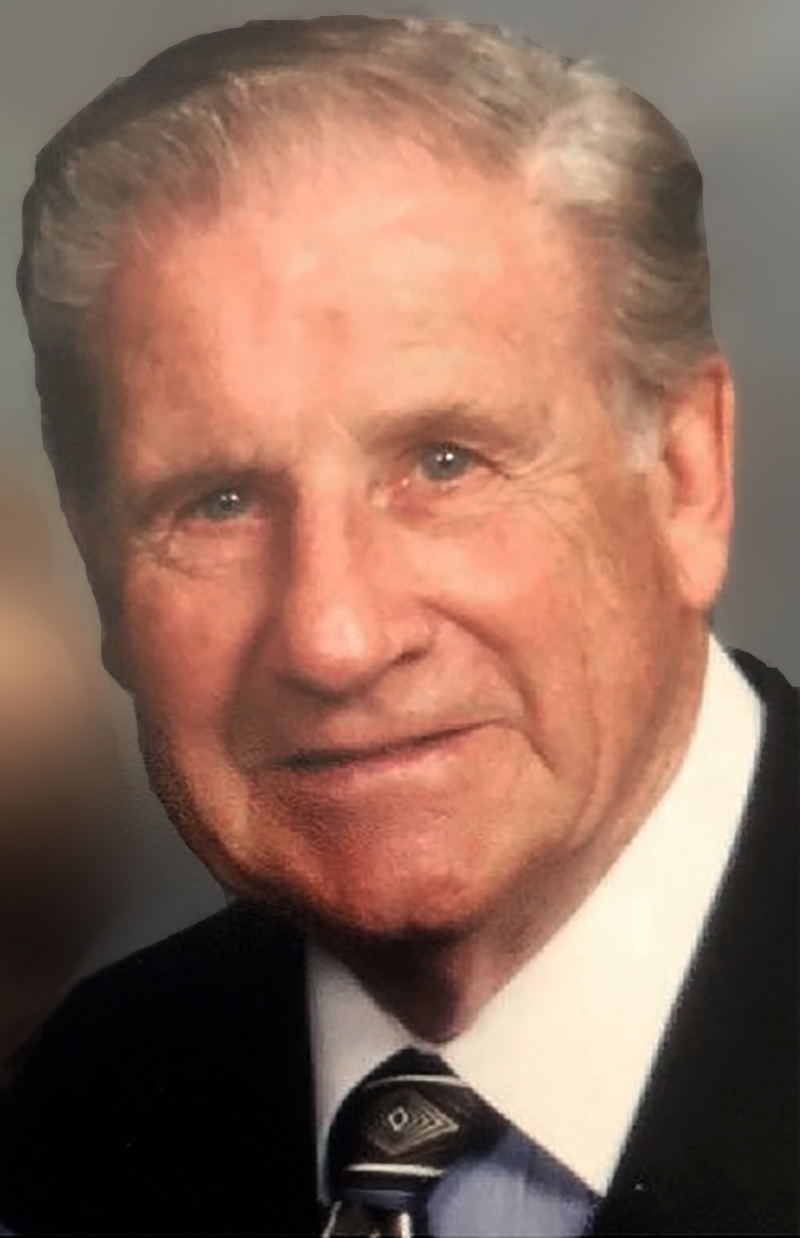 Richard J. Tumilty, 96, of Valencia, died in the early morning hours of January 20, 2018 at St. John of God Retirement and Care Center in Los Angeles, California after a long illness. He was born in Lincoln, Illinois on October 5, 1921, the son of Frank and Mary Elizabeth (Cumstay) Tumilty, the youngest of nine children. He married Mary Lisette Hellner Tumilty on December 27, 1947 and they recently celebrated their seventieth wedding anniversary. They were members of Our Lady of Perpetual Help Catholic Church, Newhall, CA.
A Veteran of World War II, Richard served in the Unites States Navy as a gunner's mate first class and was honorably discharged after serving with the Pacific fleet. Upon discharge from the Navy he completed his B.S. Degree at the University of Northern Arizona prior to moving to San Diego, California. Over the many years of his career, Richard was employed by Teledyne Ryan Aeronautical Company, Rockwell Aeronautical Engineering and Boeing Aircraft. He was proud to have worked on the design of the lunar excursion module and Space Shuttle. He retired in 1983 and later resided in Borrego Springs, CA, until returning to the Santa Clarita Valley. In his retirement he particularly enjoyed following his favorite sports teams, writing poems and painting birdhouses.
Richard is survived by his beloved wife Mary, his sons Richard L. Tumilty of Solana Beach, David R. Tumilty and his wife Anne (O'Hara) Tumilty of Valencia, and Patrick J. Tumilty of Mesa Arizona. He is also survived by his grandson Christopher M. Tumilty of Echo Park, CA, his grand daughter Meghan (Tumilty) Taylor and her husband Garrett Taylor of Hermosa Beach and his great grandson, Camden James Taylor. Funeral and burial services will be privately held at San Fernando Mission Catholic Cemetery, San Fernando, CA.
The family would like to thank the Brothers and outstanding staff of St. John of God for their care, prayer and the many acts of compassionate kindness expressed to Richard during the last years of his life. In lieu of flowers, donations may be made in his memory to St. John of God, 2468 South St. Andrews Place, Los Angeles 90018 or to Hands in Healing Ministries, 840 Echo Park Blvd, Los Angeles, CA 90026.
Funeral Service
Friday, February 9, 2018
1 p.m. - 2 p.m.
Mission Hills Catholic Mortuary
11160 Stranwood Ave.
Mission Hills, CA 91345
Cemetery Committal
Friday, February 9, 2018
2 p.m. - 2:30 p.m.
San Fernando Mission Cemetery
11160 Stranwood Ave.
Mission Hills, CA 91345