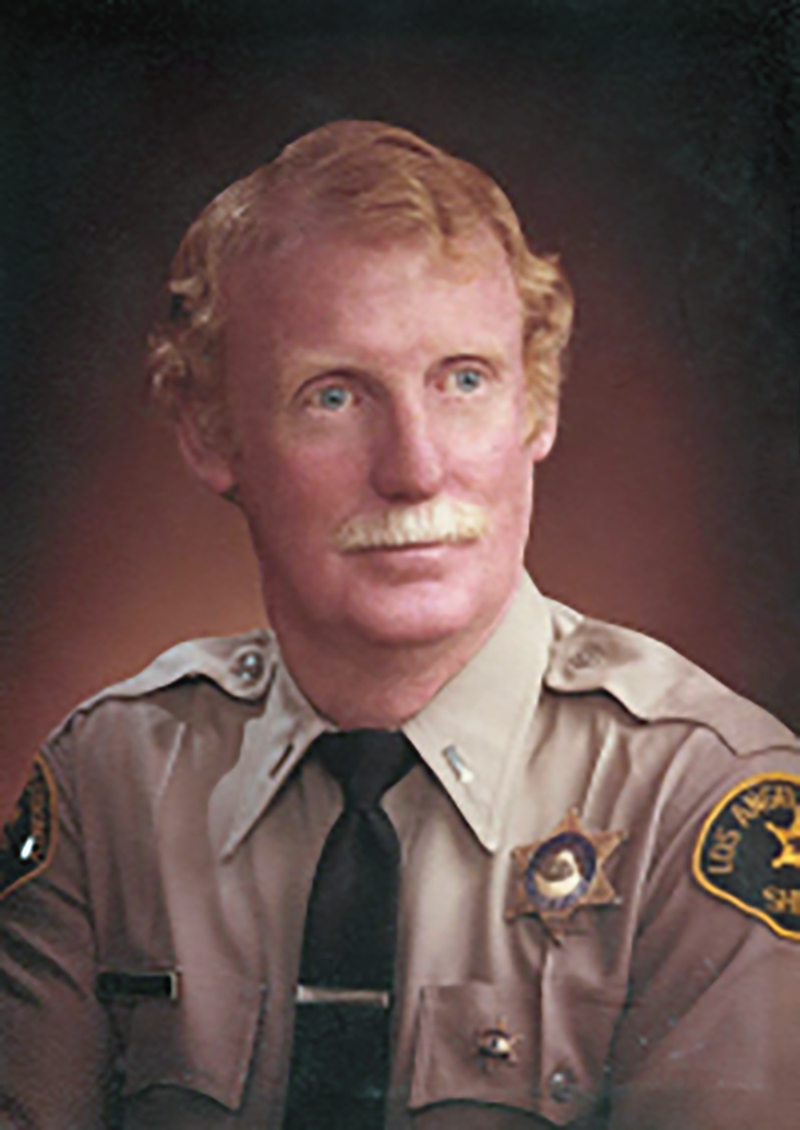 Thomas Jesse Rogers Jr. was born in the "Hollywood Hospital" to Thomas Jesse Rogers, M.D., his father, and Helen Isobel Barnes, RN, his mother, in 1935. Early on, his father joined the army as a medical officer. This required many moves for Tom's young life. Not surprisingly, he joined the army as well.
After the military, he returned to Valley Junior College and met many of his long-time friends. In 1963 while Tom was waiting for an assignment with the Army, a close friend encouraged him to join the Los Angeles County Sheriff's Department. That began a career with the L.A. County Sheriff's Department from 1963 until his retirement in 1981. Tom Rogers married Dody in 1965, they had two children then moved to Santa Clarita in 1976. Their daughter Tammy resides in Agua Dulce and their son Tom lives in Castaic.
In 1975 Tom Rogers was promoted to Lieutenant and served in that capacity until his retirement in 1981. Prior to his retirement, Lt. Rogers was assigned as a patrol watch commander with collateral duties of training, personal evaluations and emergency operations. He also served on the staff of the Sheriff academy. In addition to staff assignments he was a Field Commander on many occasions including commands during major emergencies fire, flood, and civil disorders. He also served on the planning and operational staff for the Tournament of Roses and Rose Bowl.
Tom was retired with a service-connected disability in 1981. He remained active in local affairs in Santa Clarita that included the Board of the local district of the Red Cross, Rotary Club, College of the Canyons Foundation, "Celebrity Waiter" for the Senior Center, worked at security for several firms, IT construction, and community liaison for a landfill development. He even was able to become an actor in the soap opera "The Young and the Restless" for a short time.
Both Tom and Dody enjoyed traveling in the U.S. and other countries. Such trips included Mexico, Scotland, Ireland, England, Canada, Hawaii, New Zealand, Australia, Fiji, Russia, Rhine river excursions, Panama Canal and Central America, Southwest U.S., New Orleans, Smokey Mountains, Florida, East Coast and D.C., Alaska and lots of shorter trips in California. Most trips included an entourage of friends and lots of fun.
Tom was never lazy. At home he built his own home twice, created beautiful gardens, was a creative woodworker, oversaw rental property, built models, planned parties, enjoyed local restaurants and local holidays and patriotic holidays and supported many local charities. The American Flag flies high on a pole in his front yard. In 2015, Tom and Dody Rogers celebrated their 50th wedding anniversary.
Thomas Jesse Rogers Jr. passed away on January 13, 2019, at age 83. He succumbed to pneumonia as well as other health complications.