Photos by Cheryl(?) Riley / The Signal.
June 11, 1968 — Jeff Wheeler and Gwen Gallion pose at the monument sign for the newly opened Old Orchard County Park in Valencia. The park hosted the first annual Huck Finn Day for local youngsters the previous weekend (see below). Recreation programs were offered five days a week.
The park predated its namesake elementary school by almost two years. When the Old Orchard Elementary School campus opened in April 1970, its pupils used the county park for their playground.
Wheeler was a Los Angeles County Recreation Supervisor; Gallion (Hart Class of 1949) was the administrator of Old Orchard Park.
Two decades later, when Santa Clarita became a city, all county parks within its jurisdiction (except for William S. Hart Regional Park) became city parks. While still working locally as regional parks director for the county, Wheeler served on the City of Santa Clarita Parks Commission from 1988-1996.
Read about Gwen Gallion's Hart High School days here and watch this oral history show with her husband, Dean Gallion.
---
Click image to enlarge.
---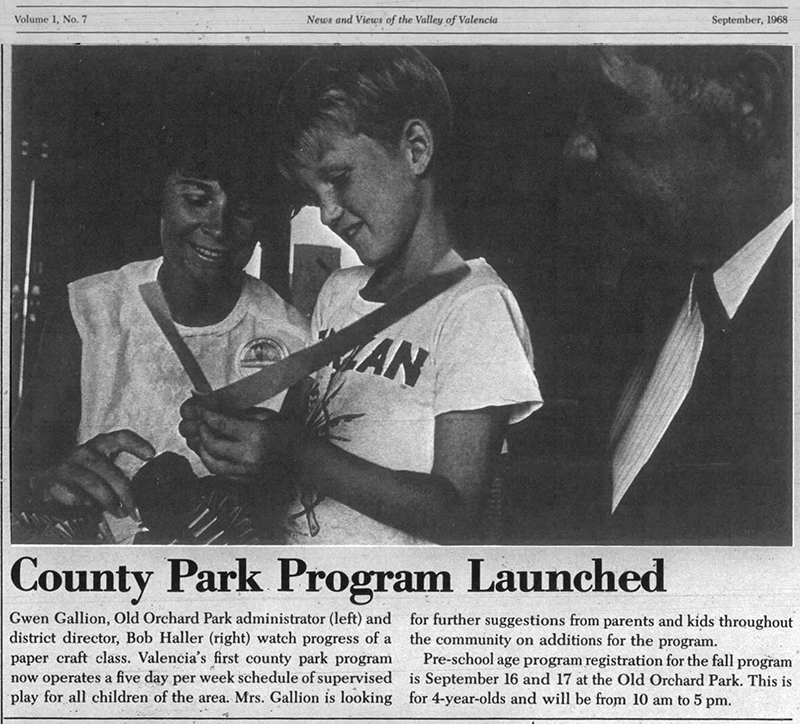 The View from Valencia, September 1968. Click image to enlarge.
Download original images
here
. Signal Photo Archive, Santa Clarita Valley Historical Society collection.