Blueprints for the 1986 relocation and reconstruction of the Mitchell adobe ("adobe building") at Heritage Junction Historic Park, located on the "Frew property" inside William S. Hart Regional Park in Newhall. The adobe was bulldozed at its original location in 1986 and reconstructed at Heritage Junction by Santa Clarita Valley Historical Society volunteers between 1986 and 1989.
First blueprint (of 2) shows Heritage Junction master plan with proposed location for the Mitchell adobe, as well as the existing road, existing Southern Pacific Railroad tracks, proposed extension of Saugus Depot railroad tracks (not done) and the existing fence.
Second blueprint shows foundation plan and roof plan and describes the reconstruction process.
Blueprints by Hale & Associates Inc. Consulting Engineers (Don Hale) of Newhall, October 1986.
---
About the Mitchell Adobe.
Colonel Thomas Finley Mitchell, a veteran of the Mexican-American War, moved a miner's shack to Soledad and Sand Canyons in 1860 where he lived and headquartered his 160-acre ranch. After he married Martha Catherine Taylor in 1865, he constructed a large adobe, using parts of the miner's shack.
After the Colonel had increased his holdings to 1,000 acres, Martha began the Sulphur Springs School in 1872, with classes being held regularly in the kitchen of the adobe. It moved to the Lang Hotel and Spa in 1879. The first students were from the Mitchell, Stewart and Lang families. In 1886, a regular school was built by John Lang and Sanford Lyon on land donated by the Mitchells.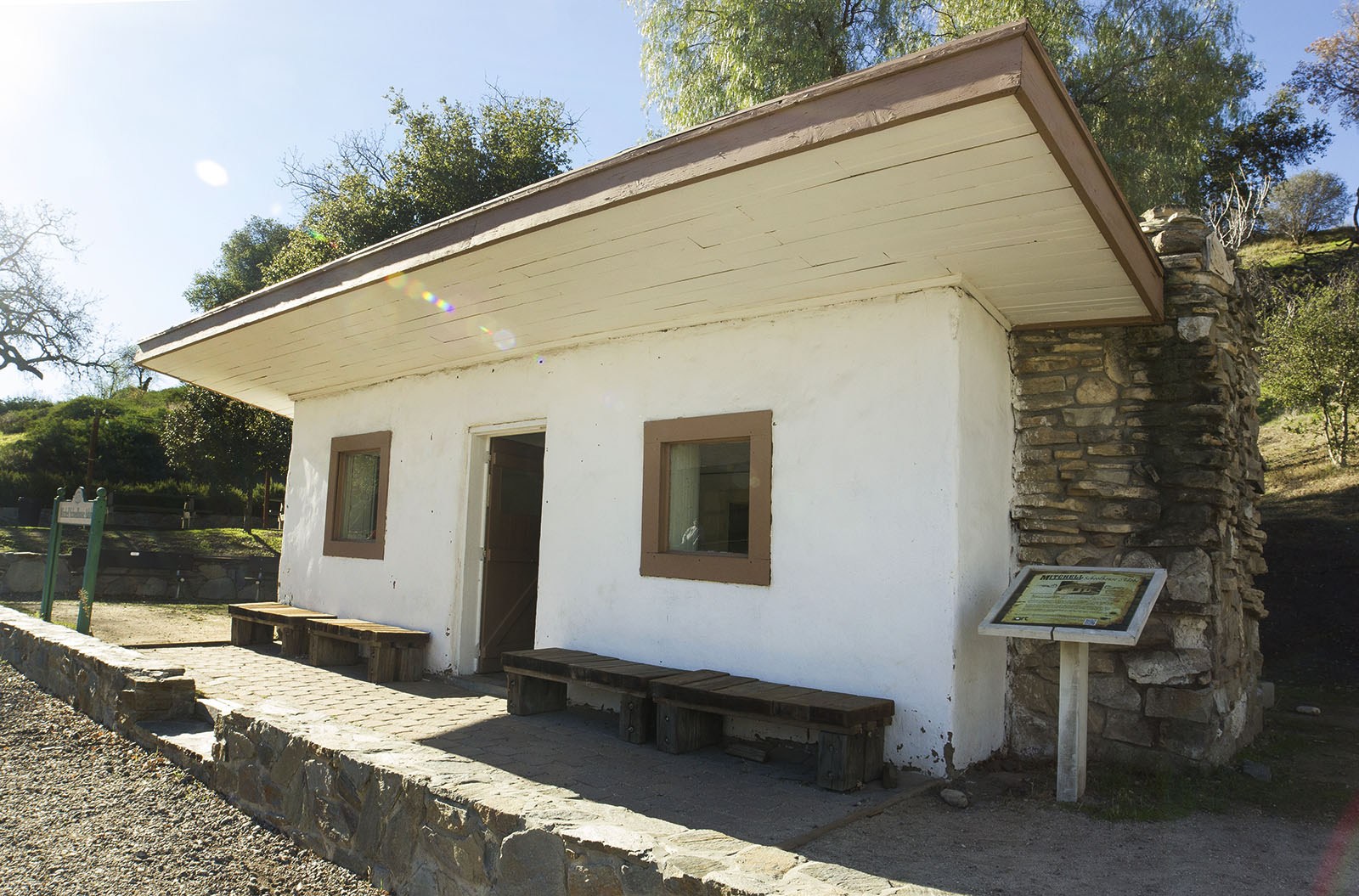 The Mitchells built a new, 2-story wood-frame family home in 1888 and abandoned the old adobe, which fell into ruin. In 1919, the Mitchells' son-in-law, Walter Murphy, used the remaining adobe bricks to erect a home a short distance away for the ranch foreman. It later served as a guest house, apiary and tack room until it was threatened with demolition. Historical Society members stood in front of a bulldozer August 14, 1986, to prevent it from being razed. The property owner allowed them to salvage the adobe bricks, which were transported to Heritage Junction and reassembled. The rebuilt adobe was dedicated November 5, 1989.
The upshot: Some of the straw and mud in the structure at Heritage Junction dates back to 1860 and bore silent witness to the Santa Clarita Valley's first formal education.
The original 1860 adobe was 45x60 feet and made of clay dug from a layer deep in a hand-dug well. The roof was covered with either split redwood shake or a very thin cedar shake. It had a wooden floor constructed of light-colored wainscoting.
As of 2012, the original Mitchell home site and the surrounding land are set to be developed into the mixed-use Vista Canyon Ranch project.
Further reading:
Tom Mitchell of the Soledad by Richard F. Mitchell, 2002.
Tales of Lang and Soledad: The Story of an Adobe by A.B. Perkins, 1961.
Story of Sulphur Springs School by Leon Worden, 1997.
HS8002: PDFs and 9600 dpi jpegs from original blueprints, Santa Clarita Valley Historical Society files.