John William Myers, born August 9, 1838, in Virginia, came to California after fighting in the Civil War. With previous teaching experience in the Midwest, he operated a school in Elizabeth Lake; a death notice (below) suggests it was located inside a repurposed stagecoach station. In the 1880s he moved to Newhall where he was the (only) teacher at Newhall School from 1884-1886. At that time he was also the "financier" (not treasurer) of the local chapter of the Ancient Order of United Workmen (A.O.U.W.), a fraternal organization somewhat related to the Masons that issued life insurance.
---
Annual Publication of the Historical Society of Southern California, Vol. 7 No. 1 (1906, published 1907), pg. 86.
John W. Myers was born in Virginia. When he was a small boy his parents moved to Indiana, where he grew to manhood. He was educated in the common schools and completed his education in a collegiate institution at Madison, Wisconsin. He engaged in teaching. In January 1864, he enlisted in the Seventeenth Indiana Infantry. That regiment was what was known as mounted infantry; that is, infantry acting as cavalry. The Seventeenth was part of Wilders' Lightning Brigade. It earned this name by the celerity of its movements. It frequently came down upon the enemy when he least expected it and struck like a thunderbolt. It lost heavily in killed and wounded in its battles and skirmishes. Mr. Myers served to the end of the war. After he was mustered out, he again resumed teaching.
In the fall of 1873 he came to California. He arrived in Los Angeles, January 1, 1874. He tried farming for a time at Richland, now Orange, Orange county. He was not successful, and drifted back to his old profession, teaching. He secured a school at Elizabeth Lake, a stage station in the northern part of the country on the borders of Mojave desert. His district was about as large as the State of Rhode Island, with a population of about one person to a township.
He was instrumental in getting a postoffice established. He was also justice of the peace. After the completion of the railroad he moved to Newhall and taught the school there. His health failed and he sold his property at Elizabeth Lake and moved to Los Angeles, where he resided to his death, which occurred March 17, 1907. He was twice married. His first wife died in Indiana. He married his second wife, who survives him, while at Elizabeth Lake.
He left one child, a daughter, the widow of Louis Lyons, a deceased pioneer.
— E.A. De Camp (and) J.M. Guinn, Committee.
Report courtesy of Vickie Travis.
---
J.W. Myers Dies Suddenly.
Los Angeles Herald | Monday Morning, March 18, 1907.
J.W. Myers died yesterday at his home, 319 Stockton street. The body was taken to the parlors of the Bresee borthers. Arrangements for the funeral will be made today.
News story courtesy of Tricia Lemon Putnam.
---
Los Angeles Daily Times | Monday, March 18, 1907.
Myers. March 17, 1907, at his late residence, No. 319 Stockton st., John William, husband of Melissa A. Myers, and father of Ida M. Lyon, widow of the late Lewis H. Lyon, aged 68 years. Funeral notice later.
News story courtesy of Tricia Lemon Putnam.
---
The Indianapolis Morning Star | Thursday, March 28, 1907.
Indianapolis relatives have received news of the death of John W. Myers, for many years connected with the Indianapolis public schools, at his home at Los Angeles, Cal. He died Sunday [sic]. He had many friends among the older residents of the city, and Lewis Akin and Mrs. Myers, who survives her husband, are brother and sister. One child, a daughter, also survives.
News story courtesy of Tricia Lemon Putnam.
---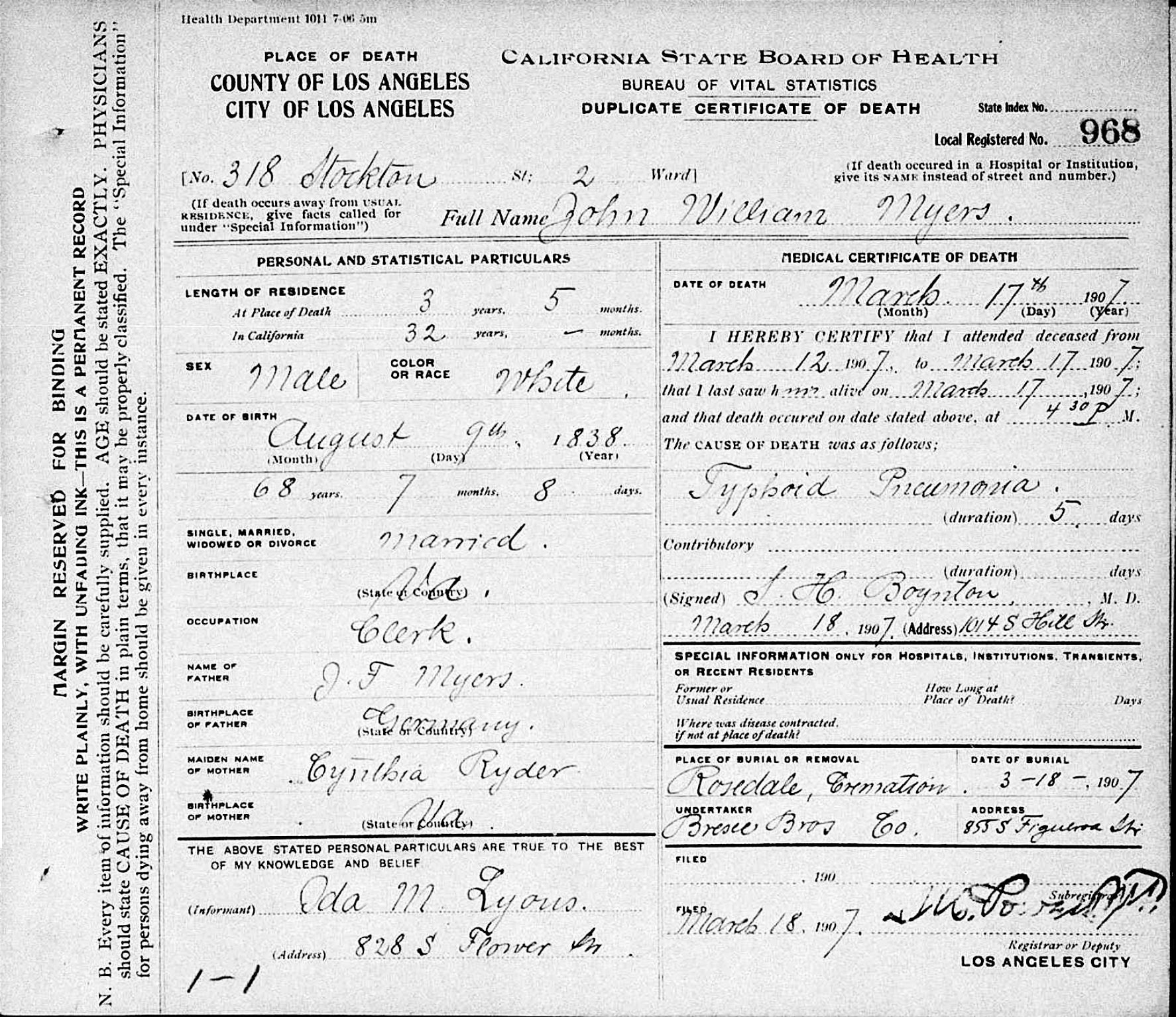 Click image to enlarge.