---
[Santa Paula, March 12, 2018] — Ninety years minus a few hours later, on a Monday night as it was then, the Santa Paula Historical Society honored the estimated 411 men, women and children who died by drowning and floating debris when the St. Francis Dam in the mountains above Saugus ruptured, unleashing a torrent of water that didn't stop until it poured into the Pacific Ocean five and a half hours later.
Squarely in the floodpath sat Santa Paula, a farming community of some 6,500 sleepy souls when the water reached them at 3:10 a.m., three hours after the dam collapsed. Some — not all, but some — made it to higher ground thanks to biker lawmen Thornton Edwards and Stanley Baker who went door-to-door with a warning of impending doom. They'd gotten word from Louise Gipe and the other "hello girls" of the Santa Paula telephone switchboard that the St. Francis Dam had gone out and a flood was coming. Edwards, Gipe and many other Santa Paulans had never heard of the St. Francis.
They'd never forget it.
Monday night's event proved the people of Santa Paula haven't forgotten. Santa Paula has commemorated the dam disaster before, but not quite like this.
A river of light spanned Ebell Park as 411 yellow, blue and green luminaria candles were arranged to represent the 54-mile path of destruction — one candle for each victim from Saugus to the sea.
Emcee Edward Arguelles, a retired history and government teacher, explained that the number of candles reflected the latest research by archaeologist Ann Stansell, whose 2014 study as a graduate student at California State University, Northridge provided the first comprehensive understanding of who the dam victims were. It was the most significant "fresh" research into the disaster since engineering professor J. David Rogers' work two decades earlier to explain exactly why the dam broke.
"Ann Stansell's research revealed that 42 of the 58 victims buried in the Santa Paula Cemetery came from communities beyond Santa Paula's borders, presumably washed down the Santa Clara River Valley," Arguelles said. "Nineteen of those bodies lie in unmarked graves because they were never identified."
A highlight of the evening was a reading by 15 elementary and secondary students under the direction of Paul Tonello, a social studies teacher at Santa Paula High School. The students were selected, one from each school, to speak on behalf of individuals from Santa Paula who would never speak again after March 13, 1928.
Historical consultant Mitch Stone was chosen to tell the story of the disaster. Santa Paula historian and author John Nichols spoke of heroism and the importance of remembering the disaster. Peggy Kelly, new owner of the Santa Paula Times, brought to life the story of the man known as the "Paul Revere of the Dam Disaster" with a showing of her new documentary, "Thornton Edwards' Wild Ride."
Capping the evening was the band, Now, Then & Zen (Dave Ackerman, Dolores Britton, Donna Nelson), with Ackerman's own twist on the Nanci Griffith song, "This Old Town:"
This old town should have been drowned in 1928
The St. Francis Dam gave way
All our hopes lied buried in mud and rocks and trees
It almost brought us to our knees
But this old town was built by hand
Union Oil, Limoneira and movie land
Must be rock beneath the sand
I'll be damned
Santa Paula still stands.

And Santa Paula doesn't forget.
— Leon Worden
---
---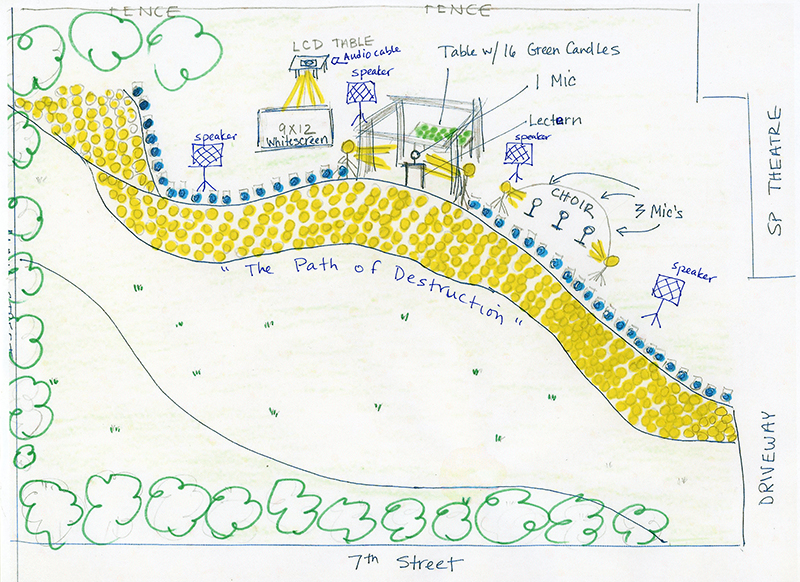 ---
LW3200: Download individual images
here
. Online only. Digital images by Leon Worden. Video ©2018 SCVTV.