Placerita Canyon is "Wild Horse Valley" in this 1940 Bob Steele vehicle from Metropolitan Pictures, produced by Harry S. Webb and directed by his brother, Ira Webb.
Lobby card, unnumbered, 11x14 inches.
Steele had been cast in SCV-made pictures for years, usually directed by his father, Robert N. Bradbury, who also directed Steele's high school classmate in the SCV in the early days — Marion Morrison, aka John Wayne.
A homegrown "local" plays a supporting role: Buzz Barton (not shown here), a child actor who was known by his birth name, William A. Lamoreaux, when he attended Newhall School in the 1920s.
"Wild Horse Valley" was filmed on the Walker Ranch and elsewhere in Placerita Canyon.
Rounding out the cast are Bud Osborne and George Chesebro, who typically portrayed henchmen in SCV-made movies, along with Phyllis Adair, Lafe McKee, Jimmy Aubrey and Ted Adams. Pirate the Horse gets a screen credit — but Victor Adamson and Tex Phelps do not.
---
Bob Steele was a big name in small Poverty Row pictures of the 1930s and '40s, landing lead roles in dozens of B-Westerns from the likes of Monogram and Republic.
Born Robert Adrian Bradbury in Portland, Ore., on Jan. 23, 1907, Bob and his twin brother, Bill, toured with their vaudevillian parents as children. Their father, Robert N. Bradbury, came to Hollywood in the late 1910s and transitioned into film, first as an actor and then as a director. In 1920, the elder Bradbury first put his sons on the screen in "The Adventures of Bob and Bill," which was shot in Glendale, where the family lived.
More often, Robert N. Bradbury shot in Placerita Canyon, which was dotted with movie ranches by the early 1920s.
Bob Junior got his break in 1927 when, under contract with FBO, he landed the title role in "The Mojave Kid," directed by his father. Bob changed his name to Bob Steele for that film and stuck with it.
Perhaps Steele's biggest contribution to the screen came vicariously in 1933 when he convinced his dad to cast one of his Glendale High School classmates, a budding actor named Marion Morrison, as the hero lawman in a series of films produced by Monogram's Paul Malvern under the "Lone Star Productions" label. Like Steele, his friend also changed his name — to John Wayne.
Steele reached the height of his popularity during the 1930s with characters that drew on his physicality. His stardom diminished as he aged, but he didn't slow down. The 1940s saw Steele and some of his contemporaries like Johnny Mack Brown and Hoot Gibson churn out numerous B-Westerns for Monogram, frequently appearing together in pictures shot at Ernie Hickson's Monogram Ranch in Placerita Canyon.
During the 1950s and beyond, Steele's old high school chum returned the favor that had been done two decades earlier. Steele landed bit parts in major John Wayne pictures including "Island in the Sky," "Rio Bravo" and "Rio Lobo."
Steele made guest appearances in all of the popular television Westerns of the 1950s and '60s. He had a recurring role as Trooper Duffy in the 1965-67 comedic series, "F Troop," and closed out his film career in the early 1970s. He died at a hospital in Burbank on Dec. 21, 1988, following a long battle with emphysema.
---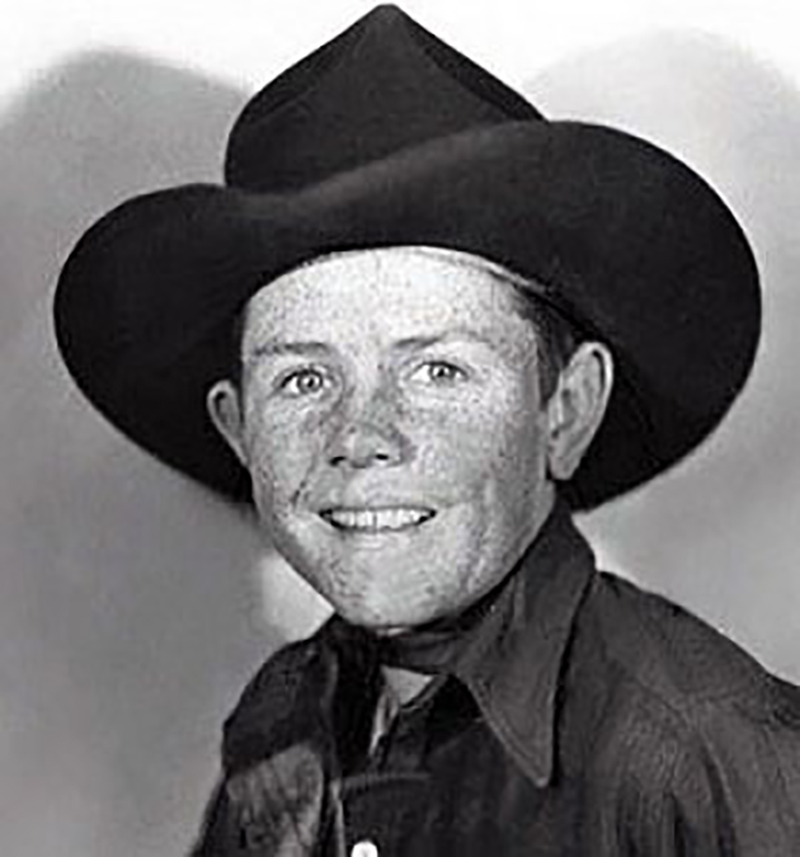 William Andrew "Red" Lamoreaux was born September 3, 1913, in Gallatin, Missouri. He was just a boy when his family moved to Newhall, where he met Western actor Jack Perrin and stockman Andy Jauregui. One or the other of them, depending on the source (Jauregui locally, Perrin elsewhere), got him into the movies at age 11.
His first screen appearance was a small, uncredited role in the Jack Perrin vehicle, "The Knockout Kid." It premiered September 1, 1925, just shy of Lamoreaux's 12th birthday. It was produced by W. Ray Johnston, who would go on to become one half of the Monogram operation with Trem Carr and would eventually become a Newhall resident himself.
Lamoreaux's next appearance earned him a screen credit as Billy Lamar, the name Johnston's company, Rayart, gave him. His name changed when he left Rayart in 1927 for (JFK's father) Joseph P. Kennedy's company, FBO, where director Louis King gave him the title role in "The Boy Rider." Now this freckle-faced kid was "Buzz Barton," and the name stuck. Adept with a rope, he lived up to his nickname, "The Boy Wonder of Westerns."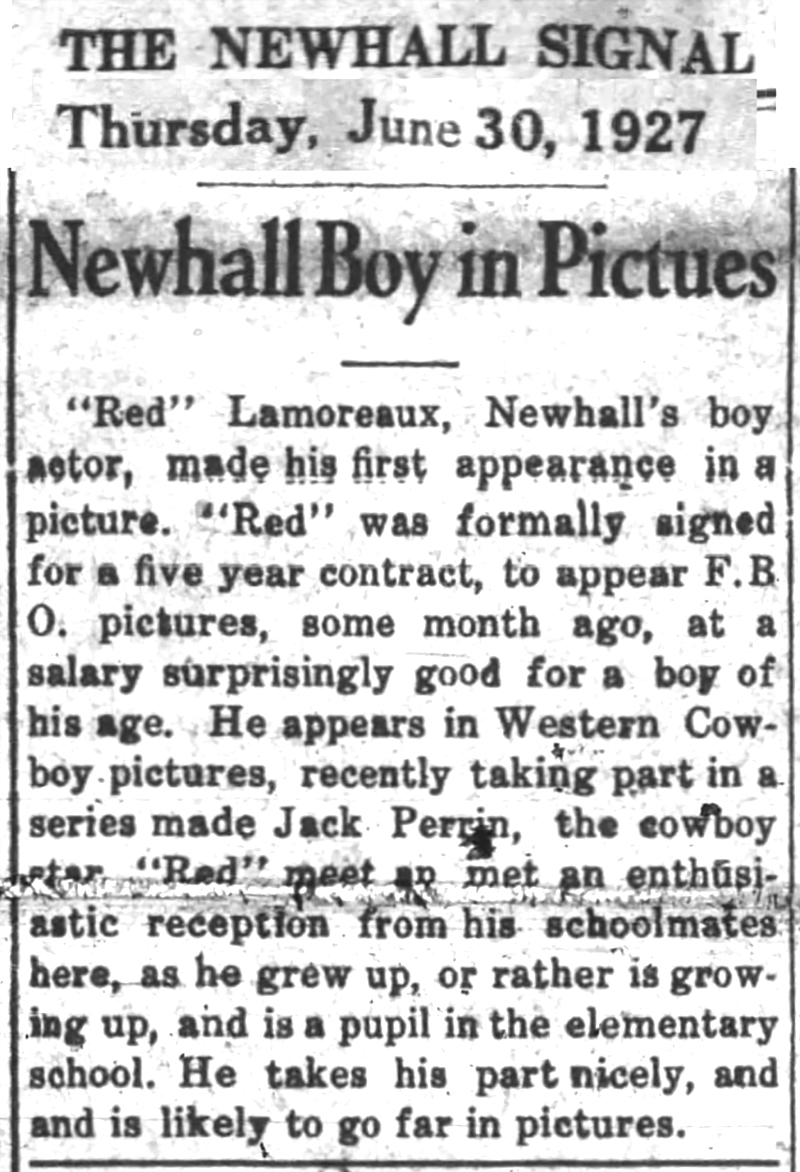 Off screen, a tutor provided by the studios helped young Lamoreaux keep up with his studies when he was away on location, and he attended Newhall School when he wasn't. Apparently he was treated no differently from any other Newhall kid, even when he appeared in school plays. The local newspaper paid him no special attention when he was cast as an extra in a performance of "Robin Hood" in the school auditorium in 1926 (he played the hobby horse); again in 1929, at the height of his popularity, he was cast as an extra (an elf) when fourth, fifth and sixth graders performed an operetta. In neither instance was his screen name used in the paper. (Curiously, one of his schoolmates was named Jack Barton; we don't know if there is any significance to the coincidence.)

Unless you're Mickey Rooney, being typecast as a youth doesn't last. Puberty took its toll, and the advent of "talkies" hastened the process. Lamoreaux might have gotten away with looking like a young teenager for a few more years — he stopped growing at 5-foot-2 — but he didn't sound like one. The roles got harder to come by.
He played supporting roles in the late 1920s and '30s and even co-starred opposite Yakima Canutt in 1930's "Canyon Hawks," which used Mystery Mesa in Saugus as a filming location. That same year he co-starred with Rin-Tin-Tin in the 12-chapter Mascot serial, "The Lone Defender." He was still popular enough that the Daisy Co. marketed a Buzz Barton Special Daisy Air Rifle, as it did with Buck Jones.
Lamoreaux would appear in dozens more B-westerns ... with fewer and fewer screen credits as time wore on ... many of which were filmed in Santa Clarita Valley, such as 1935's "Powdersmoke Range" with Harry Carey and Hoot Gibson.
When the United States entered World War II, Lamoreaux traded in his spurs for a sailor's uniform. He was a member of the crew of the USS Missouri when Japanese goverment officials signed the surrender documents on the deck of the ship September 2, 1945.
On June 22, 1947, he married Thelma Doyle, and Saugus denizen William G. Bonelli put him to work running one of his ranches in Arizona. The couple returned in 1956 with their daughter Linda and moved into a one-bedroom home in Newhall at 24753 Valley Street. He worked as a top wrangler in the movies at the Randall Ranch in Newhall until he retired for good in 1979.
Lamoreaux moved to the San Fernando Valley, where he died November 20, 1980. His body was returned to Newhall for burial in the Garden of Memory at Eternal Valley Cemetery.
---
LW3519: 9600 dpi jpeg from original lobby card purchased 2019 by Leon Worden.