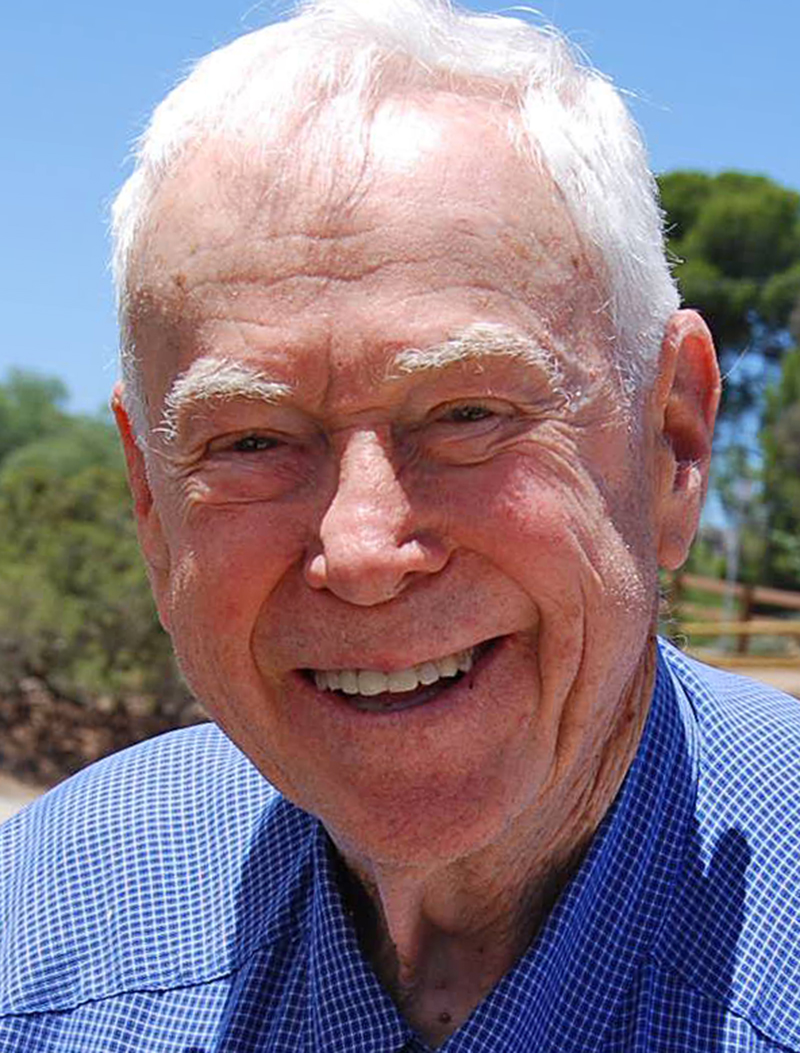 Note: Jefferson Asher Jr. and his older brother Tom spent weekends and summers at their family ranch that now forms the west side of Vasquez Rocks County Park, from 1934 until Jeff joined the Navy in 1942. They continued to use the ranch occasionally until 1970 when they sold it to Los Angeles County for the park.
See also: Asher Ranch Life Revealed in Vasquez Rocks Program (2014).
And: Vasquez Rocks: The Private Owership Era (2019).
Photographs courtesy of Sarah Brewer.
---
Jefferson William Asher Jr. passed away November 26, 2019, at his home in Long Beach, Calif. He was surrounded by his children at the time of his death, and he passed peacefully at the age of 95.
Jeff was born September 6, 1924, in Los Angeles, the oldest child of Jefferson William Asher Sr. and Emily Gertrude Pinter Asher. He and his younger brother, Thomas Maurice Asher, grew up in Hollywood and attended Hollywood High School, where Jeff met his future wife, Mary Frances Neville Asher.
After graduation from high school, Jeff enrolled at UCLA and was in the Naval ROTC program. He received his commission into the U.S. Navy, serving from 1942-1946. He received a Purple Heart during his service.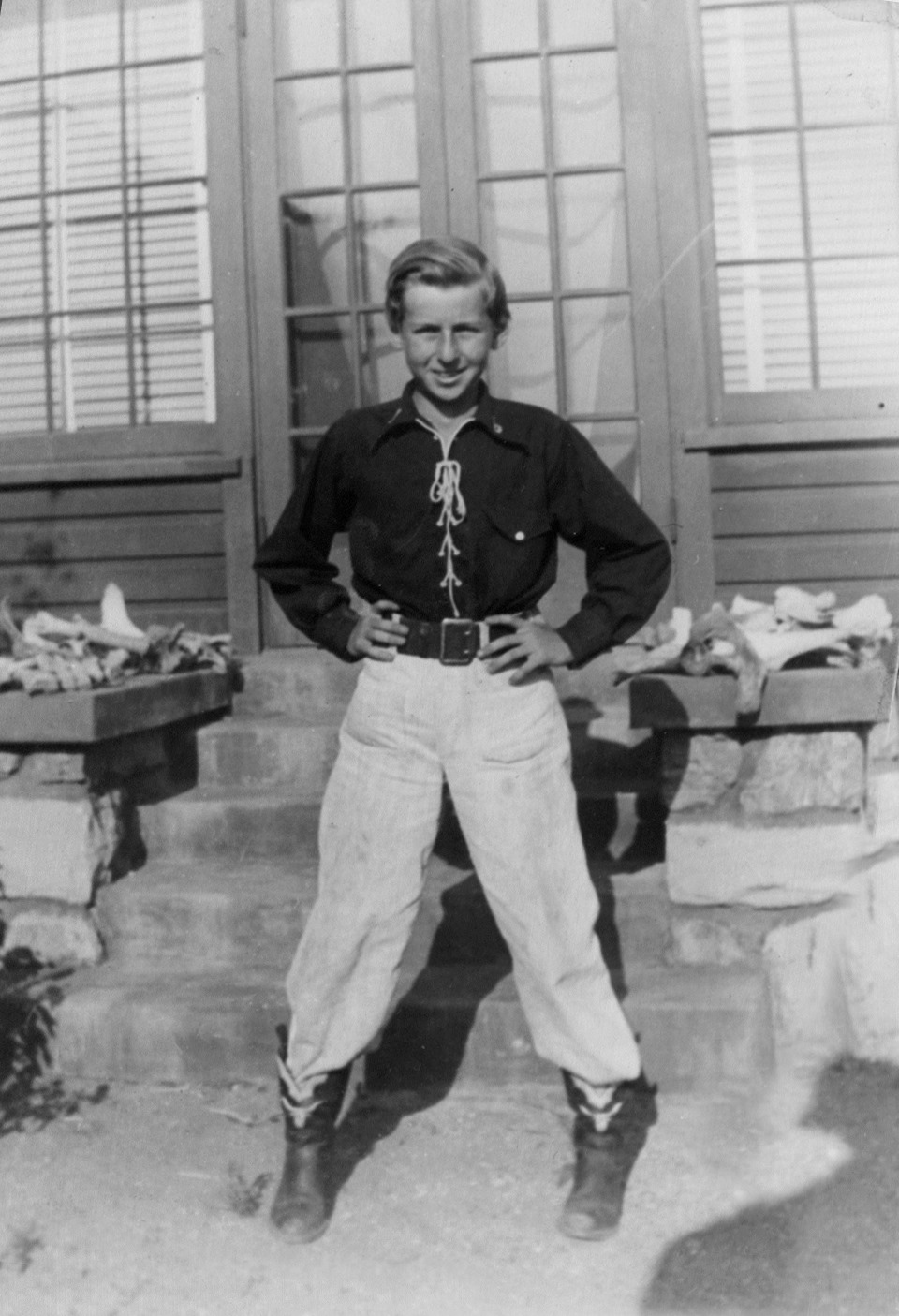 Jeff and Mary were wed September 1, 1944, while Jeff was on leave from the Navy. Their marriage lasted until 1997 when Mary passed away due to complications from Alzheimer's disease.
Jeff received a bachelor's degree in political science from UCLA following his discharge from the Navy, and he also received an MBA with distinction from the Harvard Business School in 1948. He was a highly accomplished business advisor and operator, working in a variety of management capacities for American Research and Development Corporation, Robert Heller & Associates, and Boston Capital Corporation, among many others. Additionally, he functioned as the business manager for Kirk Douglas and related entities, as well as serving on the board of directors and as chairman of the Audit Committee of Baldor Electric Motor Co. for many years. Jeff was also one of the founders of Sea World in San Diego.
In the latter part of his career, Jeff functioned as an expert witness on several matters involving the establishment of fair-market value for a variety of commercial and real estate entities and was a member of the American Arbitration Association.
Jeff remained active with his business interests for his entire life. Following the passing of his wife Mary, he moved from the San Fernando Valley to Long Beach and enjoyed an active life of travel, time spent with his kids and grandkids and numerous friends, and he became a serious student of Buddhism. He also served as a volunteer to the Braille Institute as a reader and was an involved in charitable giving and activities up until the time of his death.
Jeff is survived by his three children: Susan Hoerner, Catherine Perkins, and Jefferson W. Asher III; his sons-in-law Roger Perkins and Dennis Hoerner; his daughter in-law Lynda Asher; his grandchildren John Hoerner, Robin Perkins, Mike Perkins, Krystina Cook, Pamela Bartsch, and Jefferson T. Asher; and his great-grandchildren Trinity Perkins, Walter Cortez, Bradley Cortez, Preston Cook, Jameson Cook, Roseleigh Cook, Gunnar Bartsch, Finley Bartsch, Maren Bartsch, and Jefferson W. Asher V. He was extremely proud of his family and their accomplishments and loved nothing more than spending time with his family.
Jeff lived an incredibly full and consequential life. Through both his personal and business activities, he positively impacted many people from all walks of life. He loved life and was intellectually curious until the very end. He was truly a life-long learner who had the unique ability to evaluate and simplify even the most complicated situations. He will be sorely missed by all who knew him, most especially his family.
A memorial service for the purpose of celebrating his life has not yet been scheduled but likely will be held in early February 2020. In the meantime, any questions may be directed to his son, Jefferson W. Asher III. Donations can be made to the USC Alzheimer's Disease Research Center.
---