Gary Cooper and Julie London are featured on this 11x14-inch lobby card (No. 8 of 8) advertising the Walter Mirisch production of "Man of the West" (United Artists 1958).
Lobby card licensed by National Screen Service Corp. for distribution. Most of the studios used NSS to generate and distribute their promotional materials (including trailers and posters). The lobby card bears the NSS number 58/403 in the lower right-hand corner, which means the year is 1958 and "Man of the West" was the 403rd film to receive an NSS number that year. (It premiered October 1, 1958, in New York.) NSS handled distribution of of about 90 percent of all motion-picture promotional materials itself until 1943 when it was sued for monopolizing the market. Afterward, it contracted with independent regional exhibitor exchanges.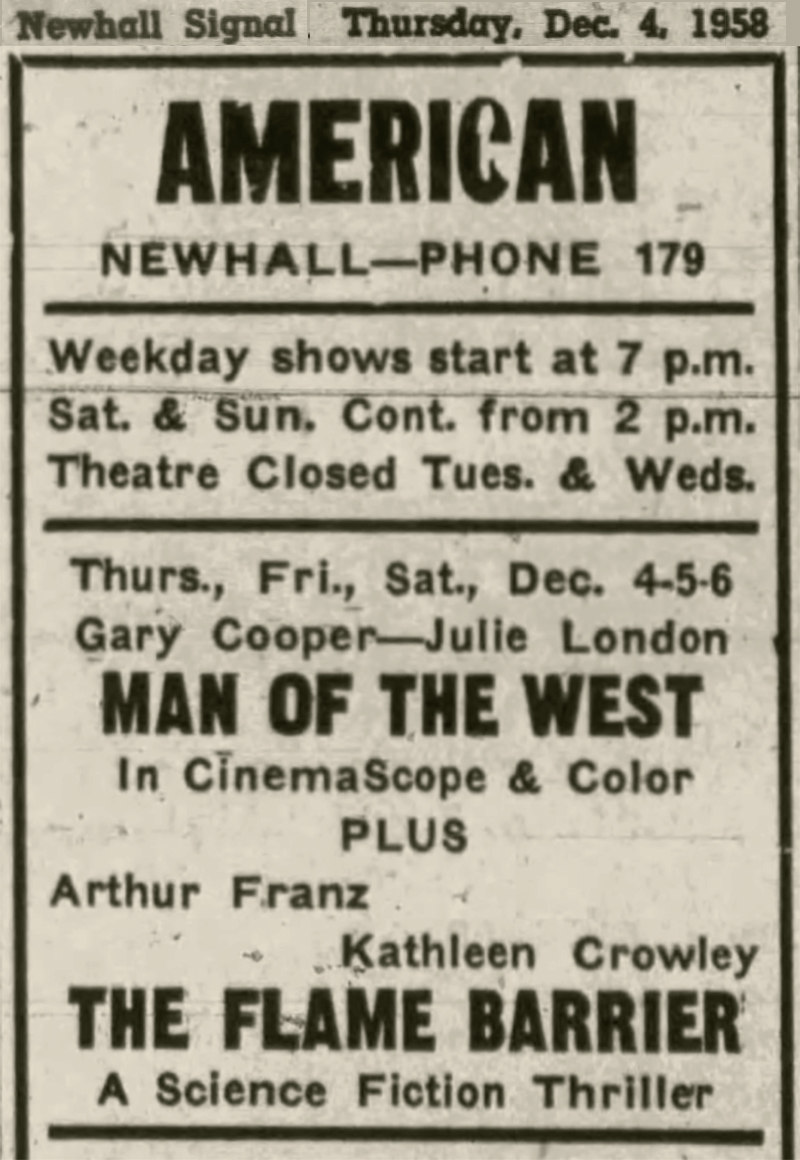 "Man of the West" was filmed on location at Gene Autry's Melody Ranch movie studio in Placerita Canyon and at Red Rock Canyon (which wasn't yet a state park); the Sierra Railroad in Jamestown, Calif.; Janss Conejo Ranch in Thousand Oaks; the Mojave Desert in California and Arizona; and Sonora, Calif. Interiors were filmed at Samuel Goldwyn Studios in West Hollywood.
The United Artists pressbook plays up the "authentic" (non-studio) locations:
"Man of the West" was filmed largely in California's magnificent Red Rock Canyon in the Mojave desert. Opening sequences wherein Cooper boards the train were filmed near Sonora and Jamestown, in the heart of the '49 gold rush country along the 57-mile track of the Sierra Railroad. The ancient train is real — not studio constructed.
The movie bombed in theaters, but in hindsight, many critics consider it one of Gary Cooper's best performances.
Cooper stars as Link Jones, a reformed outlaw who is traveling by train to find a schoolteacher for his small hometown in Texas when the train is robbed. The robbers try to convince him to revert to his old ways and help them pull one last bank job. Julie London and Arthur O'Connell are fellow travelers. Lee J. Cobb and Jack Lord ("Stoney Burke," "Hawaii Five-O") are bad guys. John Dehner, Royal Dano and Robert J. Wilke round out the credited cast.
Uncredited cast includes: Joe Dominguez, Dick Elliott, Frank Ferguson, Herman Hack, Signe Hack, Ann Kunde, Tom London, Tina Menard, Emory Parnell, Glen Walters and Guy Wilkerson. Stunt performers are Chuck Roberson, Jack Williams and Jack N. Young.
"Man of the West" is directed by Anthony Mann ("El Cid," "The Glenn Miller Story") from a story by Will C. Brown (novel) and Reginald Rose (screenplay).
Further reading: Melody Ranch: Movie Magic in Placerita Canyon.
LW3305: 9600 dpi jpeg from original lobby card purchased 2018 by Leon Worden.