United Artists pressbook for the 1958 Gary Cooper-Julie London vehicle, "Man of the West," partially filmed at Gene Autry's Melody Ranch studio in Placerita Canyon. Sent to distributors (movie theaters), the pressbook contains halftones and ad copy for exhibitors to use in their local newspapers. It includes ideas for local promotions, such as a "roll your own" cigarette contest (for which Cooper specifically posed for photos) and a little plastic gun giveaway.
The pressbook contains an IMPORTANT NOTICE to exhibitors, instructing them to delete from all advertising materials any mention of London's rendition of the song, "Man of the West," because it didn't make the final cut of the movie. Initial advertising materials proclaimed, "Hear Julie London Sing 'Man of the West!'" Not everybody got the message, as seen here.
London's then-manager and future husband Bobby Troup ("Route 66") wrote the song for her, and she did record it in 1958. We don't know why it was cut; maybe it was a money issue, or maybe it was just too weird and didn't fit the tone of the movie. (Hear it here.) Years later, London and Troup would star together on TV's "Emergency!"
---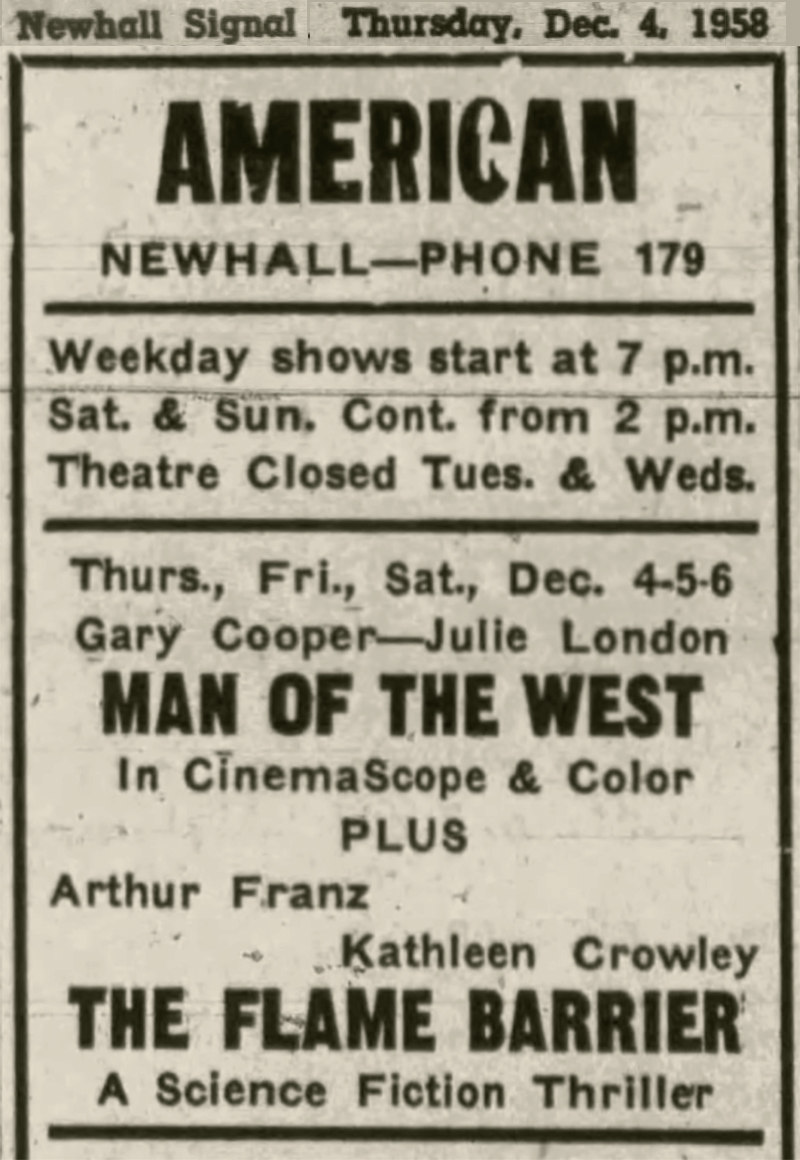 "Man of the West" was filmed on location at Gene Autry's Melody Ranch movie studio in Placerita Canyon and at Red Rock Canyon (which wasn't yet a state park); the Sierra Railroad in Jamestown, Calif.; Janss Conejo Ranch in Thousand Oaks; the Mojave Desert in California and Arizona; and Sonora, Calif. Interiors were filmed at Samuel Goldwyn Studios in West Hollywood.
The United Artists pressbook plays up the "authentic" (non-studio) locations:
"Man of the West" was filmed largely in California's magnificent Red Rock Canyon in the Mojave desert. Opening sequences wherein Cooper boards the train were filmed near Sonora and Jamestown, in the heart of the '49 gold rush country along the 57-mile track of the Sierra Railroad. The ancient train is real — not studio constructed.
The movie bombed in theaters, but in hindsight, many critics consider it one of Gary Cooper's best performances.
Cooper stars as Link Jones, a reformed outlaw who is traveling by train to find a schoolteacher for his small hometown in Texas when the train is robbed. The robbers try to convince him to revert to his old ways and help them pull one last bank job. Julie London and Arthur O'Connell are fellow travelers. Lee J. Cobb and Jack Lord ("Stoney Burke," "Hawaii Five-O") are bad guys. John Dehner, Royal Dano and Robert J. Wilke round out the credited cast.
Uncredited cast includes: Joe Dominguez, Dick Elliott, Frank Ferguson, Herman Hack, Signe Hack, Ann Kunde, Tom London, Tina Menard, Emory Parnell, Glen Walters and Guy Wilkerson. Stunt performers are Chuck Roberson, Jack Williams and Jack N. Young.
"Man of the West" is directed by Anthony Mann ("El Cid," "The Glenn Miller Story") from a story by Will C. Brown (novel) and Reginald Rose (screenplay).
Further reading: Melody Ranch: Movie Magic in Placerita Canyon.
LW3437: pdf of original program book purchased 2018 by Leon Worden. Download archival scans
here
.