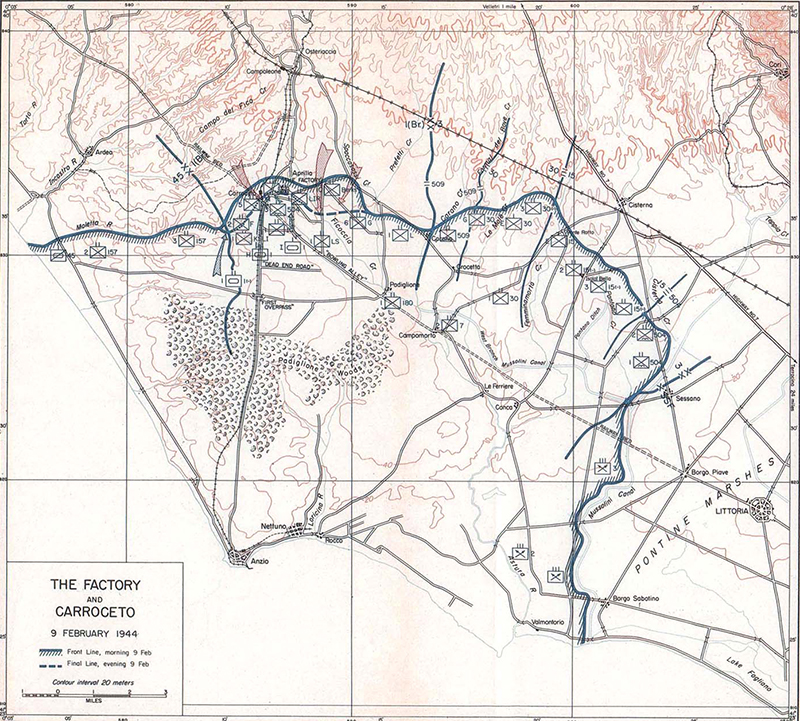 The front lines on the day/evening of SGT Contreras' death. Click to enlarge.
Home of Record: Castaic
Date of Birth: 1912
Service: Army of the United States
Rank: Sergeant
ID No: 39225373
Specialty:
Length of Service: 3 years, 20 days
Unit: 30th Infantry Regiment, 3rd Infantry Division
Start Tour: Enlisted January 20, 1941
Incident Date: February 9, 1944
Casualty Date: February 9, 1944
Age at Loss: 26
Location: Anzio-Nettuno region
Remains: Sicily-Rome American Cemetery, Nettuno, Italy
Narrative: SGT Ed Contreras served with the 30th Infantry Regiment, which was assigned to the 3rd Division during World War II. The 3rd Division had the distinction of engaging the enemy on all European fronts — North Africa, Sicily, Italy, France, Germany, Austria — 531 consecutive days of fighting.
Enlisting in January 1941 as a private (roughly a year before the U.S. entered the war), Contreras would see much of it. The action started Nov. 8, 1942, when the 3rd Division joined the invasion of North Africa and captured half of French Morocco. After the Casablanca Conference in January 1943, Allied leaders decided to liberate Sicily in July — the 3rd made an amphibious assault on the 10th — and then cross over to the mainland and start pushing up the boot.
On Sept. 18, 1943, with American airborne units reinforcing the beachhead, the 3rd landed at Salerno and methodically fought its way northward. On Jan. 22, 1944, the 3rd participated in the landing at Anzio as part of VI Corps of British and American units. Here the 3rd would dig in for four months as the Germans furiously counterattacked.
And here, in the vicinity of Anzio, is where 26-year-old SGT Contreras fell on Feb. 9.
Rifleman James Arness of the 7th Infantry Regiment sustained a severe leg wound in the Anzio landing on the 22nd that would pester him on "Gunsmoke." LT Audie Murphy of the 15th Infantry Regiment would earn the Bronze Star with V Device when he crawled out of an abandoned farmhouse on March 2 to destroy a German tank with rifle grenades.
Meanwhile on Feb. 29, three German divisions simultaneously attacked U.S. positions. The 3rd Division lost 900 men on that single day — the most of any U.S. division in one day during World War II.
Finally on May 11 the Allies were able to break out from the beachhead when they penetrated Germany's Gustav Line. Rome fell on June 4 and the Germans were now in full retreat.
SGT Contreras was awarded the Purple Heart and was laid to rest in the Sicily-Rome American Cemetery in Nettuno, Italy, with a cross marking his burial site in Block J, Row 4, Grave 7.
Notes: Edward D. Contreras was born in Arizona on Dec. 1, 1912, to Roberto Contreras (b. June 26, 1888) and Virginia Delgado Contreras, both natives of Arizona. His childhood home at 817 E. Madison St. in Phoenix no longer exists; today (2015) it's a light industrial area within a block of Chase Field, home of the Arizona Diamondbacks. While Edward's Army enlistment record shows his race as white, Edward's birth certificate identifies the color/race of both parents as "Mexican."
Within four years the family had moved to Calexico, Imperial County, Calif., where Edward's younger sisters Emily (aka Emilia) and Susie were born. The 1920 U.S. Census lists Roberto Contreras as a general farm laborer; the 1930 U.S. Census shows the family in Holtville, Imperial County, and says Roberto drives a truck on a farm. As of 1930, the family consists of Roberto (41), Virginia (43, although both were shown as 32 in 1920), Edward (18), Emilia (14), Susie (12), Margaret (9, born in Arizona), Carmen (5, Calif.); Ofelia (3, Calif.).
By 1942, when Roberto (Edward's father) registered for the draft, the family was living in Castaic at Route 3, Ronalds Court, Hwy 99. Roberto worked for Valpredo Bros., a tenant farming company on the Newhall Ranch in Saugus. At the time of Edward's death, Roberto was listed as his next of kin with an address of Post Office Box 103, Castaic.
Family research by Tricia Lemon Putnam. Data source: National Archives and Records Administration. Register, World War II Dead Interred in American Military Cemeteries on Foreign Soil and World War II and Korea Missing or Lost or Buried at Sea. Washington, D.C.: National Archives and Records Administration.
The Sicily-Rome American Cemetery and Memorial is one of two permanent American World War II military cemeteries in Italy and is dedicated to the fallen from the campaign of Sicily to the Liberation of Rome. The government of Italy granted use of this land in perpetuity as a permanent burial ground without charge.
A wide central mall leads to the memorial, rich in works of art and architecture, expressing America's remembrance of the dead. It consists of a chapel to the south, a peristyle, and a map room to the north. On the white marble walls of the chapel are engraved the names of 3,095 of the missing. Rosettes mark the names of those since recovered and identified. The map room contains a bronze relief map and four fresco maps depicting the military operations in Sicily and Italy. At each end of the memorial are ornamental Italian gardens.
A new, 2,500-square-foot center visitor center opened in May 2014. Through interpretive exhibits that incorporate personal stories, photographs, films, and interactive displays, visitors will gain a better understanding of this critical campaign that contributed to the Allied victory in Europe during World War II.