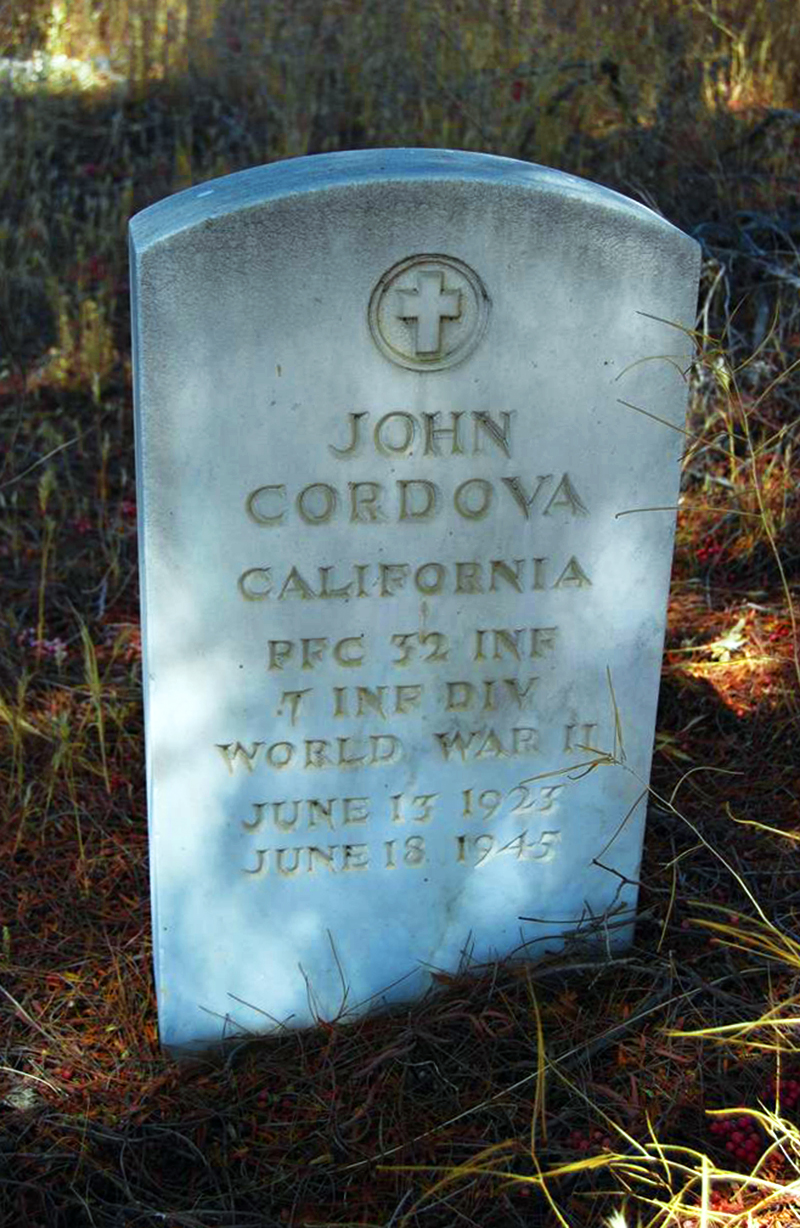 Home of Record: Castaic
Date of Birth: June 13, 1923
Service: Army of the United States
Rank: Private First Class
ID No: 39730703
Specialty:
Length of Service:
Unit: 32 Inf.; 7 Inv. Div.
Start Tour:
Incident Date:
Casualty Date: June 18, 1945
Age at Loss: 22
Location: Okinawa, Japan
Remains: Ruiz-Perea Cemetery, San Francisquito Canyon
Narrative: Johnny Cordova of Castaic was killed in action on Okinawa June 18, 1945. He is listed as DOW (Died Of Wounds), meaning he was wounded and later died.
Notes:
The Cordova family settled in Castaic 110 years earlier, in 1835. [
View
]
---
Soldier is Borne to Last Resting Place Among Own Native Hills
The Newhall Signal | Thursday, March 24, 1949
Three times the rifles spoke — and the volleys reverberated down the quiet canyon.
A little girl in the hushed assemblage whimpered in terror.
Softly there stole upon the air the long bugle call of "Taps."
Then there was no sound in the little enclosure but the racking sobs of an anguished mother.
The sergeant in charge of the Army firing squad, his tunic blazing with campaign ribbons, strode through the crowd, accompanied by one rifleman.
From the pall bearers at the graveside they took the big flag which had covered the casket. They folded it in the regulation triangular manner.
The sergeant stepped to the weeping mother, gave her the folded flag, saluted smartly.
The casket was lowered into the earth of the little Ruiz burying ground in San Francisquito Canyon.
And thus it was that Sergeant John Cordova came home at long last, to rest, with other members of his family, in the native soil of his own native hills.
His Church, his Army, his veteran mates had united to do him honor. His casket was borne into and out of Our Lady of Perpetual Help Church Friday morning by members of the Castaic Legion Post. Commander Ralph Overton, and Past Commander Kendal Dittus of the Newhall-Saugus Post, acted as color bearers.
A Sixth Army escort firing squad commanded by Sergeant Raymond L. Chambers was on hand at the cemetery. The flag to cover the casket was furnished by the Veterans Administration.
In his sermon following Requiem Mass at the church, Rev. Louis Buechner paid high tribute to the character and courage of the deceased. The Noble Mortuary handled the funeral arrangements.
---