Dolores Del Rio as the title character and Warner Baxter as Alessandro in Edwin Carewe's 1928 "Ramona." Screenshot courtesy of Hugh Munro Neely.
A newly rediscovered 1928 film with an "SCV connection" made its world premiere Saturday night in Los Angeles — 86 years and one day after it made its original world premiere.
The film is the Edwin Carewe version of "Ramona" starring Dolores Del Rio, and it had been lost to time until a print was discovered in 2010 in the Czech Republic.
The Santa Clarita Valley connection isn't the film location, or even the players, but rather the story itself.
Often called the "Uncle Tom's Cabin" of the American Indian, Helen Hunt Jackson's 1884 "Ramona" tells the tale of a mixed-race girl who's raised by a landed Mexican-Californio family and dares to fall in love with a Temecula Indian.
The foremost Indian rights activist of her day, Jackson called attention to the U.S. Government's mistreatment of native Americans in her 1881 work of nonfiction, "A Century of Dishonor." In her dramatic novel "Ramona," she romanticized the message in order to connect with the public in a way her nonfiction works didn't.

This and other postcards of the Del Valle adobe at Rancho Camulos would have been very familiar to 1928 audiences. Click image for information.
And connect it did — although not necessarily in the way she envisioned.
All over the Midwest and East, Americans wanted to see the beautiful landscapes she described and the romantic characters she brought to life.
They were able to do so because the railroads were just starting to expand throughout Southern California. Thousands upon thousands of tourists came, and many stayed; the "Ramona" novel would spark the second massive westward migration of Americans after the 1849 Gold Rush.

Helen Hunt Jackson. Click image for information.
Many readers didn't realize or simply couldn't believe Ramona, her beau Alessandro and rest of the characters were fictional. They wanted to meet Ramona's friends and see the "real" Home of Ramona- which meant they wanted to visit the Del Valle family's 1853 adobe home at Rancho Camulos at the western edge of the Santa Clarita Valley, near the little town of Piru.
The novelist had visited Rancho Camulos on Jan. 23, 1882, two years before publication, and it was widely accepted that the rancho — once part of the Mexican land grant that included present-day Newhall, Saugus and Valencia — was the inspiration for a number of the make-believe locations in the novel.
So much so that in 1910, when D.W. Griffith directed the first "Ramona" film with America's sweetheart, Mary Pickford, he shot it at Camulos and in Piru to give it the authenticity he knew his audiences would expect. It's the earliest film known to have been shot in the Santa Clarita Valley.
Rediscovery of the 1928 Film
Edwin Carewe directed about 58 feature films from 1914 to 1934. Of the 24 films he made in the 1920s, only three survive — including, now, "Ramona." That's not unusual; an estimated 75 percent of all silent films are lost.
There was no central U.S. repository for films during the silent period. Nobody knew he was making history; rarely did anyone think to keep his product for posterity. Movie houses discarded films after they ran. When a film did make it as far as a warehouse or somebody's garage, the nitrate film stock usually disintegrated into dust or dissolved into a toxic and highly flammable gunk.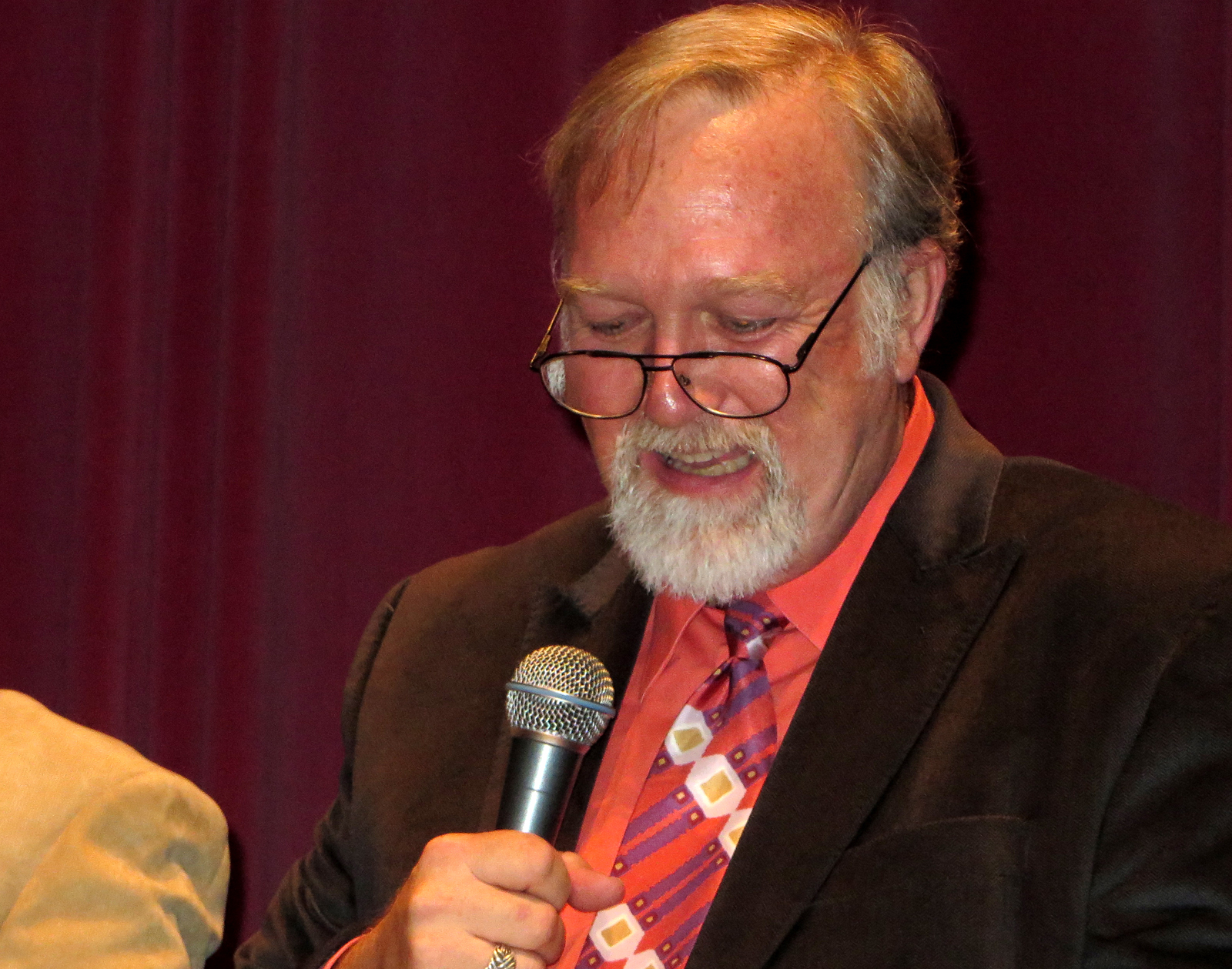 Film historian Hugh Munro Neely leads a panel discussion at the Billy Wilder Theater after the screening. Photo: SCVTV.
Odd as it might seem, whenever an old, made-in (or about) Santa Clarita film did survive, it's often thanks to the Czech National Film Archive (Národní filmový archiv, or NFA) in Prague. That's the case, for instance, with John Ford's "Straight Shooting" (1917) starring Saugus resident Harry Carey Sr. and shot in Placerita Canyon and Beale's Cut.
The NFA was founded in 1943 to protect films from the ravages of World War II.
Now enter Hugh Munro Neely. Longtime (now former) curator of the Mary Pickford Institute of Film Education, Neely was no stranger to "Ramona"; the Griffith-Pickford version is one of its centerpieces.
In 2010, Neely learned of the existence of a lone print of Carewe's "Ramona" in the NFA. Together with colleagues Joanna Hearne, an authority on early native American representations in cinema, and Dydia DeLyser — author of the book, "Ramona Memories," which explores the myths, settings and historical impacts of Jackson's novel — Neely traveled to Prague.
"Over the next several years," Neely writes, "we were able to help coordinate the return of this print to the United States where it was preserved by the Library of Congress."
The story of the print itself has the makings of a Hollywood thriller.

Phil Brigandi, longtime historian of the Ramona Pageant in Hemet. Photo: SCVTV.
The Nazis confiscated a copy of "Ramona" in the former Czechoslovakia, which they occupied in 1939, and brought it (and countless other films) to Berlin. Next, when the Soviet Union liberated Berlin, "Ramona" was removed to the Soviet film archive, Gosfilmofond, outside of Moscow. Then, after the fall of the Soviet Union, Czech archivist Myrtil Frida found it in Gosfilmofond (now the State Film Fund of the Russian Federation) and carried "Ramona" back to Prague.
For a unique print that survived not only test of time but also the ravages of two Central European armies, it's in remarkably good shape. Neely said the Library of Congress didn't need to enhance the images; it merely needed to insert new title cards for English-speaking audiences.

"Ramona" expert Dydia DeLyser. Photo: SCVTV.
"Phil Brigandi and Dydia DeLyser joined Klara Molacek and me for the purpose of creating a historically sensitive translation of the film's titles from the Czech language back into English," writes Neely. Brigandi is a leading Orange County historian and author with longtime ties to the annual Ramona Pageant in Hemet; Molacek, now in L.A., hails from Plzen in the Czech Republic.
"The Library of Congress' team of preservationists created new titles for the film using artistic and period-appropriate type fonts," Neely writes. "The result is a beautiful, photochemically restored film from the height of the silent era that tells one of the most famous stories to ever be set in our state."

Edwin Carewe. Photo courtesy of Marc Wanamaker.
Carewe's Version
Edwin Carewe is possibly unique among silent filmmakers in that he was native American. Of Chickasaw descent, he was born March 5, 1883, as Jay Fox in Gainesville, Texas, and changed his legal name to his stage name, which combined actor Edwin Booth's first name with Carewe, a character Booth portrayed.
As such, Carewe's reinterpretation of Jackson's novel about the plight of the Indians is quite different from other versions.
In a panel discussion that followed the premiere in Westwood, Brigandi noted there are no sympathetic "white" characters in the film. A gang of white cattle rustlers raid an Indian encampment — filmed at what is now Forest Lawn's Hollywood Cemetery, according to historian Marc Wanamaker — and are particularly brutal as they mercilessly gun down every last Indian — men, women and babes in arms.
All, that is, except Ramona and Alessandro, who flee in time to watch from a distance as the marauders burn their Western-style home and encircle it precisely as other filmmakers depicted Indians encircling Westerners' wagons.

Del Rio as Ramona and Roland Drew as Felipe.
And as the panelists noted, the title cards identified the Indians as "unarmed."
When Ramona and Alessandro escape to start their life together and raise a baby girl, Carewe chooses to use Utah's Zion National Park as a backdrop. Panelist James D'Arc of the Brigham Young University Film Archive in Provo theorized that Carewe placed them in the towering mountains to add visual majesty to their pure and wholesome love.
Carewe doesn't attempt to portray the Jackson's entire 490-page book scene-for-scene on the screen; nobody would — although one previous director did so. That was Donald Crisp, in 1915 (released in 1916). His version ran more than 3 hours — even longer than Griffith's 1915 "The Birth of a Nation." Just one reel of Crisp's "Ramona" exists.

The 1928 movie poster seeks to attract American audiences by playing to the romantic notions of Old California as embodied in the characters of Ramona and Felipe. It doesnít show Alessandro or any other Indian character.
Perhaps ironically, Griffith's 1910 "Ramona" runs just 17 minutes. Carewe's version, produced by his own Inspiration Pictures Inc. and distributed by United Artists, runs 77 minutes.
Original audience reactions to Carewe's "Ramona" are unknown, although the panelists noted that Variety and The New York Times gave it good reviews and predicted its success.
Also, DeLyser said birth records show that many babies born in 1928, when the film debuted, were given the name Ramona — but when she contacted a number of them, all said they were named for the song "Ramona," which came out in 1927 and was intended to accompany the silent film.
For the premiere, Rodney Sauer and his Mont-Alto Motion Picture Orchestra performed "Ramona" as an overture but didn't play it during the film itself because, Sauer said, a popular tune tends to distract audiences from the story unfolding on the screen. Moreover, a sweet waltz might not have meshed well with Carewe's sometimes harsh portrayal of an unquestionably sad story.
The "Ramona" sheet music issued in 1928 shows film star Dolores Del Rio on the cover.
Carewe had discovered Del Rio in Mexico and featured her in all seven of the feature films he made between 1925 and 1929, the latter five occurrences as leading lady. She played the title role not only in "Ramona" but also the following year in Carewe's "Evangeline," based on the Henry Wadsworth Longfellow poem.
While the little blonde Mary Pickford might have been America's sweetheart, the dark-haired Del Rio was for men what Rudolph Valentino was for women: She was considered the most beautiful woman on the screen.
The New Premiere
It's somewhat unusual for the UCLA Film & Television Archive to premiere a film that it didn't restore itself, but such was the case Saturday at the sold-out, 285-seat Billy Wilder Theater at the Armand Hammer Museum.
Support for the special viewing came from Carewe's granddaughter, Diane Allen, who treated guests, including representatives of the Rancho Camulos Museum, to a pre-event reception at her Brentwood estate.
With the rediscovery of "Ramona," Allen and other family members have launched an effort to "promote and preserve the legacy of our Grandfather Edwin Carewe."

Film historian Marc Wanamaker participates from the audience. Photo: SCVTV.
It's a worthy goal. Carewe was an A-lister who "made medium to high-budget films that were released by First National, a company that focused its efforts on ĎA features,'" Neely said. "He then switched to United Artists, Paramount and Fox." In some respects it's a wonder his name is so little known.
"As an actor, director, producer and writer," his family states, "Edwin was one of Hollywood's most illustrious and talented trailblazers in the silent era of motion pictures. We know, as his grandchildren, that he would be most honored by this tribute to preserve his legacy for future generations and film aficionados worldwide."
And if Carewe was like other filmmakers of the era who used Placerita Canyon and Vasquez Rocks as backdrops, his heirs are likely to come across more "Santa Clarita Valley connections" in his body of work.
Let's hope "Ramona" is but the first of many to reappear after all these years.