The entire student body of the K-8 Honby School in 1938, the year of the Great Flood, which washed the school down the Santa Clara River. We don't know if this photo was pre-flood or post-flood. The school was rebuilt. See map below for location.
Image courtesy of Dolly Lopez, who obtained it from her cousin Irene Madrid (later Lilley), who is at far left in the middle row.
Identifications (from Irene Madrid Lilley via Dolly Lopez):
Front Row: Bill Gafferty, Bobbie Chacanaca, Glen ?, George ?.
Middle Row: Irene Madrid, Alice Jensen, Gladys Haddock, Nellie Jensen, Eleanor Haddock, Mr. Stuckey (teacher), Marlyn Gafferty, Leona Cundy, Beverly Cundy, Joyce Cundy.
Top Row: Danny Vorhies, Earl Vorhies, Henry Balsz*, Frankie Balsz, Lorraine Fisher, Verna Cundy, Emily Balsz, Jackie Russell.
* Not the same Henry Balsz as in the 1939 photo.
---

Yellow is the location of the original Honby School. Red is the old Soledad Canyon Road alignment (east-west) and Camp Plenty Road (north-south). Google Maps image, 2017. Location extrapolated from HistoricAerials.com. Click to enlarge.
---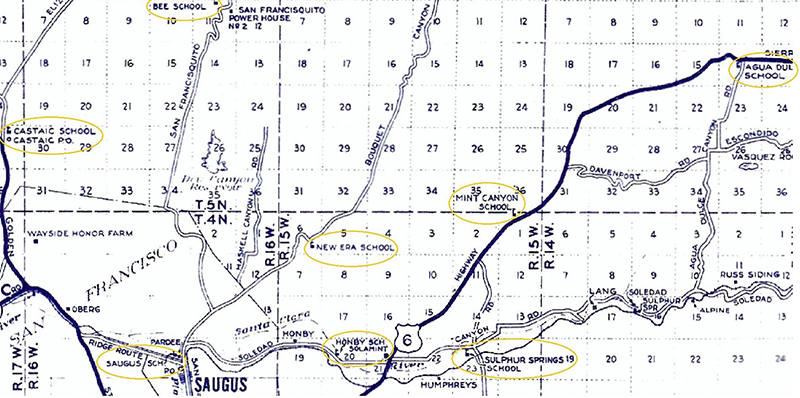 Honby School shows at the bottom of this 1958 Thomas Bros. map, courtesy of Tricia Lemon Putnam. Click to enlarge.
HB3801: 9600 dpi jpeg courtesy of Dolly Lopez. Download the "most original" version
here
. Online image only.
[
Original identifications page>]