The entire student body of Honby School, grades K-8, pose with their teacher, Mr. Stuckey, for a 1939 class (school) picture.
Image courtesy of Eleanor Fryer (née Eleanor Haddock), who attended Honby School from September 1935 until her 8th grade graduation in 1940. In this photo, she is in the middle row, to the (viewer's) immediate left of the teacher.
Fryer, who now lives in Palmdale, said (pers. comm. 2017): "We have the windmill tower on our well that stood in the school yard. Our school was built on the Santa Clara River. In 1937 a new building was constructed with actual girls and boys bathrooms with an attached room full of school supplies and was washed down the river in the 1938 flood. The trees are actually still standing on the property."
Identifications By Dolly Lopez, who obtained them from her cousin Irene Madrid Lilley (middle row):
Front Row: Henry Balsz*, Bobbie Chacanaca, George Russell, Jimmy Russell.
Middle Row: Gladys Haddock, Joyce Cundy, Irene Madrid, Eleanor Haddock, Mr. Stuckey (teacher), Teresa Balsz, Leona Cundy, Lilian Balsz, Beverly Cundy.
Top Row: Jack Russell, Earl Vorhies, Mary Smith, Verna Cundy, Emily Balsz, Danny Vorhies.
* Not the same Henry Balsz as in the 1938 photo.
---

Yellow is the location of the original Honby School. Red is the old Soledad Canyon Road alignment (east-west) and Camp Plenty Road (north-south). Google Maps image, 2017. Location extrapolated from HistoricAerials.com. Click to enlarge.
---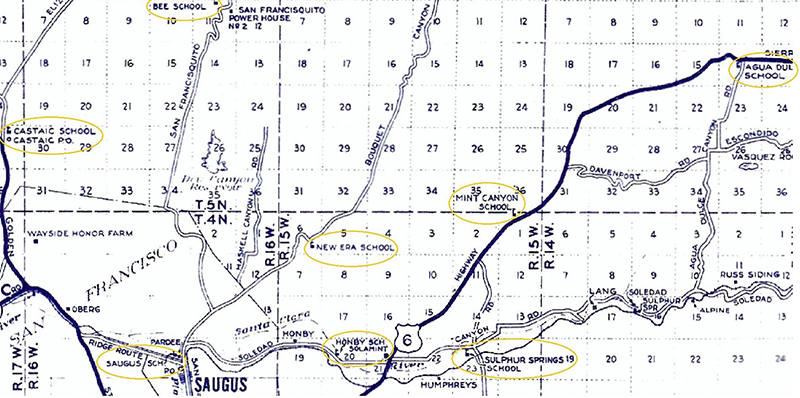 Honby School shows at the bottom of this 1958 Thomas Bros. map, courtesy of Tricia Lemon Putnam. Click to enlarge.
HB3902: 9600 dpi jpeg courtesy of Eleanor Fryer. Download the "most original" version
here
. Online image only.
[
Original identifications page>] [
Another version of this photo
from Dolly Lopez
]