The original K-8 Honby School was active in the second quarter of the 20th Century. It was located on the southwestern bank of the Santa Clara River in today's Canyon Country, just west of the former wooden Soledad-Camp Plenty bridge abutment. See map at bottom.
(According to highway historian Michael Ballard, the original river bridge, built in 1921 at a cost of $20,000, washed out in 1971. Soledad Canyon Road was reaigned and widened to four lanes in 1972.)
The two images above (color transparencies), courtesy of Chris at JCM Digital Imaging, show structures that stood at the Honby School site location in about the 1960s.
The remains of the rock wall in the second photo above are still visible in 2017. "I can vaguely remember driving past this structure on old Soledad before the floods washed the bridge out," Chris writes (pers. comm. 2017). "Just to the west of this building (location) are the remains, just a foundation, of another building which is encircled with large, old Peruvian pepper trees. I explored this area in the 1970s and early '80s and can remember rummaging through various building debris at these two sites."
(Top photo): "Another building is shown in the same area where then multiple-arched Safeway store building can be seen in the background across the dry Santa Clara river bed."
It's doubtful that either of these structures was the school building. Eleanor Fryer, who graduated from the eighth grade at Honby in 1940 (as Eleanor Haddock), said: "Neither of these look anything like the Honby School I attended. ... We had a one-room building, no side room attached" (pers. comm. 2017).
Fryer said the Honby School she attended (since 1935) had been rebuilt in 1937, then it was swept downriver in the Great Flood of March 1, 1938. Whether it was then rebuilt at precisely the same location, we're unsure; regardless, the area shown in these two photos is where she graduated in 1940.
See image below for locations of the bulidings in these two photos.
---

Google Earth image with building location identifications by Chris at JCM Digital Imaging. Click to enlarge.
---

Yellow is the location of the original Honby School. Red is the old Soledad Canyon Road alignment (east-west) and Camp Plenty Road (north-south). Google Maps image, 2017. Location extrapolated from HistoricAerials.com. Click to enlarge.
---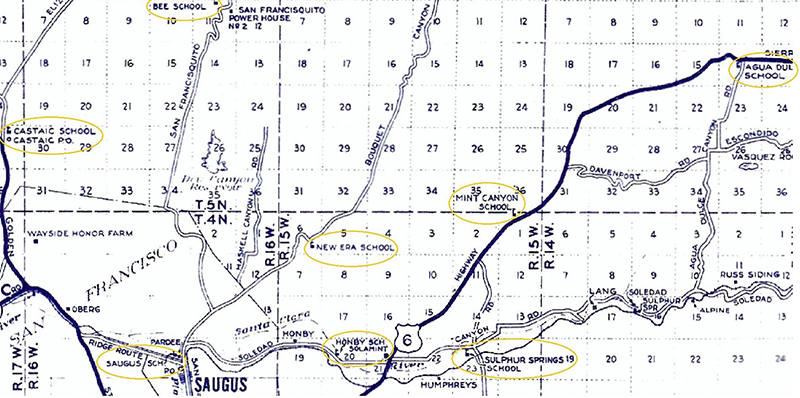 Honby School shows at the bottom of this 1958 Thomas Bros. map, courtesy of Tricia Lemon Putnam. Click to enlarge.
HB6001: 9600 dpi jpegs from color transparencies courtesy of Chris at JCM Digital Imaging. Online images only.