Webmaster's note.
The Industrial Workers of the World, aka the Wobblies — which still exists — was an international revolutionary labor organization that formed in 1905 in opposition to the policies of the more deliberate American Federation of Labor, which organized workers into different associations, or guilds, depending on their trade. The unionists, socialists, anarchists and radicals who formed the IWW believed all workers should unite as a class, represented by one big union, irrespective of trade.
The IWW achieved some measure of success in the 1910s and 1920s, especially in the Midwest and West, where it enlisted more than 100,000 migratory farm workers from 1915 to 1917. Agitators would sign up workers in the field and in hobo jungles and rail yards, to the point where hobos riding the rails were generally presumed to be IWW members. Turnover was heavy; at its peak in 1923, the IWW's roster probably numbered about 40,000.
The Wobblies opposed World War I and encouraged desertion; the government used the Espionage Act of 1917 and other laws to wreck the IWW. By 1930, membership had decreased to about 10,000. After World War II and the passage of the Taft-Hartley Act of 1946, which banned communists from union leadership roles, the IWW was further weakened; in 1949 it was placed on the U.S. Attorney General's List of Subversive Organizations. The Civil Rights movement of the 1960s revived the IWW in isolated parts of the country; in the early 2000s it organized some Starbucks locations in New York and sex industry workers in Berkeley, among others. It's headquartered in Chicago.
---

Click to enlarge.
Industrial Workers Wreck Newhall Jail.
Twenty-Two Prisoners Are Taken to Los Angeles.
San Francisco Chronicle | Monday, November 27, 1916.
Los Angeles, November 26. — The interior of the City Jail at Newhall, twenty-seven miles west of here, was practically wrecked late today by twenty-two Industrial Workers of the World, who were removed from a Southern Pacific freight train and placed in jail there, according to deputy sheriffs who returned here tonight after responding to the Newhall City Marshal's appeal for help. They were transferred to the County Jail here tonight.
News story courtesy of Lauren Parker.
---

Click to enlarge.
I.W.W.'s Who Seized Train Are Jailed.
Bakersfield Californian | Monday, November 27, 1916, pg. 1.
Los Angeles, Nov. 27. — Twenty-two men who said they were Industrial Workers of the World and who were taken from a Southern Pacific train which they had commandeered yesterday and later nearly battered their way out of the little jail at Newhall, were "quiet as mice" in the big steel cages of the county jail today, according to their keepers. No charges have been filed against them yet.
The men were brought here late last night after Newhall authorities summoned aid, meantime surrounding the jail with a ring of deputized citizens, while the prisoners used benches as battering rams to smash windows, pound bars loose, demolish jail fittings and seek forcible freedom. Several of the men said they were at Everett, Washington, during the recent fight between Industrial Workers of the World and a sheriff's posse when a number were killed on each side.
Webmaster's note. Three weeks earlier, on Nov. 5, a group of deputized businessmen at Everett, Wash., went after a horde of Wobblies who'd overrun the steamship Verona. Five Wobblies were killed, as were one police officer and a deputized civilian who was a member of the National Guard Reserve.
News story courtesy of Tricia Lemon Putnam.
---
I.W.W. Horde Threaten Big Invasion of City.
Thirty Hoboes, Who are Overpowered at Saugus After Capturing a Freight Train Near Bakersfield, Brazenly Declare that Twenty-five Thousand Tramps will "Teach Los Angeles a Lesson."
Los Angeles Times | Saturday, December 16, 1916.

L.A. Times caption reads: "Some of the I.W.W.'s second delegation to Los Angeles, as they looked jerked off their commandeered freight train and hauled to the County Jail yesterday." Click to enlarge.
A gigantic invasion of Los Angeles by a horde of I.W.W.'s was threatened yesterday by Secretary Joe Miller, of the local branch of that organization, when thirty hoboes and tramps were landed in the County jail by a posse of deputy sheriffs.
The bums commandeered a freight train a short distance this side of Bakersfield, Thursday night. They massed themselves on the track at the top of a long climb and tried to stop the train. The engineer ran out, but could not pick up enough speed to keep them from boarding.
Like pirates of old, they poured over the cars, catching the train crew and forcing them under pain of physical violence to allow the motley horde to ride. At one of their stations where dispatches as to running time had to be obtained, the crew notified Los Angeles officials of what had happened.

Click to enlarge.
A posse headed by Deputy Sheriffs Fox and Nolan, traveling in five machines, met the train at Saugus. Their sawed-off shotguns and rifles quickly stopped any thought of violence with the officers and the hoboes came tumbling out.
In some mysterious way, word had already been sent to Secretary Miller of the local I.W.W. aggregation and with a reception committee he was on hand to greet the arrivals at the jail as they were unloaded. "It's all right fellows, we'll give them a real lesson now," said Miller to some of the unwelcome visitors.
"We've got 25,000 men in this western part of the country and we'll show Los Angeles what it means to feed that kind of a crew," he declared. "The call is going out and there won't be enough jails in California to take care of us inside of another month. This town needs a lesson."
One of his henchmen declared that the "I-Won't-Workers" feared nothing like incarceration, or even death. "We've had maybe a dozen men killed on the Coast during the last year, but that's nothing. We're growing so fast that it would take thousands of killings to cut us down," he declared.
"If the capitalists only had started after us seven or eight years ago, they might have put us out of business. They waited too long. We're for direct action and we're going to prove it here, just as we have in other places where we are no longer molested.
"These officers think they're having a hell of a time when they go out and pick a few of us up. They're nothing but a bunch of boobs working for capitalists. They don't worry us in the least."
When informed of the threats of the I.W.W. leaders, Sheriff Cline said he was ready for anything that might happen and that if the courts will do their part in putting the "won't workers" where they will have to work. Los Angeles need have no fear of the final outcome.
The hoboes will all be arraigned on vagrancy charges before Justices Forbes and Brown this morning. Following the instructions of their friends of the same stripe, they will all ask for jury trials, thereby putting the county to great expense in order to properly dispose of them.
News story courtesy of Tricia Lemon Putnam.
---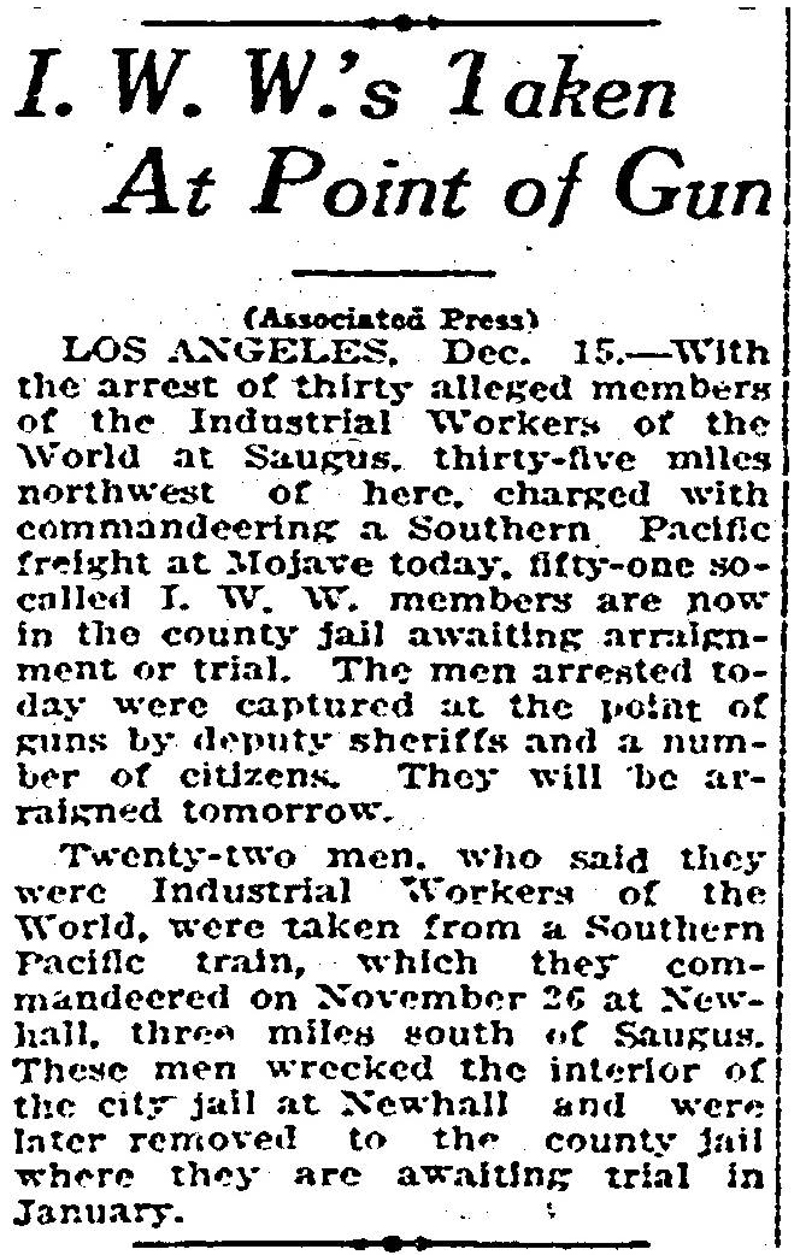 Click to enlarge.
I.W.W.'s Taken At Point of Gun.
Associated Press | As published in the San Diego Union | Saturday, December 16, 1916
Los Angeles, Dec. 15. — With the arrest of thirty alleged members of the Industrial Workers of the World at Saugus, thirty-five miles northwest of here, charged with commandeering a Southern Pacific freight at Mojave today, fifty-one so-called I.W.W. members are now in the county jail awaiting arraignment or trial. The men arrested today were captured at the point of guns by deputy sheriffs and a number of citizens. They will be arraigned tomorrow.
Twenty-two men, who said they were Industrial Workers of the World, were taken from a Southern Pacific train, which they commandeered November 26 at Newhall, three miles south of Saugus. These men wrecked the interior of the city jail at Newhall and were later removed to the county jail where they are awaiting trial in January.
News story courtesy of Tricia Lemon Putnam.
---

Click to enlarge.
Thirty Armed Men Nabbed.
Wichita (Kans.) Daily Eagle | Saturday, December 16, 1916.
Los Angeles, Cal., Dec. 15. — Thirty-two men, some armed, claiming to be fruit pickers, were captured today at Saugus when they arrived on a southbound Southern Pacific freight train which they commandeered at Mojave. Thirty were brought to the county jail here by deputy sheriffs. Two escaped at Saugus.
News story courtesy of Lauren Parker.