FBI Director J. Edgar Hoover wasted no time enforcing President Roosevelt's order to arrest Japanese enemy aliens in the wake of the attack on Pearl Harbor on Dec. 7, 1941.
Absent a formal declaration of war — which came on Monday the 8th — Roosevelt on Sunday the 7th exercised his powers under Section 21 of Title 50 of the United States Code. It allows for non-U.S. citizens from hostile nations, age 14 and older, to be "apprehended, restrained, secured, and removed as alien enemies ... whenever there is a declared war between the United States and any foreign nation or government, or any invasion or predatory incursion is perpetrated, attempted, or threatened against the territory of the United States."
On the 7th, Roosevelt declared that "an invasion has been perpetrated upon the territory of the United States by Empire of Japan," and he authorized the "arrest, detention and internment of alien enemies" from Japan within the United States and its territories.
Hoover's men had been compiling lists of fifth columnists all year, and they didn't limit their scope to Japanese subjects. They identified Japanese, German and Italian aliens in Hawaii and along the West Coast, so they'd be ready when the time came. Or before.
By the end of the end of the evening of the 7th, as of 11:32 p.m., the FBI's Los Angeles office alone had 90 Japanese citizens in custody. By 5:50 a.m., roughly 6 hours later, the total had climbed to 272 and included three U.S. citizens of Japanese birth.
At 10:05 a.m. on Dec. 8, R.B. Hood, special agent in charge in Los Angeles, reported to Hoover that 20 "German subjects, on whom custodial detention memoranda have been submitted, have been apprehended."
Bear in mind that Germany and the United States didn't formally declare war on each other until Dec. 11.
At 4:35 p.m. on Dec. 8, Hood sent Hoover a list of seven "American citizens of German tendencies," along with another 58 German citizens and 11 Italian citizens, whom he wanted to apprehend.
"Consider apprehension of above individuals absolutely necessary for internal security this area," Hood wrote in closing.
Included on the list of 58 "unclassified German aliens" were Clementine Dietzmann, 57, and her son Siegfried Julius Dietzmann, 32.

Newhall Signal, Dec. 12, 1941. Click to enlarge.
According to The Newhall Signal newspaper of Dec. 12, 1941, the two were "living near Castaic" and were arrested the evening of Monday, Dec. 8, by Deputy Sheriffs Jones and Waldrup "at the request of FBI officials in Los Angeles." The Signal reported that "a large quantity of letters, pictures and a camera, found in their possession, were confiscated. ... No inkling of the nature of the letters was divulged by the sheriff's office, since it was an FBI case."
Apparently mother and son were handed over to the FBI early the next morning, because a memo from Hoover says they were apprehended Dec. 9.
They can't have been living in Castaic for long. According to the 1940 U.S. Census, they lived in Los Angeles, and according to the FBI in 1941, they lived together with Julius Eugene Dietzmann, age 58, in a rented home at 2158 W. 21st Street in L.A.
The elder Dietzmann was apprehended separately, probably earlier on the evening of the 8th. Hood reports the man's arrest in a memo he wrote at 1:45 a.m. on the 9th.
All three — parents Julius and Clementine and son Siegfried — were born in Sieburg, a city in Nordrhein-Westfalen near Bonn and Cologne. Julius was born Julius Eugen Dietzmann on Nov. 24, 1883; Clementine was born Clementina Wolff on May 28, 1884; and Siegfried was born Nov. 19, 1909.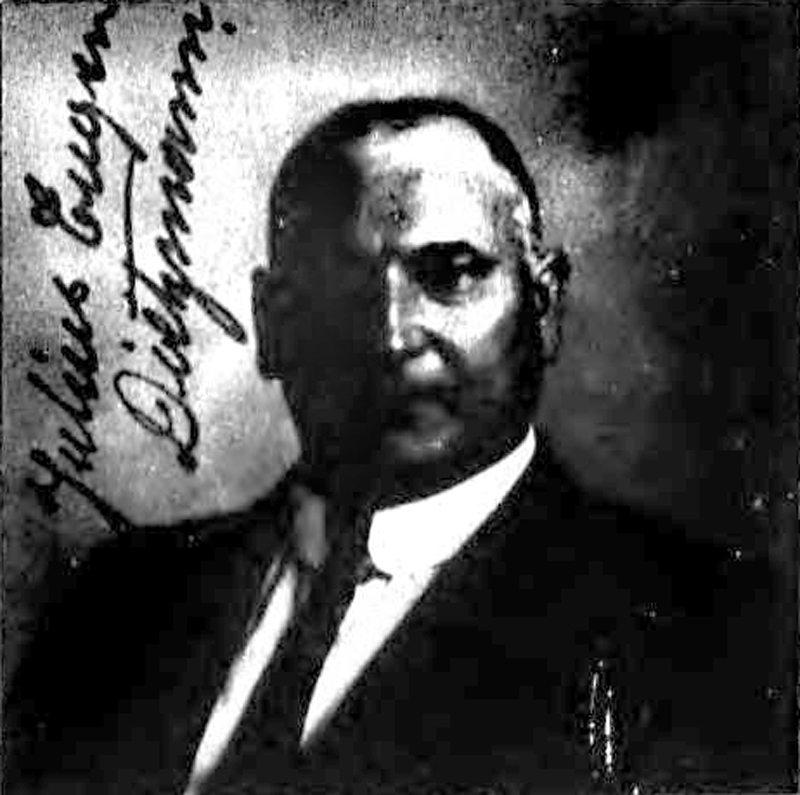 Julius Eugen Dietzmann in 1923. Click to enlarge.
The Dietzmanns were living in Buenos Aires, Argentina, before they sailed to Los Angeles in 1923 aboard the S.S. President Hayes, a vessel of the Dollar Steamship Line. Julius came ahead, arriving at San Pedro on Sept. 2; Clementine and her son followed Dec. 13.
By the time his wife and son arrived, Julius had already filed his declaration of intent "to become a citizen of the United States of America and to permanently reside therein." The document, which he signed Nov. 5, 1923, contains boilerplate language by which the declarant professes his "intention to renounce forever all allegiance and fidelity to any foreign prince, potentate, state or sovereignty, and particularly to The German Empire [space filled in], of whom I am now a subject."
Clementine signed an identical document Sept. 30, 1925.
For whatever reason, Julius was slow to follow through with the naturalization process. Declarations of Intention are good for seven years, by which time one must have attained citizenship or face deportation.
As his declaration was set to expire Nov. 5, 1930, he filed a second declaration Nov. 1, 1930, which was good only until Nov. 5, just long enough for him to apply for citizenship on that date. The card-file record of Julius' petition for citizenship seems to indicate his request was denied.

UPI Photo, Dec. 12, 1941. Original cutline reads: "These three women were among the 60 Germans taken into custody here by Sheriff's deputies and police under 'hold for FBI' orders. They are (left to right): Gertrude Schneider, 33, Clementine Dietzmann, 57, and Dorothea Behne, 45, shown in the county jail prior to being taken to Terminal Island under federal authority." Click to enlarge.
We know he stayed; the U.S. Census for 1940 shows he was living in Los Angeles with his family and was employed as an oil field mechanic. (The 1923 passenger manifest identifies him as a blacksmith, which certainly could relate to oil production.)
We don't know where or for how long the FBI held the Dietzmanns after their December 1941 arrest. A UPI photo shows Clementine and other female detainees being held in the L.A. County jail on Dec. 12, awaiting transfer to the federal prison at Terminal Island. The 21-acre prison facility had opened June 1, 1938, on the island at the entrance to Los Angeles Harbor. Coincidentally, the island was the historic home of thousands of Japanese immigrants.
Julius Dietzmann filled out a Selective Service registration card in 1942 and listed his address as 5250 W. Washington Blvd., Los Angeles. (Men born between 1877 and 1897 weren't eligible for military service but had to register because the government wanted a complete inventory of its manpower resources.)
Then we lose track of the family until 1948 when son Siegfried, living in Santa Paula, is arrested on a "morals charge" (a euphemism for a sex crime). He was convicted April 21, 1948, and sent to San Quentin. He was later transferred to Folsom, where he was paroled May 14, 1951. He returned to Folsom on Nov. 6 of that same year for a parole violation.
Two months later, on Jan. 2, 1952, Siegfried killed himself by jumping from one of the five tiers of cell blocks. According to the prison warden, Siegfried left behind a wife and two children in Alameda County.
Siegfried's father, Julius, followed him in death on March 8. We don't know the cause of Julius' death. Nor do we know what became of Clementine, but we do find her taking a Royal Dutch Airlines flight from Amsterdam to New York on Oct. 1, 1952 — several months after the deaths of her husband and son.
Back in 1941, by Christmas Day, the FBI's Los Angeles field office had apprehended 335 Japanese aliens, 11 Japanese U.S. citizens with "Japanese tendencies," 73 German aliens, 13 German U.S. citizens with "German tendencies," 13 Italian aliens, and one Italian U.S. citizen with "Italian tendencies."
By mid-February 1942, Los Angeles field office personnel had arrested 813 Japanese aliens, 79 German aliens and 18 Italian aliens and had confiscated the following contraband items: 2 motion picture cameras, 133 still cameras, 1 microphone, 2 shortwave radio transmitters, 207 shortwave radio receivers, 6 radio ear phones, 5 telegraph keys, 10 spot or search lights, 7 code books, 75 flares or skyrockets, 3 pairs of signal flags, 23 maps, charts or illegal photographs, 337 swords, bayonets or knives, 10 binoculars, 3 telescopes, 1,057 pieces of fireworks, 923 sticks of dynamite, 1,894 feet of dynamite fuses, 1,827 dynamite caps, 3 pounds black powder, 190 guns and 80,660 rounds of ammunition.
---
---

Click to enlarge.
Folsom Prisoner Plunges to Death.
The Associated Press | As reported in the Long Beach Press Telegram | January 2, 1952.
Folsom Prison, Jan. 2 (AP) — Siegfried Dietzmann, 43-year-old inmate, jumped to his death today from one of the tiers of cells here, Warden Robert A. Heinze said.
Heinze said Dietzmann, returned to prison last November for a parole violation, was despondent. He had been sentenced originally in 1948 for lewd and lascivious conduct from Ventura County.
The warden did not know which of the five tiers of cells Dietzmann jumped from. He said the prisoner is survived by a widow and two children in Alameda County.
---

Click to enlarge.
Prison Inmate from Santa Paula Leaps to Death Off Cell Tier at Folsom.
Oxnard Press Courier | January 3, 1952.
Siegfried Dietzmann, 43, Santa Paula, an inmate of Folsom prison, killed himself yesterday by plunging off one of the cell tiers, the United Press quoted Warden Robert A. Heinze as saying.
Dietzmann jumped from the tier shortly after leaving the mess hall where he was working as a helper.
Dietzmann was committed to San Quentin on April 21, 1948 on a morals charge and later committed to Folsom. He was paroled May 14, 1951, but was returned to Folsom Nov. 6, 1951 for parole violation, Heinze said.
---
---