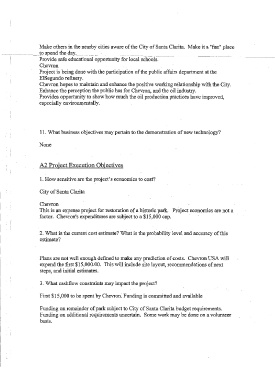 Make others in the nearby cities aware of the City of Santa Clarita.  Make it a "fun" place
                   to spend the day.___  _  _   ___  _    _ ___  _  _ __          ____________________ _
                   Provide safe educational opportunity for local schools.                              --
                   Chevron
                   Project is being done with the participation of the public affairs department at the
                   ElSegundo refinery.
                   Chevron hopes to maintain and enhance the positive working relationship with the City.
                   Enhance the perception the public has for Chevron, and the oil industry.
                   Provides opportunity to show how much the oil production practices have improved,
                   especially environmentally.






                   11. What business objectives may pertain to the demonstration of new technology?


                   None



                   A2 Project Execution Objectives


                   1. How sensitive are the project's economics to cost?


                   City of Santa Clarita

                   Chevron
                   This is an expense project for restoration of a historic park.  Project economics are not a
                   factor.  Chevron's expenditures are subject to a $15,000 cap.


                   2. What is the current cost estimate? What is the probability level and accuracy of this
                   estimate?



                   Plans are not well enough defined to make any prediction ofcosts.  Chevron USA will
                   expend the first $15,000.00.  This will include site layout, recommendations of next
                   steps, and initial estimates.

                    3. What cashflow constraints may impact the project?


                   First $15,000 to be spent by Chevron: Funding is committed and available

                    Funding on remainder of park subject to City of Santa Clarita budget requirements.
                    Funding on additional requirements uncertain.  Some work may be done on a volunteer
                    basis.