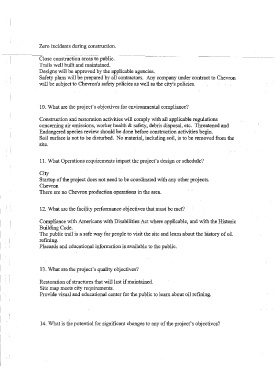 Zero incidents during construction.

                   Close construction areas to public.
                   Trails well built and maintained.
                   Designs will be approved by the applicable agencies.
                   Safety plans will be prepared by all contractors.  Any company under contract to Chevron
                   will be subject to Chevron's safety policies as well as the city's policies.




                   10. What are the project's objectives for environmental compliance?


                   Construction and restoration activities will comply with all applicable regulations
                   concerning air emissions, worker health & safety, debris disposal, etc.  Threatened and
                   Endangered species review should be done before construction activities begin.
                   Soil surface is not to be disturbed.  No material, including soil, is to be removed from the
                   site.


                   11. What Operations requirements impact the project's design or schedule?


                   City
                   Startup of the project does not need to be coordinated with any other projects.
                   Chevron
                   There are no Chevron production operations in the area.



                   12. What are the facility performance objectives that must be met?

                   Compliance with Americans with Disabilities Act where applicable, and with the Historic
                   Building Code.
                   The public trail is a safe way for people to visit the site and learn about the history of oil
                   refining.
                   Placards and educational information is available to the public.




                    13. What are the project's quality objectives?


                   Restoration of structures that will last if maintained.
                   Site map meets city requirements.
                   Provide visual and educational center for the public to learn about oil refining.






                                 '
                    14. What is the potential for significant changes to any of the project's objectives?