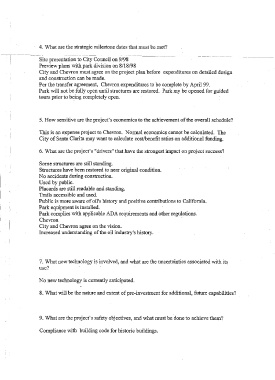 4. What are the strategic milestone dates that must be met?
           -
                   Site presentation to City Council on 9/98
                   Preview plans with park division on 8/18/98
                   City and Chevron must agree on the project plan before  expenditures on detailed design
                   and construction can be made.
                   Per the transfer agreement,  Chevron expenditures to be complete by April 99.
                   Park will not be fully open until structures are restored.  Park my be opened for guided
                   tours prior to being completely open.




                   5. How sensitive are the project's economics to the achievement of the overall schedule?

                   This is an expense project to Chevron.  Normal economics cannot be calculated.  The
                   City of Santa Clarita may want to calculate cost/benefit ratios on additional funding.


                   6. What are the project's "drivers" that have the strongest impact on project success?

                   Some structures are still standing.
                   Structures have been restored to near original condition.
                   No accidents during construction.
                   Used by public.
                   Placards are still readable and standing.
                   Trails accessible and used.
                   Public is more aware of oil's history and positive contributions to California.
                   Park equipment is installed.
                   Park complies with applicable ADA requirements and other regulations.·
                   Chevron
                   City and Chevron agree on the vision.
                   Increased understanding of the oil industry's history.






                   7. What new technology is involved, and what are the uncertainties associated with its
                   use?

                   No new technology is currently anticipated.


                   8. What will be the nature and extent of pre-investment for additional, future capabilities?





                   9. What are the project's safety objectives, and what must be done to achieve them?

                   Compliance with  building code for historic buildings.