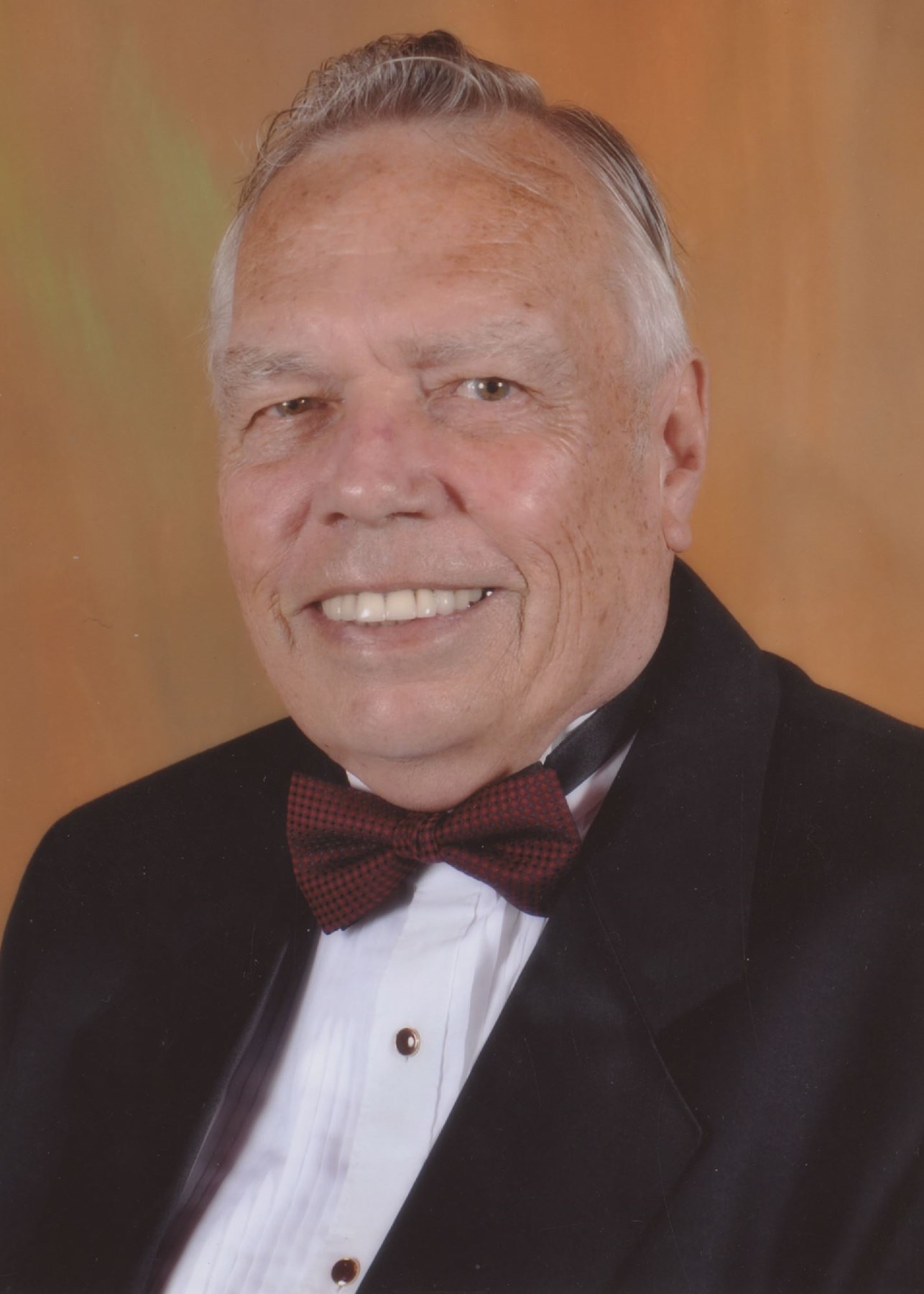 On Mother's Day 78 years ago (May 8, 1937), Gary Lee Wurst was the only child born to Jack and Dorothy Wurst in Glendale, CA.
Gary attended Morning Side Elementary in San Fernando, followed by San Fernando Junior High School, and graduated from San Fernando High School in 1955. He played the tuba in his high school band.
After high school, Gary took accounting classes at Pierce College leading to bookkeeping jobs at a variety of companies including Disney and Hydraulic Research. He moved to the Santa Clarita Valley in 1969. Gary began helping personal clients on evenings and weekends until he opened Wurst Bookkeeping Service in the 1970s, providing bookkeeping and tax preparation services. He never retired.
In 1979, Gary's good friend and fellow Rotarian Bob Tice introduced him to Shirley. They learned right away they had much in common and laughed a lot together. They were married in 1980 and celebrated their 35th wedding anniversary on Jan. 13 of this year.
Gary and Shirley blended their families totaling seven children with three initially living at home with them. Over the years their family grew to include 14 grandchildren and seven great-grandchildren.
His passions included Boy Scouts, Rotary International, gardening and working on projects around the house, traveling, decorating for the holidays, collectibles, and his wife and family.
At age 8, Gary became a Boy Scout. He actively participated through high school ultimately achieving Eagle Scout. Boy Scouts continued to be important part of Gary's life after high school. He became a Scoutmaster when his sons joined Boy Scouts so he could share his love of scouting with them. He and his good friend Paul Travers took charge of many Eagle Courts of Honor, creating meaningful and memorable events. The Scouting tradition continues throughout Gary's family. When his grandson, Brian Sulfridge, became an Eagle Scout, Gary and Shirley traveled to Tennessee so Gary could present the award to Brian. Gary was recognized with many awards from the Boy Scouts for his dedication, service and leadership.
Gary was a charter member of the Northeast San Fernando Rotary Club and a member of the Santa Clarita Valley Rotary Club since 1972 — 43 years. He served as president of the SCV Rotary Club in 1986-1987. He was a Paul Harris Fellow and was recognized as Rotarian of the Year and Rotarian of the Month many times. He was very proud to be a Rotarian and rarely missed participating in service projects and fellowship activities. He attended Rotary International Conventions in Munich and Thailand. Gary was best known as the historian of the club, always taking pictures, documenting club activities and creating beautiful scrapbooks. Gary leaves within each of us and all those he touched a lasting legacy of love, sharing, and the knowledge and understanding of what it means to live the Rotary motto "Service Above Self." Gary lived for Rotary and all that it means in our community and the world.
Gary took great pride in his home and loved creating beautiful spaces. He built all the block walls for his flower beds, laid all the brick for his patios and walkways, and even last week was planting new flowers to keep the yard beautiful.
Traveling was a great love of Gary's. He especially loved cruises. He found them to be very restful with no phones, and he loved the peace of the ocean and the buffet. He also loved playing in the casinos. He and Shirley went on many cruises to the Caribbean, Panama Canal, Alaska, Mexican Riviera and Ensenada. They shared their love of traveling with their good friends, Ed and Anna Bolden, on a Mediterranean Cruise, a Canadian cross country train trip, and a cruise on the Delta Queen Paddlewheel up the Tennessee and Ohio Rivers. They also enjoyed a Caribbean cruise with many of their family members. Disney World was another of their memorable vacation destinations.
Gary and Shirley's house was known throughout the community for the railroad train crossing in front of their driveway. It was also known for the great holiday decorations. Gary loved the holidays. Over the years he acquired quite a collection of décor. For Halloween, he shared his passion with his neighborhood by decorating his front yard and side yard, creating a path to the back yard where he happily gave out candy to the kids. His house was a favorite to visit in the neighborhood. He always gave out the full-size candy bars. And, many in the neighborhood so fondly remembered bobbing for apples on his front porch when they were young that they made it an annual tradition to take their kids to his house for Halloween.
As soon as Halloween was over, Gary began decorating for Christmas, inside and out. Decorating to Gary was not just a Christmas tree and a wreath on the door. He had lots of lights, inflatable decorations in the front yard, music playing, and a lifetime collection of decorations and displays for inside. He created such a warm and festive home, hosting many memorable holiday celebrations for his friends and family including the annual Christmas party for the Rotary Club board members.
Gary was a great collector of interesting things. In addition to the railroad crossing at his driveway, his collections included an extensive train display set up in his house, many train themed figurines and collectibles, steel banks, slot machines and memorabilia.
Great Husband. Great Father. Great Grandfather. Great Friend. Great Boy Scout. Great Rotarian. All of these characterize Gary. He was a kind, loving and compassionate man always willing to help anyone — family, friends and strangers. Shirley shared a story of them leaving a restaurant and being approached by a homeless woman who asked them for food. He gladly gave the food they had brought from the restaurant and when the woman asked for a ride to the homeless shelter, he obliged without hesitation.
Gary enjoyed life. He enjoyed the special bond he shared with each of his grandchildren and great grandchildren. He especially enjoyed taking them on train rides. And he enjoyed letting them play with his slot machines. His rule was that if they played with their own money they could keep any winnings. But, if they played with his money they had to give him the winnings. Another special memory the family shares was Gary's love of the Oakland Raiders football team. Several family members attended Raiders games with Gary when the team was in Los Angeles and even travelled with him to some games after the team moved to Oakland. The men of Gary's family will remember those special times every time they wear the Raiders jackets Gary gave them all for Christmas.
He truly enjoyed his life with Shirley. Besides travelling they enjoyed theater productions together. He was a great husband to Shirley, always providing for her physically, emotionally, and financially. He took care of many household chores like grocery shopping and picking up laundry.
Gary Lee Wurst passed away August 20th, 2015.
Gary is survived by his wife Shirley Wurst; three sons: John Wurst, Jim Wurst, Donald Wurst; four stepchildren: Charles Perry and his wife Twilia, Celeste Sulfridge and her husband Jack, and Cindy Vargas and her husband Mario, and Vince Nomura and his wife Holly; along with 14 grandchildren and seven great-grandchildren.
Gary's life will be celebrated Wednesday, Aug. 26, 2015 at 10 a.m. at Eternal Valley, 23287 Sierra Highway, Newhall, CA 91321.
In honor and memory of Gary Wurst, donations may be made to Newhall Rotary Community Foundation, P.O. Box 220492, Newhall, CA 91322-0492.
---