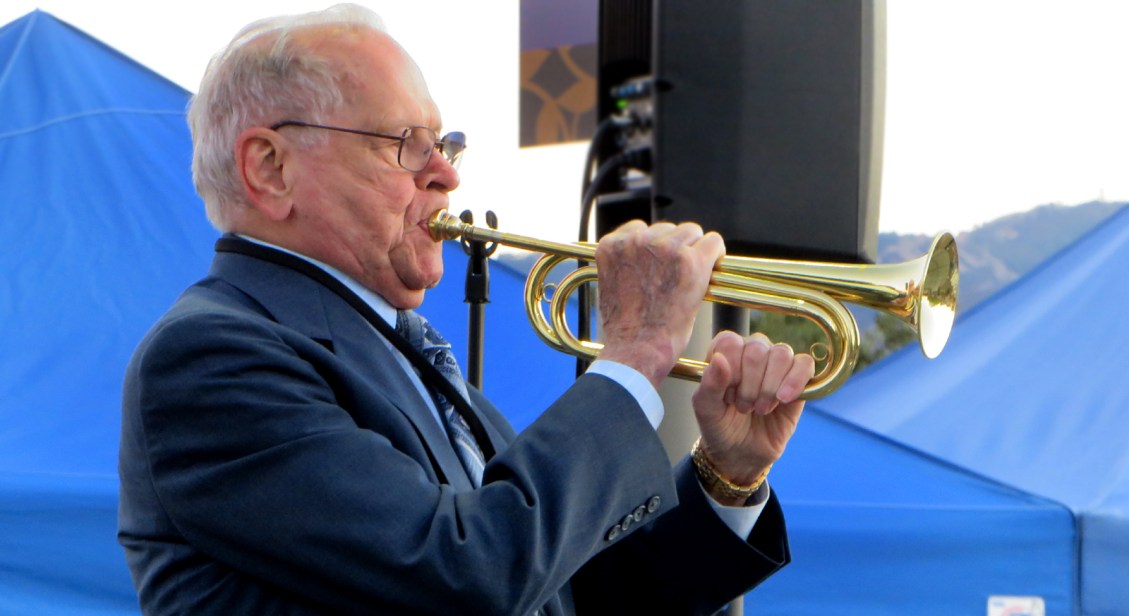 Robert "Bob" Danis, Korean War veteran, United States Air Force interpreter, singer, trumpet player and Santa Clarita Valley Senior Center band leader, died Tuesday, July 25, 2017, in Valencia. He was 85.
Leader of Fiddlesticks and Ivory Plus, the Senior Center's band, for 13 years up until last Wednesday, Danis played his last gig at the Center on Friday, July 21, jamming as usual with pianist John Swinford.
Danis suffered a stroke on Sunday and died early Tuesday morning at Henry Mayo Newhall Hospital, according to stepdaughter Candye Rucker of Newhall.
Danis met her mother Jeanne Rucker through their love of music at a jazz organization board meeting in early 2002, and they and married in August 2004. She was a newlywed at 83; he was 11 years younger. She died in April 2016.
Born September 12, 1931 in Detroit, Michigan, Danis enlisted in the Air Force in March 1951, at the age of 19, just months after the war started. His brother, a World War II veteran, suggested he go for a career in the intelligence field, rather than driving a truck. Danis went through Russian and Chinese language schools and served as an interpreter at a top-secret monitoring station in Korea from 1951-1955.
A barbershop quartet singer as well as a trumpet player, Danis provided musical entertainment at the SCV Senior Center each week and for countless Senior Center events.
Danis also participated in local veterans' activities, and was a key player when the Traveling Vietnam Memorial Wall made its stop at Westfield Valencia Town Center in September 2013. He played "Taps" during the ceremonies.
In 2009, Danis participated in the Library of Congress' Veterans' History Project.
Danis was also a recovering alcoholic who had been sober for 51 years.
"Bob was deeply involved with Stepping Stones," Candye Rucker said. "The last thing he did on Saturday night was to speak at an AA meeting in Van Nuys, sharing his sobriety. That was something to be really proud of. He touched many peoples lives over those 51 years. He was just a kind and gentle man. Everybody loved him. No one ever said a bad word about him."
Rucker said she was "honored to have been his stepdaughter. I used to thank him all the time for loving my mom the way he did. After she died, I became his wingman and we saw each other every day. We were closer than most fathers and daughterse. He played at Sardo's in Burbank every Thursday, and at one of the last gigs he played there, he dedicated 'Candy' to me and called me his daughter. He was just a blessing."
"Bob was one of the leaders at the Senior Center," said the Center's Robin Clough. "He imparted the joy of music for 13 years and entertained hundreds at the Senior Center. He was recently honored by Los Angeles County as 'Senior of the Year' at the Older Americans Recognition Awards ceremony.
"He had such class, intelligence, humor and talent," Clough said. "He will be missed terribly, but he's left an incredible legacy. I feel so honored to have known and worked with him. I'll particularly miss speaking Chinese with him!"
Danis is survived by stepdaughter Candye Rucker of Newhall; niece Rose Rockey and family of Palmdale; niece Liz Gaede and her family of Valencia; nephew Ray Hein and family of San Jose; and Pat Kelver and husband from Michigan.
Funeral services are pending.