In this story, the writer — whose family built the place in 1975 — uses the term "house" to refer to the building at the top of the hill in Ed Davis Park that the Santa Monica Mountains Conservancy calls the "Towsley Lodge."
The writer uses the term "lodge" to mean the two-story structure that's closest to the entry off of The Old Road to the Conservancy's Ed Davis Park and the city of Santa Clarita's Rivendale Park property.
The snack shack with upstairs studio apartment is the smaller two-story building off to the far left (south) of the park entrance.
Beginnings
Circa 1974: The tale begins in Encino, Calif., where my mother, Dorothy Agins (Arnett), and her then-husband, Jerry Arnett, decided to escape the congested San Fernando Valley and move north to a 272-acre spread at what is now known as Ed Davis Park at Towsley Canyon and Rivendale Park.
1975: We begin construction on the two-story country house — "country" enough for my mother, yet close enough to civilization and the cultural centers of Los Angeles — a stucco and tile, Spanish-style home now referred to as a lodge. "Hacienda" would be more apropos.
My mother was born and raised in Sherman Oaks at a time when the San Fernando Valley was all farms and orchards. A graduate of Van Nuys High School (along with Robert Redford and Don Drysdale) and then UCLA, she was a true Los Angeles native who ultimately wanted to move away from the congestion and the hustle and bustle of the overgrowing San Fernando Valley.
This was my mother's dream. The design of the house we built was all my mother. It was her labor of love. The custom hardwood and tile floors, chandeliers, mirrored walls, cabinet, every tile, my "green" room; the one-story addition that was going to be a garage but became a rumpus room with pool table, ping pong table and pinball machine — she painstakingly selected every detail, all the way down to the old ship lanterns for my stepbrother's room that are now in my son's room. (The family built a detached garage next to the house, with an upstairs apartment; this later became the Conservancy's caretaker quarters — Ed.)
The original adobe roof tiles that my mother and stepfather discovered at a barn in Pomona not only covered our house, but also the lodge at Rivendale and the snack shack.
The house was completed in 1975. Complementing the backyard was an Olympic-sized pool built by Paul R. Gervasi's company, Gervasi Pools, as one can see in the tile at the bottom, complete with a Jacuzzi and diving board. Longtime Santa Claritans might remember Wiley Canyon Elementary School's sixth-grade graduation "pool party" in 1978.
I collected eggs from chickens we kept in an above-ground coop behind the house near the cliff. I played with our pet pigs in the clearing just in front of the crossing to the house.
My mother planted 200 shade trees to hide the house from the base of the canyon and 30 fruit trees bearing every imaginable kind of fruit — although the cherry trees never seemed to behave. I have a memory, from before we built the house, of walking over the hill with a "water witch" to see if there was ground water. There wasn't, so we ran water from The Old Road. We also had bee hives that provided fresh honey and honeycomb.
Ed Jauregui ran cattle on the property when we bought it, and he continued to be a part of our "gentleman's ranch." The cattle kept the brush under control.
A fence separated our property from the Standard Oil Co. property behind it, with a cattle crossing and wooden corral and cattle chute that was used when branding and castrating cattle.
Standard Oil had a caretaker who would run us off with his truck and rifle if we kids dared ride the trail past "his" gate. Just the same, my mother would sit out front and shoot at trespassers with a .22-caliber rifle — but she wasn't a good enough shot to hit anyone.
While the house was being built, the idea of an equestrian center was being formed along with the intent of subdividing the property along the road into 5- to 10-acre parcels with custom ranch homes. The subdivision never happened because the county didn't want development west of Interstate 5 at that time.
For Want of a Horse
It begins with a 7-year-old girl with sparkling red hair who lived in Encino with her mother and stepfather, brother and two stepbrothers. All she wanted was to ride horses. So her grandparents, who spoiled her silly, took her to a riding stable in Northridge off of Rinaldi and Zelzah called Don-e-brook Farms. Her journey and her love of horses began there.
Little to her knowledge, her mother wanted to move out of Encino. Don-e-brook founders Ernie and Maryann NaQuin had a ranch in San Francisquito Canyon, so they already knew the area. Now, at age 8, the girl moves with her parents and siblings to the "middle of nowhere" as Don-e-brook packs up and moves onto the 272-acre property where the little girl and her family will live in Towsley Canyon. It was a good opportunity for the NaQuins to have a larger operation, and it proved to be a win-win for everyone.
The riding stable began with a paddock and an arena. Soon the center took shape with the addition of a gooseneck show arena, covered arena, lighting, 80 cinderblock stalls with 50/50 doors, central tack rooms, automatic waterers, hot and cold wash racks, a lunge ring and hot walker.
Then came the lodge. Looking at it from the front (north), the large room to the left was a tack store. In the center was a counter and the equestrian center's business office. To the right were men's and women's locker rooms with showers and restrooms. Upstairs was a party room for show gatherings, accessed by an exterior staircase. At the base of the staircase was a control room for all of the lights to the arenas.
Near the paddock was a separate little building with a snack shack for horse shows, complete with deep and flat-top fryers and food prep counters. Upstairs was a caretaker quarters. Nearby were refrigerator box cars that stored food and grain.
What to call this oasis? It was no longer just a stable, but a first-class equestrian center offering English and Western riding and dressage, with top trainers in their fields. Dorothy — who was also a teacher — was an avid bookworm and a romantic.
Rivendell was J.R.R. Tolkien's elven name meaning "deeply cloven valley," located at the edge of a narrow gorge of the river Bruinen in his "Lord of the Rings" trilogy. What better name for this beautiful equestrian center that sat at the base of a canyon leading to a home that would eventually be hidden by trees than a derivation of the name of Tolkien's elven oasis?
Rivendale was built for a little girl with red hair — "All for the want of a horse," her mother would tell people.
Rivendale became the site for many top-class equestrian events including Labor Day and Memorial Day Classics (three-day English events), Friday Night Jumps and Cutting horse/Western shows. Old-school Santa Claritans might remember when U.S. Rep. Barry Goldwater Jr. rode a big, black and white pinto horse in Newhall's Fourth of July Parade. Its name was Sargent, provided by Dorothy and Jerry Arnett of Rivendale.
Looking Back
The property changed hands several times after we left in 1982-83, but the beginnings don't change. The dream of a house in the country and of Rivendale has never changed. We never left Santa Clarita. That little red-headed girl? She grew up and settled down in Santa Clarita. She owns a business in town and gives back as much as possible to the community.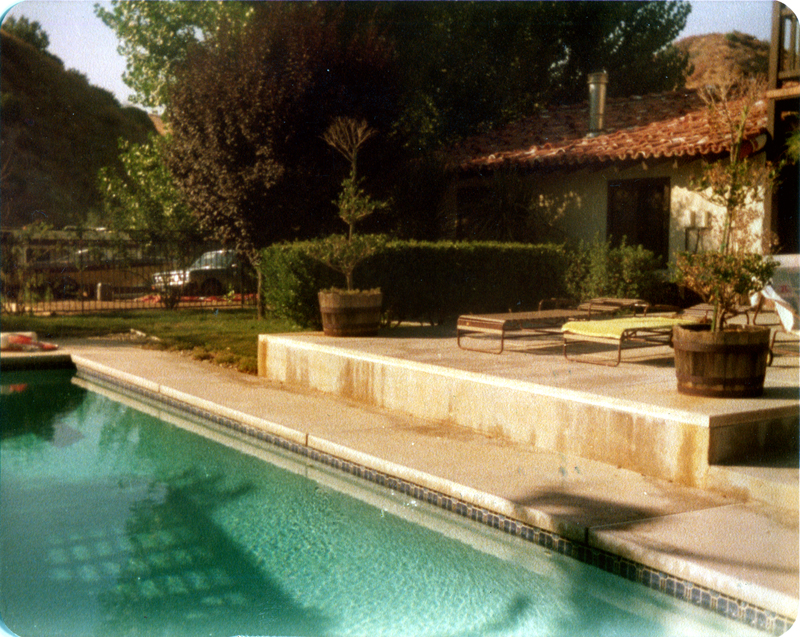 She lives within walking distance of the property that is now a state park where people hike in what was her front yard and backyard; the creeks where she would play barefoot, catching toads and tadpoles; the hills and trails she rode on. Today she takes her boys there and keeps the memories alive.
Dorothy and Jerry divorced; Jerry no longer lives in California and Dorothy, the dreamer, died in November 2010 from pancreatic cancer. Not a day goes by that Dorothy is not remembered by her family and friends — but those who hike the hills and valleys of Towsley Canyon and use her house and make plans for Rivendale don't know the history of this 272-acre home in the country and gentleman's ranch. This is a story for everyone.
Who am I, the author of this tale? I am Rivendale. I am the little red-haired girl who, for want of a horse, was given an equestrian center. I am the one who sees her childhood home every day.
What do I want for Rivendale? All I want is for the story to be told, for current and future generations to remember why everything is there, and to remember my mother. This was her dream, and she lived it.
Newhall resident and 1984 Hart High grad Sabina Fetter (Pokard) is the owner of Capelli Salon in Valencia.
---
©2013 Sabina Fetter | SCVHistory.com