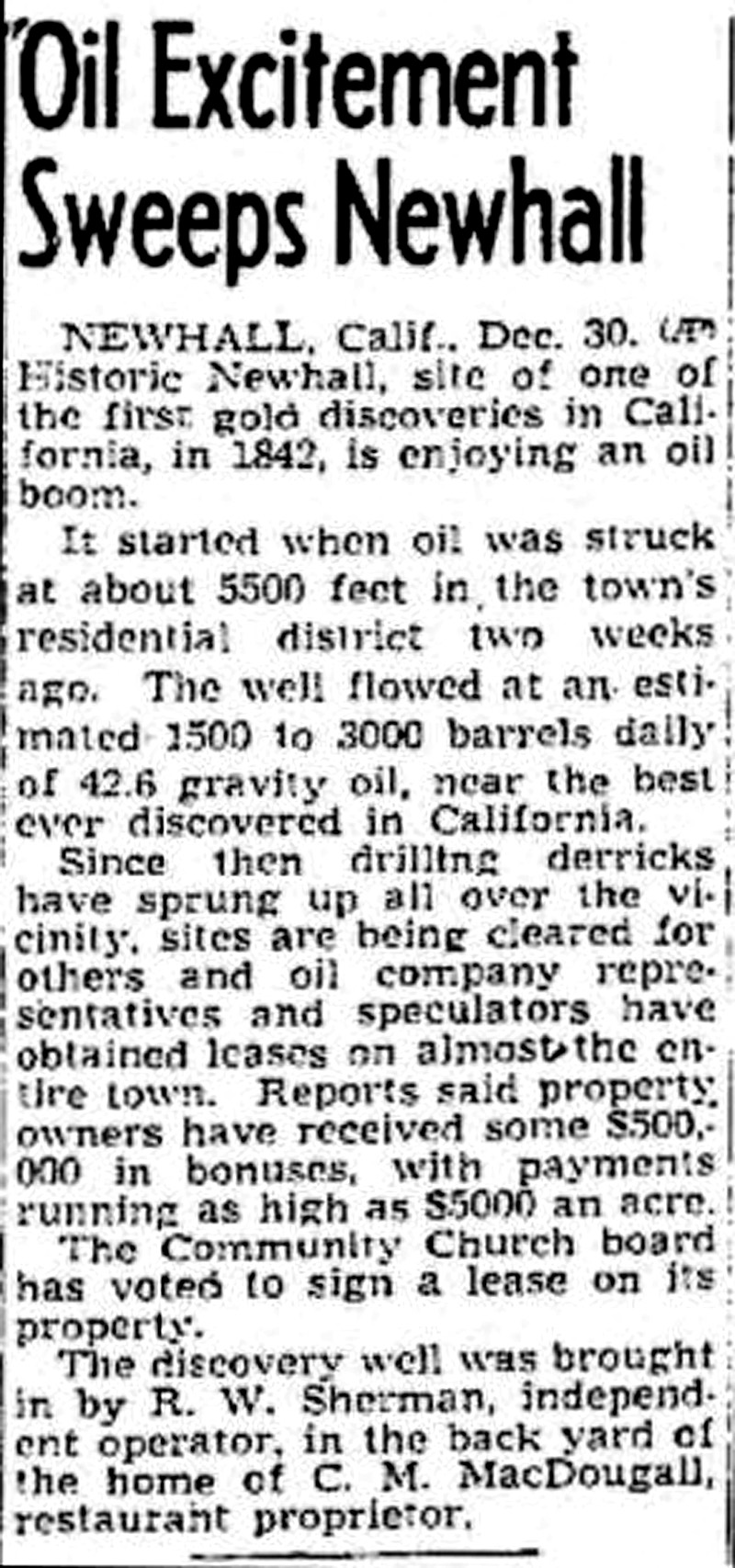 Click to enlarge.
Oil Excitement Sweeps Newhall.
Long Beach Press-Telegram | December 30, 1948.
Newhall, Calif., Dec. 30 (AP) — Historic Newhall, site of one of the first gold discoveries in California, in 1842, is enjoying an oil boom.
It started when oil was struck at about 5,500 feet in the town's residential district two weeks ago. The well flowed at an estimated 1,500 to 3,000 barrels daily of 42.6 gravity oil, near the best ever discovered in Calfiornia.
Since then drilling derricks have sprung up all over the vicinity, sites are being cleared for others and oil company representatives and speculators have obtained leases on almost the entire town. Reports said property owners have received some $500,000 in bonuses, with payments running as high as $5,000 an acre.
The Community Church board has voted to sign a lease on its property.
The discovery well was brought in by R.W. Sherman, independent operator, in the back yard of the home of C.M. MacDougall, restaurant proprietor.
News story courtesy of Jason Brice.
---
According to Susan Davy (1-26-2017), daughter of Newhall pharmacist Ralph Williams, the oil well was located behind her parents' home at 1005 Arcadia St. (later renumbered 24445), on pasture land owned by Judge C.M. MacDougall, who lived at 929 Arcadia (renumbered 24335). It was after the fact, Davy writes, that her parents found out "oil wells were not to be drilled within 200 feet of a property line, and it was closer than that to our back fence. They also learned that Sherman used the "whipstock" method [aka "slant drilling"], meaning the drilling was going on under part of [our] family property.
"The day the well gushered, the gas was turned off in area houses. Unfortunately, after several drilling attempts, Sherman could not get the salt water out of the oil, and he abandoned the drilling, leaving a sump hole in its place. There was such hysteria over possible oil being discovered, my mother couldn't keep strangers, carrying folding chairs, from walking onto the family property to sit and watch the drilling being done. She got so mad one day that she turned the garden hose on them."