Buffalo Vernon. 5x7-inch Newsaper Enterprise Assn. wire photo date-stamped Oct. 13, 1911 — a time when Thomas Vernon was in prison for larceny. Click to enlarge. Scroll down for writing on back of print.
---
Saugus train robber and perpetual horse thief Thomas Vernon assumed — today we would say "stole" — several identities throughout his criminal career. One was that of Buffalo Vernon, a big star of the Cheyenne and Pendleton rodeos of 1910 and 1911.
A number of real photo postcards of Buffalo Vernon were mass produced. Many showed him from the back, or the side, or from a distance, and Tom Vernon used one or more of them in his masquerade. It's unlikely he ever used a full-frontal view like the newswire photo above, or the viewer would immediately see the two men looked nothing alike.
Making it all the easier for Tom to play the role was the fact that Buffalo Vernon vanished from the rodeo scene shortly after he enthralled crowds and judges with his bulldogging prowess. Few people knew he wandered off to try his luck in the mines.
By the time Tom's tale grew legs, he probably figured nobody would remember Buffalo Vernon had brown eyes (per his military record) while Tom's own eyes were blue-gray (per his prison record).
Who was the real Buffalo Vernon?
His birth name was Jesse "Jess" Shisler. The same age Tom Vernon claimed to be (we don't know Tom's true birthdate), Shisler was born June 3, 1884, in Ontario, Canada, to Joseph Shisler of Ontario and Agnes Tenet Shisler (aka Tennant) of Scotland. They were Tunkers, a Germanic denomination of Seventh-Day Baptists with a Quaker-like aversion to violence. The name Tunker, or Dunker, relates to their practice of baptism by immersion.
According to a 1963 interview with his sister, Mrs. Maude E. MacDonald (see True West magazine story below), Jess was the second-youngest of 11 children. "His father died when he was seven, but until he was twelve years of age he stayed on the farm, which is just eight miles across the river from Buffalo, New York." The 1891 Canadian Census, taken just before their father's death, confirms that young Jess and older brother Richard were living at home with their parents.
At 12, Jess and Richard (Dick) crossed over to Buffalo to stay with another sister. Then, "for some reason unknown to the family, they changed their names," MacDonald said. "I guess they just liked the name Vernon better."
On to Chicago where they took odd jobs, Dick and Jess next drifted to Oklahoma and Texas. Dick ultimately became a sheep rancher in the Oregon-Idaho area while Jess remained in cattle country and learned how to handle horses and a riata. The cowboys started calling him "Buff," presumably for his adopted hometown in New York, and it stuck.
A masterful trick roper, "Buff" Vernon's real claim to fame on the rodeo circuit was bulldogging. Invented by the famous African-American cowboy Willie M. "Bill" Pickett (1870-1932), bulldogging was the art of tackling a steer the way the cowdogs did it — by jumping onto the animal's back and biting its muzzle to make it submit. As Pickett once explained it, he would "sink his strong ivory teeth into the upper lip of the animal, and throwing his shoulder against the neck of the steer, strain and twist until the animal, with its head drawn one way under the controlling influence of those merciless teeth and its body forced another, until the brute, under the strain of slowly bending neck, quivered, trembled and then sank to the ground."
According to "Pendleton Round-Up at 100," that is just what Jess Vernon did in 1910. Paraphrasing the East Oregonian newspaper: "Buffalo Vernon gave a memorable demonstration of bulldogging a steer to the ground and holding the animal down by biting its lip in 'a mighty classy exhibition.'" It was an exhibition because "Buff" was the only person to perform the trick at Pendleton in 1910. In 1911 he had some competition, so it became an event. He won the $75 prize money.
It was a similar story in Cheyenne. Buffalo Vernon, "star broncho buster," together with Ambrose Means, "dare-devil American" trophy hunter, and Annie Oakley, "the world-famous woman rifle shot," got top billing among the "upwards of 700 cowboys, cowgirls, Indian chiefs and warriors, Russian Cossacks, Mexican ruralies and lariat throwers, Northwestern Canadian mounted police, United States cavalrymen and rough riders from all parts of the world" who performed with the Young Buffalo Bill Wild West Show at Cheyenne's "Pioneer's Day" event in June 1911 (see below).
(Future train robber Thomas Vernon was ensconced in San Quentin State Prison for larceny this whole time.)
Along the way, "Buff" Vernon apparently started telling folks he was born in Texas — either to solidify his bona fides or to fake his ID as a United States citizen, or both. Probably about 1914 after his tour with the Buffalo Bill show, he migrated over to the Miller 101 Ranch show.
In September 1918 we find him in Walla Walla, Wash., where he filled out his Selective Service (draft) card. He listed his occupation as unemployed horseman and his closest relative as Mary Vernon of Boise, Idaho. We don't know whether Mary was his sister or his wife; he must have wed at some point, because the 1930 U.S. Census (and other records) show his marital status as divorced ... and his birthplace as Texas.
Then, in the early 1920s, "Buff" mysteriously disappeared from the rodeo circuit. Cowboys do gossip; all manner of rumors circulated, but the True West writers say the fact is, "Buff" was seriously gored by a bull. It caused a hernia that wouldn't heal and finished him as a competitor.
(Incidentally, the 1963 True West story was written in part because somebody — guess who? — was pretending to be Buffalo Vernon in 1963. Tom had been doing it since 1929 when he pulled the train job, but he went away for 20-some years and had nobody to tell. Now he was out and talking to reporters, trying to sell his made-up story to Western writers.)
To continue: In 1926 the real "Buff" Vernon moved to Yerington, Lyon County, Nev., and landed a job with the Bluestone Mine, a copper mine 4 miles southwest of town. With a patent granted in 1883, the mine provided bluestone (chalcanthite), a water-soluble copper mineral, to the amalgamating mills in Virginia City. The mine's secondary minerals were gympsum-anhydrite, gold and silver.
The Great Depression that started in October 1929 put an end to the mine in 1930. (For more, see Yerington Monday: The Mines of Lyon County: Blue Jay Mine, Bluestone Mine & Thompson Smelter.) The old rodeo cowboy then "divided his time between trapping and a second-hand business, with a bit of farming, cattle tending and veterinary work thrown in" (True West). According to his death notice (see below), "he had a string of nearly five hundred traps" in the Yerington area.
Jess "Buff" Vernon suffered a fatal heart attack at his cabin home near Yerington on Oct. 23, 1939. For his death certificate, an unrelated informant identified "J.B. Vernon" as a 55-year-old miner ... from Texas.
# # #
---
Old Steamboat vs. Buffalo Vernon.
Harrisburg (Penn.) Telegraph | Tuesday, June 6, 1911.
Each year at Cheyenne, Wyo., a celebration is given by the cowboys which they call "Pioneer's Day." Cowboys come from all parts of the West to contest with each other in riding outlaw horses, roping steers, and other hazardous pastimes familiar to the great plains. A horse known as Old Steamboat has been the star performer at Cheyenne among the outlaws for the past five years. Old Steamboat succeeded in throwing all comers until Buffalo Vernon tried issues with him. Vernon succeeded in staying on the back of the famous outlaw, but he required the attention of several surgeons after his experience.
Buffalo Vernon is the star bronco buster with the Young Buffalo Wild West Show which will exhibit in Steelton, Friday afternoon and night, June 9. There are fifty other cowboys with the aggregation, numbering among them Ambrose Means, the dare-devil American, who, with the Buffalo Jones expedition, went into the heart of East Africa on the famous bloodless hunting trip. It was Means who actually cast the lariat that captured lions, tigers, rhinoceri, and other denizens of the African veldt, a deed of daring that has no parallel in all history.
Annie Oakley, the world-famous woman rifle shot, is another star of the Young Buffalo Wild West Show, who has, by her feats of skill, won international fame. Captain Bogardus, Captain Stevens, and Curtis Liston form a trio of marksmen the like of which has never before been gathered together with any tented amusement enterprise. There are upwards of 700 cowboys, cowgirls, Indian chiefs and warriors, Russian Cossacks, Mexican ruralies and lariat throwers, Northwestern Canadian mounted police, United States cavalrymen and rough riders from all parts of the world with this mighty monarch of the West. A big free street parade will be given at 10 o'clock on the morning of the exhibition. Colonel Vernon Severs, the general manager of this big amusement institution, claims that this street demonstration is the most elaborate, novel, and spectacular affair ever seen with any similar exhibition. One of the big features of the parade is Colonel Stewart and his twenty ox-team.
---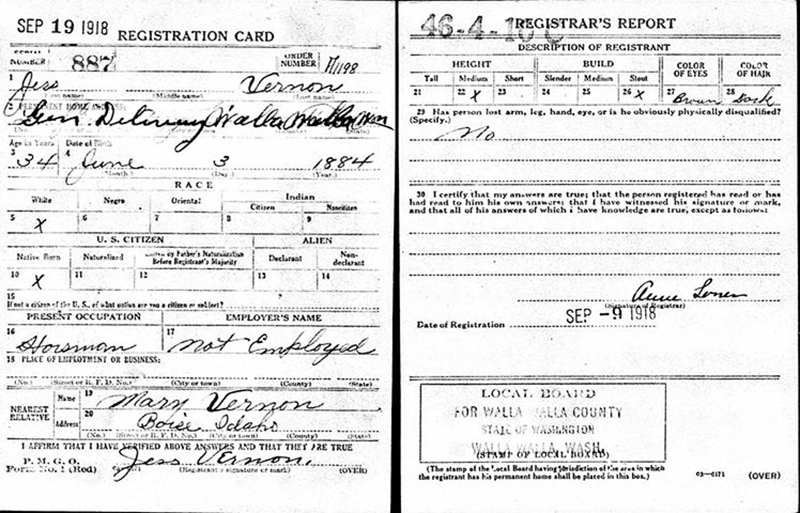 Jess Vernon's Selective Service registration card, 1918.
---
Rodeo Performer Found Dead at Yerington.
Reno Gazette-Journal | Tuesday, October 24, 1939.
Yerington, Nev., Oct. 24 (Special) — Jesse B. Vernon, widely known rodeo performer for many years, was found dead yesterday at his cabin home here. He had been in poor health and death was attributed to a heart ailment.
Holder of the world's bulldogging championship for four years, Vernon, who was fifty-five years old, also held honors as a trick and fancy roper. He was born in Texas and followed the show business a greater part of his life, touring Europe several times with the Buffalo Bill Cody shows and the Miller 101 Ranch performers. He came to Nevada about twelve years ago and engaged in mining work and for the past several years trapped in in Mason valley where he had a string of nearly five hundred traps.
Vernon was widely known among western livestock men and stories concerning his life were carried in several western magazines. For a number of years he resided in Montana. He was a member of the Knights of Pythias lodge and is survived by a sister and nephew who reside at Buffalo, N.Y.
Funeral arrangements will be announced by the Phipps Mortuary.
---
Jess "Buff" Vernon's death certificate, 1939. Click to enlarge.
---
First King of the Bulldoggers.
By Milt Hinkle and Claude Keema | True West Magazine | October 1963.
About the authors: Milt Hinkle is well known to our readers and to all other good followers of the rodeo sport. The first white man to bulldog a steer, and a wild snortin' old cayuse yet, in spite of the ravages of time and the disadvantages of a crutch or cane, he knows his sport and those who made it what it is. Milt says "facts are facts," and here they are.
Claude Keema lays no claim to any rodeo records. In fact, he is scared of horses. He is the senior Sheriff of the State of Nevada in point of consecutive service, and for the year 1962 was President of the Nevada State Sheriffs' Association. Likewise for 1962, he received the Certificate of Achievement from the Nevada State Press Association for producing the best sports column in the State during the year.
THE YEAR was 1910. Folks from miles around were gathered in the little town of Pendleton, Oregon, to witness the first official Pendleton Round-Up. The usual events were on tap, such as saddle bronc riding, steer roping, Pony Express races, Indian sports, and the like.
One of the cowboy entries was a genial chap known as Buffalo Vernon. Short of stature, solidly and huskily built, sure of eye, quick handed and quick minded, this young man was one of the most spectacular performers who ever graced a rodeo arena. A better than average buster, both with saddle broncs and bulls, he was something out of this world with a lasso. It would probably be safe to say that what he couldn't do with a riata couldn't be done, whether it be roping steers in competition or entertaining the crowd with a fantastic display of lariat tricks. We have seen him many times leave spectators goggle-eyed with his ability.
Some folks might swear that the Hindus with their vaunted rope stunts are in a class by themselves. Not so. Many of the waddies of yesteryear could do things with a length of hemp that said Hindus never even dreamed possible. There was nothing of the occult about their performances, either. Their acts were perfected through countless days of practice, sweat and work, combined with an inherent deftness and talent, which all put together resulted in an amazing dexterity. The boys had a repertoire of tricks that were seemingly impossible ­ and the master of all was Buffalo Vernon.
In exhibitions during rodeos held in Nevada after his retirement from active competition, Buff thrilled the crowds with his wizardry. Flat on his back, he would play out a great enormous loop and dance it up and down around him — sometimes almost touching the floor of the arena; sometimes sending it fifteen feet in the air like a giant hoop on a stick.
He could make the little ones — flat ways, sideways, any way — a la Will Rogers. By our standards, Will Rogers, who used his palaver to interest the spectators, was a rank amateur alongside Buff Vernon, whose loops did his talking for him. He would skip rope through these loops, big and small. And woe to the errant calf or cow who escaped her horseback pursuer if she happened to run anywhere near Buff while he was performing! Sure as sin, that old loop would snake out, and down would go the maverick. He rarely missed.
For something different, Buff would invite somebody to gallop by on a horse. He would shake out a big sideways loop for the rider to ride through and then announce what he was going to catch ­ maybe the rider, maybe the horse's left hind leg, or even its tail. But whatever he named, he caught.
He didn't confine his catches to men, horses or cattle during his heyday, but even included buffaloes and bears in some instances. Frightening indeed were such antics, for the horses generally deserted the riders during such goings on, and it was then strictly man against bear or buffalo. But he performed such stunts before many thrilled audiences.
The Pendleton Round-Up crowd of 1910 was to see something still different. Buffalo Vernon was going to put on an exhibition of bulldogging, something new to the roaring West. It was strictly a daredevil stunt, originated by the Negro Bill Pickett in the early 1900s, and in his case, out of dire necessity. Bulldogging and bareback bronc riding are apparently the only rodeo sports not associated with normal cowboy work.
We can best describe the action and its effect upon the crowd by borrowing a few paragraphs from Charles Wellington Furlong's book, Let 'er Buck. "In the first two shows, particularly 1910, 'Buff' was IT; he was half the show. He was one of the very first at the bulldogging game, won the first championship and showed a lot of the aftercomers the way. In his ornate chaps, yellow shirt and big well-seasoned sombrero ... he will always be remembered as one of the most spectacular performers in the early shows.
"The last night of the 1910 Round-Up will also be remembered when enthusiasm for Vernon ran so high at the dance that 'Buff' went home minus the famous yellow topside clothing, for the dance wound up with a maverick race by all hands, girls included, for pieces of Vernon's shirt as souvenirs — such was the way popularity was rated at the Round­Up that year."
And again we quote Furlong as he remarks, "Bulldogging was first introduced into Pendleton by Buffalo Vernon, the First King of Bulldoggers. He bulldogged at the first Round-Up in 1910 for exhibition, then the next year along came Dell Blancett and entered the contest as they had both done it at Cheyenne and at the Miller Brothers 101 Ranch in Oklahoma.
"Buff Vernon also introduced bulldogging at Cheyenne and with a sprained wrist to boot. This was when Colonel Theodore Roosevelt was there and put Cheyenne on the map as a result. 'Teddy' shook hands with Buff and complimented him in the inimitable way that T.R. had."
WE HOPE that some of the foregoing information may serve several purposes. First, it will clear up any controversy as to who invented the style; secondly, any misconceptions as to who first introduced it in the Pacific Northwest; and third, it will identify the first "World's Champion" in bulldogging competition. Bill Pickett gets our credit for the first, Buff Vernon for the latter two. Buff won the competition in Pendleton in 1911 against all comers, and with it went the World's Championship trophies.
We believe too, that folks will be interested in learning all of the available facts on the life of Buffalo Vernon ­ for the name "Buffalo Vernon" is quite a controversial one, as we well know. The story of his life has been garnered from many sources, and the illustrations accompanying this story will, we believe, prove beyond a shadow of a doubt that this is the story of the "Real McCoy."
He was born Jess B. Shisler on the family farm in the Province of Ontario, on June 3, 1884, the son of Joseph and Agnes Shisler. He was the next to youngest in a family of eleven children. His father died when he was seven, but until he was twelve years of age he remained on the farm, which is just eight miles across the river from Buffalo, New York. Then at age twelve, he and his brother Dick, who was his senior by two years, crossed over to Buffalo to spend the winter with a married sister, Mrs. George Chapman.
With the coming of spring, the two youngsters developed itchy feet and headed for the West and adventure. The first port of call was Chicago, where the boys went to work at odd jobs to support themselves. But the lure of the wide open spaces was in their blood and, after a few months in the Windy City, they pulled freight and headed for the great Southwest.
Before they left Chicago, for some reason unknown to the family, they changed their names. A surviving sister, Mrs. Maude E. MacDonald, says, "I guess they just liked the name Vernon better." Whatever the reason, Dick Shisler became Dick Vernon, and Jess Shisler became Jess Vernon. Eventually they hit the cattle and sheep ranches of Oklahoma and Texas, and there took employment. They learned the tricks of the trade — each in his own way. Dick saw the possibilities of a future business venture, while Jess became more interested in the handling of cattle and horses and some of the cowboy stunts that went along with it. Out of these interests came their eventual careers.
After a few years, having become well­grounded in the fundamentals of sheep raising, Dick gravitated to the Oregon­Idaho country. He formed a partnership with Senator Stanfield of Oregon in that field, and remained in it until his untimely death in 1917 in Boise, Idaho, where he is buried. There were many times during the intervening years when the brothers got together as Buff made the rounds of the big shows and the rodeo circuit. Particularly at Pendleton they appeared together many times at the Round-Ups.
Jess became thoroughly enamored of the life of a cowboy. Riding, roping, and bulldogging were his meat — and how he did enjoy them! Nothing less than perfection suited him and he went about his work with zest. Energy, patience, skill and determination went into his practice. Out of it all emerged one of the most dexterous and multi-talented cowboys of all time. Because he was just a wet-eared youngster when he arrived in the Southwest country, and because he had come from Buffalo, somebody nailed the moniker, "The Buffalo Kid," onto him. As the Kid grew up, the name became Buffalo Vernon, and variously, Buff, or Doc Vernon. The "Doc" part evolved because of his ability to care for sick and injured livestock.
ONE THING we have noticed in correspondence with dozens of persons, is that those people who knew him best always refer to him as Buff, not Buffalo Vernon. We ask our readers to remember this point, in the face of any controversy which may arise as a result of this article. And as Buff, he lived the final dozen years of his life in Nevada. While others called him Buffalo, and he even signed his name that way sometimes, still to his intimates he was Buff.
Buff hit the sawdust trail, in a manner of speaking, and traveled extensively over North America, Europe, and the Orient with many of the big time Wild West Shows. Among these were the Two Bills (Buffalo and Pawnee), 101 Ranch, Clarence Adams, The Young Buffalo Ranch, Bill Dickey Wild West Show, Kit Carson Wild West Show, and the Fred Askins Wild West Show. Some of these tours were not without their high spots — either tragic, humorous, or just plain heartwarming.
Buff Vernon was thrilled no end over giving a command performance before the King of Belgium. And his hometown friends and relatives were treated to an eye-popping exhibition of rope prowess and general showmanship when one of the big shows he was traveling with paid a visit to Buffalo.
That all was not glamor and gold was obvious when the Fred Askins Wild West Show toured Australia. The show folded while there, and Buff Vernon and co-author Milt Hinkle had to work their passage back to the U.S.A. on a freighter, shoveling coal to fire the boilers. It was quite a comedown for a couple of top hands, but preferable to remaining there to bust kangaroos. Buff always looked on it as a big joke.
In the early 1920s Buff seemingly "disappeared." He no longer showed up at any of the shows and most of his old­time intimates lost contact with him completely. The whys and wherefores are bandied about to this date. Every excuse in the world, from getting shot to pulling a bank robbery and getting a long sentence in some Big House, has been offered for his disappearance. Nothing could be farther from the truth, for Buff was not a larcenous man. Fight he might, if the occasion warranted it, or hoist a few during the noble experiment known as Prohibition, but nothing worse than that.
Two wounds — one to the body, and one to the pride — accounted for what later came to pass. In wrestling a maverick one day, Buff was horribly gored, causing a hernia wound which was never properly repaired, and which eventually led to his death some years later. With this affliction, he was done as a competitor, and even as a working cowboy — thus, the wound to his pride. A glamorous figure, by one sad twist of fate, suddenly was reduced to the status of an onlooker, so to speak. Like an opera star suddenly bereft of his voice, Buff couldn't, and wouldn't, take it.
He left the scenes of his triumphs behind. He wanted no pity from his colleagues, and most surely he evaded it. His break with rodeoing and with most of his friends was clean. With the exception of the few exhibitions heretofore mentioned, he stayed away from the game. But how wonderful he was, even when performing at, what to him, would have been about half-throttle.
Buff moved to Yerington, Nevada, about 1926, and remained there until his death on October 23, 1939. He worked for several years at the Bluestone Mine near the town. When the mine shut down, he divided his time between trapping and a second-hand business, with a bit of farming, cattle tending and veterinarian work thrown in. He endeared himself to grown-ups and children alike, and many a yarn he spun of the glory days gone by — but never in a spirit of braggadocio, always on a sound foundation of truth. We have checked out his stories with dozens of persons and have found that, if anything, he had a tendency to downgrade his accomplishments. Such was his nature, as all of those who knew him best will attest. His sisters arranged for his body to be shipped to Buffalo, and he lies buried there in the Shisler family plot. So much for Buffalo Vernon himself.
We know that this story may be received with raised eyebrows in some quarters, but to the best of our knowledge, memory, and research, it is the 100 per cent true story of the First King of the Bulldoggers. We ask our readers to read the story, examine the pictures, and check out any of the sources listed below, for most of these people knew Buff Vernon, and will agree that this is his story.
To those who, in the light of some peculiar stories handed down through the years, may doubt what we say ­ may we remind you of how often Jesse James, John Wilkes Booth and a horde of others have — remarkably, from time to time — risen from the grave? Seemingly unmarked and unscathed and ready to boast of their bygone deeds, they have never been too convincing. That's just the way it is here.
We give our biggest thanks for help in the compilation of this article to Buffalo Vernon's sister, Mrs. Maude E. MacDonald, and to her son, Reynold J. MacDonald. We further acknowledge the interest and information supplied by the following, whose names in most cases are household words among the rapidly vanishing clan who pioneered the great game of rodeo and its twin, the Wild West Show either as competitors, promoters, or historians: M.F. "Pete" Peterson, husband of the late Lorena Trickey of bronc riding fame; Fay Ward; Mabel Strickland Woodward; L.H. Hamley; T. Joe Cahill; Goldie Griffith Cameron; Michael Harrison; Helen Clark; J. Jack O'Keefe; Jack Armstrong; Mildred Searcey; Glenn DeSpain; and Art Morgan.
---

Jess (Buffalo) Vernon at the Pendleton Round-Up in either 1910 or 1911. Unused real photo postcard, identical to the one used with the 1963 magazine story above.
---

Back of photograph at top. Click to enlarge.