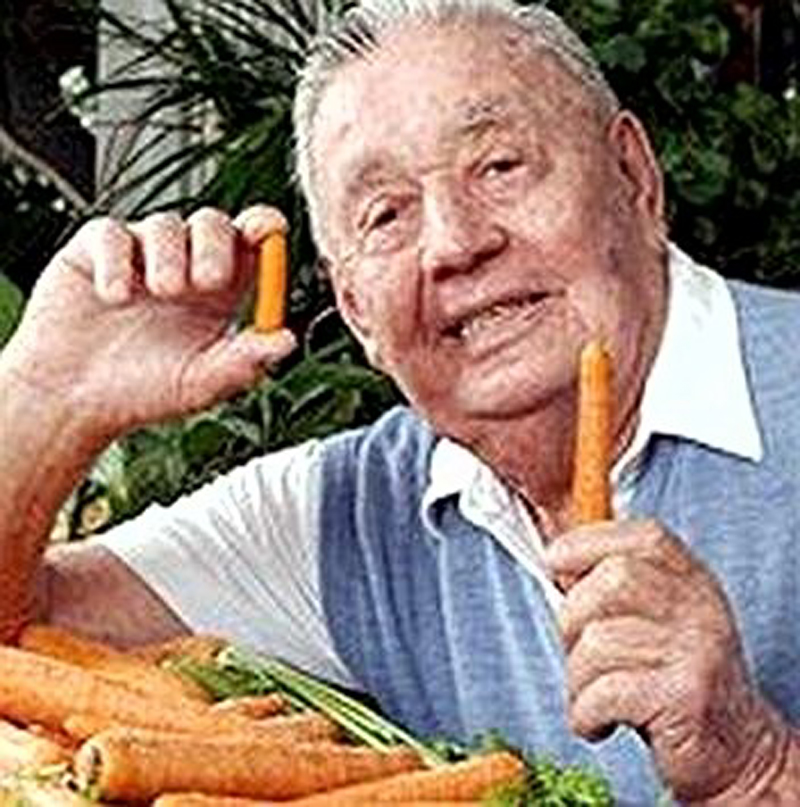 Mike Yurosek, husband of Santa Clarita Valley Historical Society board member Sue Yurosek, died June 12, 2005, after a long battle with cancer.
As the owner of Bunny-Luv carrots, Mike Yurosek made a name for himself in the mid-1980s and changed the way millions ate carrots. Growing tired of discarding bent and twisted carrots and feeding them to cattle ("there was no waste in farming," said his wife Sue), Yurosek came up with the idea of cutting the crispy vegetables into 2-inch pieces, creating the baby carrot. The mini carrots were a huge success and are sold in grocery stores and served as a tasty snack on airplanes.
In 1995, Yurosek and Son's was sold to a competitor, and Mike Yurosek retired to travel and spend time with his family. The baby carrots still carry the Bunny-Luv logo.
Mike Yurosek was born on Sept. 28, 1922, at Burbank Hospital, a first generation American from his family who immigrated from Poland. Yurosek's uncle attended a Polish seminary with the late Pope John Paul II.
Yurosek began working a farm with his older brother John in 1939 and returned to work in the Santa Clarita fields in 1949. While the Yuroseks grew mainly carrots, other crops included turnips, rutabagas and parsnips.
Yurosek and Son's main operation was moved to the Bakersfield area in the mid-1970s and the fields were expanded north to Santa Maria and south to the Mexican border, planting at different times of the year. More than 20,000 acres of carrots were produced annually.
"We all liked farming," said Sue Yurosek, who married Mike in 1953. "It was a good life, and in (Mike's) mind, he never stopped being a farmer. With both of his grandsons in the produce business, there was hardly a day that went by that he didn't talk to one of them. He was a good farmer."
When he retired, Mike and Sue traveled the world — and always checked out the carrots. "Nobody has carrots like the USA," Sue said.
Yurosek was buried at Mission San Fernando Cemetery. He was preceded in death by his twin Joseph and brother John. Yurosek is survived by his wife Sue, daughters Johnsie (Mrs. Robert) Manlowe of Northridge, Lynn (Mrs. Gary) Gray son of Ventura, and son Michael David Yurosek of Bakersfield, and also 7 grandchildren and 14 great-grandchildren.
In lieu of flowers, the family requests donations to be made to the American Cancer Society or the Santa Clarita Valley Historical Society.