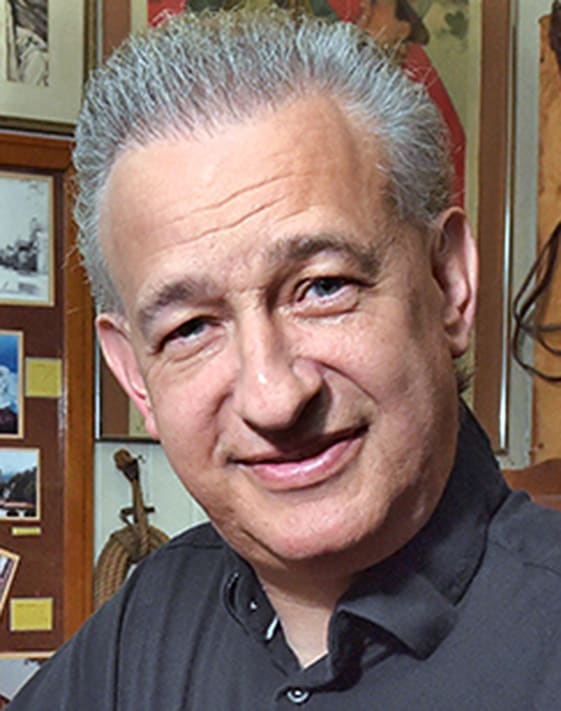 He was a con man who really wasn't — but didn't know it.
Milfred Yant was born in 1898 in Ohio. He served as a U.S. Navy seaman in 1917 during World War I. A 1949 Time magazine article would describe him as "a man with a remarkable air of respectability; it is accentuated by his pudgy figure, his middle-aged stoop, his brownish hair and open countenance." By 1935, Yant had drifted to Los Angeles and took up a vocation of selling real estate parcels in Placerita Canyon.
But this was no ordinary real estate agent. Yant was a con man, or at least he thought he was.
Yant purchased some land in the hills above Placerita Canyon for a total of $1,900. On these hills were some broken down oil derricks. At the time, there was no evidence of any significant oil reserves in the area. As far as Yant was concerned, this barren land was essentially worthless.
But he had a scheme in mind. Using the oil derricks as his bait, he built a clubhouse on leased land in the canyon bottom and offered free bus rides and lunch to senior citizens in Los Angeles to come out and look at his land. He convinced his victims that he owned the land in the canyon and that there was an ocean of oil underneath.
Yant's Scheme.
The scheme went like this: Yant would sell small parcels of the land, as little as 1/100th of an acre, to the seniors. He then hired an "agent" who sought out the buyers, misrepresented himself as being an employee of a major oil company, and offered them $5,000 for an acre of land. Thinking they had a great deal on their hands, the duped buyers rushed in to buy even more land.
Unfortunately, rather than purchasing their land, the "agent" disappeared, never to be seen again. Eventually the buyers figured out they had been swindled into buying worthless real estate. In his first year, Yant walked away with $242,000.
Like many a schemer, Yant eventually ran out of luck. In 1938 he was arrested, charged with grand theft and thrown in jail. Yant and his co-conspirators Robert A. Randall, Robert E. Tabor, Earl A. Libby, Aubrey Pereira, Jack Freeman, H. Martin and William Burns were indicted. Yant was found guilty on one count of conspiracy to violate the Corporate Securities Act and to commit grand theft; guilty on the nine counts of violating the Corporate Securities Act; and not guilty of grand theft.
Yant's Appeal.
Yant filed an appeal to the Second Appellate District, Division 1, on June 3, 1938. Court records detail the crimes committed by Yant's gang of conspirators:
On April 27, 1935, the appellant entered into a ninety-day sublease agreement with the Nile Oil Company, Ltd., a corporation, covering certain oil lands near Newhall, California, on which there were four wells. On April 30, 1935, the appellant Yant and his codefendants Earl A. Libby and Aubrey Pereira organized a corporation under the laws of California, the purpose of which, among other things, was to engage in the oil, petroleum, mineral and gas business under the corporate name of Yant Petroleum Corporation, and filed articles of incorporation with the Secretary of State on May 1, 1935. The corporation commissioner issued a permit to the corporation to sell not to exceed 1,000 shares of its stock for cash to its officers, appellant Yant, and codefendants Libby and Pereira, who were respectively president, secretary-treasurer and vice-president. There is no evidence that authority was given to sell to the public or that any sales of stock were made to the public.[...]
It further appears that appellant Yant entered into an option to purchase certain real properties from Thomas F. Frew, Jr., and wife on June 15, 1935, covering approximately 300 acres of land near Newhall at the stipulated price of $50 per acre, and on February 15, 1936, appellant entered into an option to purchase an additional small tract of land near Newhall from Thomas F. Frew, Jr., and Walter Park, at the agreed price of $1,000 for each and every 1/12th acre.
Yant's Victims.
The court used the story of one victim to represent the multiple victims of the swindle. According to the records, on Dec. 13, 1935, Dr. H.B. Bryson, who was 79 years old, met the defendants Martin and Pereira, who took him and a Mrs. Emma K. Lemley out to the property at Newhall, where he was introduced by defendant Martin to Yant. Yant told the doctor he owned 417 acres of the land and was selling his property at $1,950 per acre, but that he would sell any part of an acre in small fractions pro-rata. He further claimed the four oil wells on the property were currently producing.
Bryson agreed to purchase one acre. He was advised of the oil possibilities of the land and was asked to execute a community oil and gas lease to the Yant Petroleum Co. On Feb. 10, 1936, Bryson again purchased another one-half acre of land. Yant stated he "had a very choice half-acre very close to the producing wells and the well he was then drilling, and pointed out the location of this very choice half-acre." On July 18, 1936, Bryson purchased another half-acre from Yant adjoining the previously purchased half-acre.
Shortly after purchasing the land, Bryson was approached by the defendant Burns (who was indicted but never apprehended). Court documents state Burns told Bryson that
he represented the Consolidated Oil Royalties Company of Oklahoma and was authorized by his company to purchase thirty acres of the Yant Petroleum Corporation's holdings at $5,000 per acre; and that Burns said he obtained Dr. Bryson's name from a former employee of Yant Petroleum Corporation.
Following this conversation wherein Dr. Bryson told Yant and Libby of his conversation with Burns, the doctor purchased an additional three acres from [Yant], giving to the latter in payment for this acreage certain oil bonds aggregating $5,000 and a promissory note in the sum of $1,950. Following the receipt of a deed to this last-named property, executed by Yant, the doctor in turn gave an oil and gas lease on the land to Yant Petroleum Corporation. It might here be noted that Burns never again appeared.
Yant later sent a letter to all of his purchasers stating he was no longer selling the property because a well had "blown in" and the property was too valuable to sell to anyone.
The oil and gas leases executed by Bryson and others provided for monthly rentals to be paid by Yant Petroleum to the landowners of up to $16.20 per acre in addition to monthly payments of a specified fraction of the net proceeds of the sale of oil by Yant's company. These rental payments from Yant ceased after September 1936. The court concluded Yant and his codefendants never intended for the purchasers of the land to receive any returns from their money.
Yant lost his appeal. He spent the next two years in prison at San Quentin. Following his release, he helped swindle an old lady out of her money and was sent back to prison for violating his parole. After his release the second time, Yant landed a job in Hawaii, then returned to California in 1944. For the next few years, he settled down and operated an electrical appliance store in Hollister.
Yant's Comeback.
Here Yant's story takes an ironic twist. Ever the con man, in 1949 Yant convinced a customer, a wealthy Spanish cattleman, to finance a well to be dug on his property in Placerita Canyon. Ramon Samovia handed over $53,000 for the project, and the Samovia-Yant Oil Company was formed.
Expecting to swindle Samovia out of his money, Yant dug a well as he had promised, but he was in for a big surprise: He actually hit a gusher, producing 2,000 barrels per day. He sank four more wells. They all produced.
Yant's discovery set off a wild oil boom in the hills of Placerita. Many of Yant's previous victims and other oil speculators rushed to Placerita Canyon to get their share of the bounty.
They all got rich, including the old con man Yant. The California Superior Court ended up reversing a law limiting one oil well per acre, allowing a multitude of oil derricks to sprout on Yant's old subdivisions. So wild were the oil claims that Yant's property became known as "Confusion Hill."
Milfred Yant certainly got the last laugh. He felt vindicated by his oil strike and told Time magazine, "Some people think I'm a scoundrel and some think I'm a wonderful guy — depending on whether they made or didn't make money out here. But do you know what? I don't give a damn. I'm gonna eat for the rest of my life, I'll tell you that."
©2017 Santa Clarita Valley Historical Society.