Webmaster's note: "Our" Remi Nadeau — the subject of this story — was the grandson of the famous L.A. freighter and hotelier of the same name.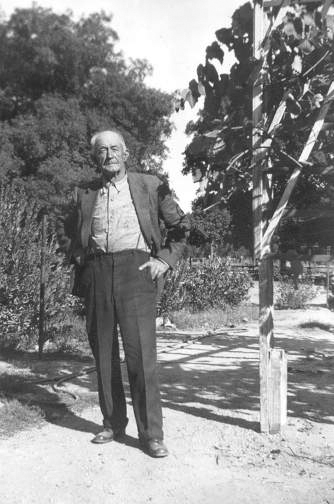 ---
Remi Nadeau was born May 3, 1867, in Grove Lake, Pope County, Minn., to Joseph Frye Nadeau and his wife, Mary Ann Williams. Although the Nadeaus resided in Los Angeles, in a small home on Alameda Street, on land that was part of the old Remi Nadeau rancho — San Antonio, when it came time to deliver a child, Mary Ann would go to wherever her parents were living. Consequently, the only one of the five children born in L.A. was Laura, her daughter.
The marriage of Joseph and Mary Ann failed, and she was left to raise the children. When she died in 1886, the oldest son, George, married his sweetheart, Rosa Lee Douglass, and the two 20-year olds settled into the family home and continued to raise and care for the Nadeau siblings. Because of this compassion and commitment by "Rosie," a life-long friendship developed between Remi and his sister-in-law. Remi never married. I don't believe that the family ever really knew why — perhaps a death or disappointment — for he always showed a great liking for the "fair sex." His manners toward them were courtly and thoughtful. When he passed away and my mother and I were looking through a trunk in the ranch house, we found several photo postcards of Geraldine Ferrar, the opera star, who stayed in the Nadeau Hotel while she was performing in Los Angeles. It was evident that Uncle Rem was one of her great fans.
Before Remi purchased the ranch in 1908, he was engaged in a number of enterprises. He was a co-owner of a furniture store in Los Angeles and was very active in land development –subdividing and managing some of the extensive Nadeau properties in Los Angeles. His father, Joseph, had passed away that year, and this time appears to be a turning point in his life.
Remi always enjoyed young people, especially the children and grandchildren of his siblings. He was both patient and permissive, giving them plenty of room to play and roam the ranch. On the other hand, he also was watchful and protective, quick to act if need be. In my case, when I was only about two years old, the family had gathered to do some target shooting. I was always one to quickly slip away from my parents grasp and try to explore on my own. It only took me a moment and I was out of their sight and into some high grass near a barbed-wire fence. Coiled there in the fence corner was a large diamond-back rattler — ready to strike. Uncle Rem had been keeping his eye on me and in an instant, he grabbed me back and shot and killed the snake. I'm sure that I owe my life to this kind man.
He not only cared for and delighted in children, but loved animals. There was always one or two "ranch dogs" around. These invariably seemed to be a Shepard type, with black, tan and cream coats. The last dog he had that I remember well, was called "Goofus" — his good friend to the end of his life. He carefully tended his livestock — making pets out of many of the deer. It was such fun to go with him, standing close, while he called to these graceful animals and they would gingerly gather round to get some treats from his pockets. He had one special horse named Chappo — a beautiful bay. Chappo was a gentle, reliable horse and was ridden by all of Remi's nieces and nephews — outliving his owner by many years and dying at the ripe old age of 37 years.
He was not a tall man — probably standing around 5 foot, 7 inches. As he grew older, he became leaner. His face was a bit weathered from all the days out in the sun, although he virtually always had a hat on — a soft, slouchy fedora. I think that every Nadeau wore a hat of some kind — they loved "headpieces." Rem's attire was not what one thinks of as "cowboy" or Western. He would wear one of his old suits — the pants and a vest — the jacket when needed. He would often sport a colorful plaid flannel shirt. But when I call up his image in my mind, it is the kind expression on his face and the twinkle in his eyes, that I remember — and treasure.
Although I am a person who has been blessed with a long memory, my years of knowing Uncle Rem were short. I was eight years old when he died. So, my memories can be fragmented — bits and pieces of events that were important to me. I remember one Christmas in particular: Now, the Nadeaus always celebrated Christmas Day with the entire family — each individual family taking turns putting on the big get-together. Sometimes it would be at a home and others would take place at the Deauville Club or some a club house. This year (1937) we had the party at the Santa Monica Women's Club House. Aunt Marguerite had set up long tables end-to-end and covered them with white cloths. She had gone up to the Ranch and brought back good-sized tumbleweeds — sprayed them white, glittered them and then hung blue glass ornaments on them. They were really quite beautiful, parading down the tables. Our turkey dinner came and went — the children of the family had received their presents from all the relatives and the "funny" or joke gifts that all the adults were given had been opened. We had been expecting Uncle Rem to be with us but he had not shown up and I suspect that some of the group were beginning to be a bit concerned. Now I need to add here, that practically no one in the family at that time, drank alcohol, so it was greeted with some dismay when all of a sudden, there was Uncle Rem, showing the effects of same. He was his usual friendly self, but a bit more outgoing. I was sitting with my mother and grandmother near the end of one of the lines of tables. Before we knew it, Uncle Rem had jumped up on a bench and from there, up onto the end of our table. He began to do a soft-shoe routine and sing one of those songs that seem to have 67 verses! It was quite an impressive performance to a little girl — one which I have never forgotten. My dignified uncle had more talents than I had imagined! Many years later, my mother would lament that she had not taken down the words to that song.
One day in November 1941, we received a call from his niece, Grace Anderson, who was living in the ranch house, caring for her uncle, saying that Uncle Rem was very ill and weak and wanted to see us. That evening, when my dad got home from his job at Lockheed, we were soon on our way up to Saugus — a 30 mile drive from our place. Arriving at the ranch, we found Uncle Rem laying in a corner of the living room on an iron cot, bundled in quilts with a little stove going next to him to keep him warm. He was obviously very sick and was having a hard time breathing. It was very sad to see this active man so ill and I think that we all knew that this might be the last time that we would have with him. It proved to be so, for the following day he was moved down to the Adventist Hospital in Glendale (nicknamed the "San") with a severe case of pneumonia and passed away shortly after on Nov. 25, 1941.