Headstones of Mable and Nettie Whitney, daughters of the Whitney family of Whitney Canyon (foreground, center and left), in the original Pioneer Cemetery (Lyon family graveyard) near Lyon's Station. The third headstone at right, shrouded by foliage, is presumably that of their brother, Willie. Photograph probably mid-1950s, not long before the graves were moved to the Garden of Pioneers at Eternal Valley Cemetery (est. 1958).
Perkins writes: "John Whitney and his wife were on their Whitney Canyon ranch. His two little girls were victims of diphtheria and lie today in the old Lyon Station cemetery." (From "Names of the Nineties" by A.B. Perkins, published in The Newhall Signal, Nov. 11, 1954.)

Mable Whitney's headstone in the Garden of Pioneers at Eternal Valley Cemetery. Photo: Stan Walker. Click image to enlarge.
According to local historian Stan Walker, the two headstones in the foreground "are those two girls — Mable A. and Nettie O. In the photo, you can see 'Whitney' on both stones and 'Nettie O.' clearly on the right stone. Only Mable's stone still exists. The fate of Nettie's stone is unknown. Today [2014], Mable's stone is very weathered and hard to read. Eternal Valley records show this as Plot 118, Sites C & D, containing a baby Whitney."
Per Walker, the headstone reads as follows:
Mable A.
Daughter of
J.H. & A. Whitney
Born
June 17, 1877
Died
April 18, 1888
Beneath this stone in soft repose
is laid a mother's dearest pride
A flower that scarce had waked to life
and light and beauty ere it died.
According to Perkins' "History of Eternal Valley from 1769" (1958), both Nettie's and Mabel's headstones bore the same eulogy. Nettie was born Oct 12, 1880, and died April 12, 1888, age 7; Mabel was 10 when she died six days later. The Whitneys' first child, Willie, died in 1881 and was buried in the cemetery, but his grave marker is missing, and Walker was unable to locate Willie's grave. Perkins says all three died from diphtheria.
---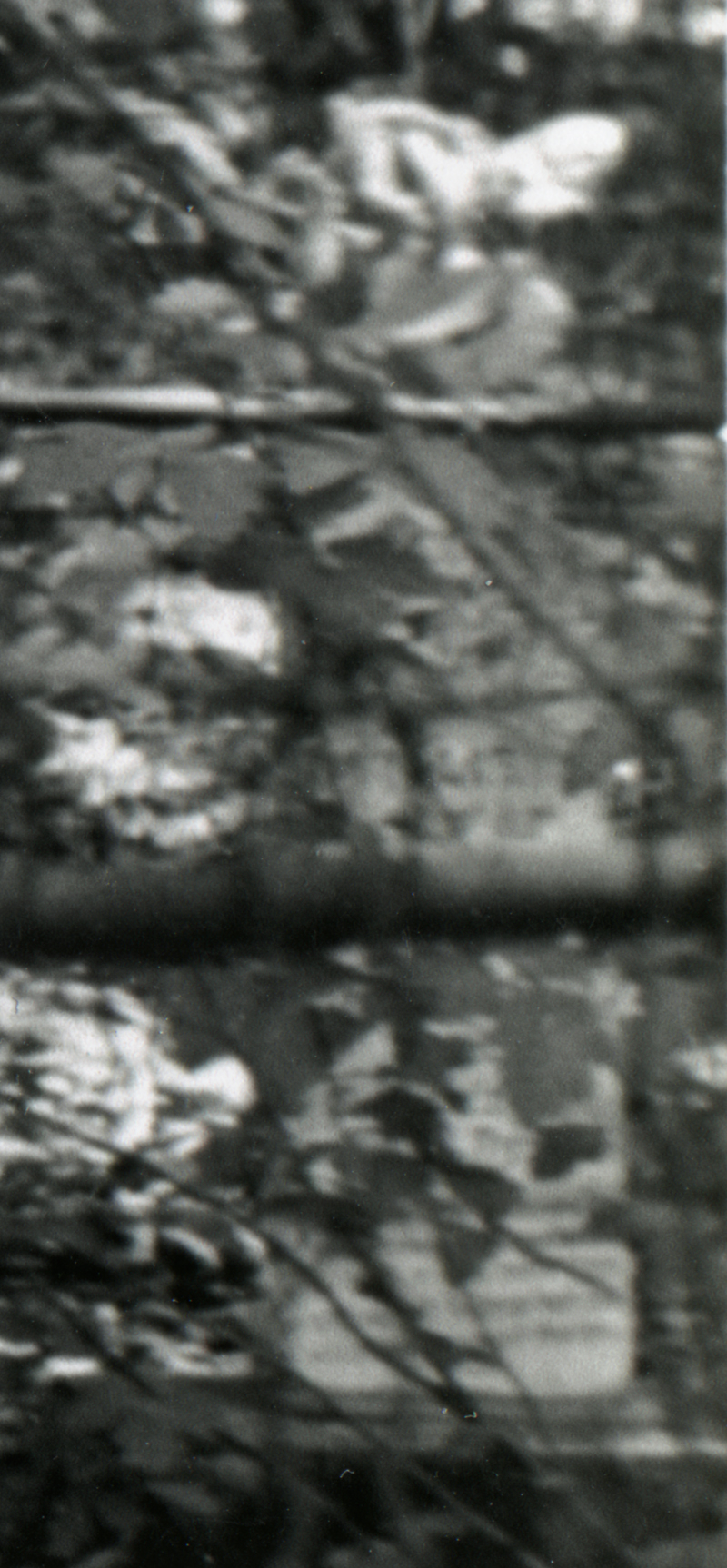 Closeup of third marker at right-foreground, partially obscured by foliage. Click image to enlarge.
Sanford Lyon was born Nov. 20, 1831, in Machias, Maine, came out West in for the 1849 gold rush and eventually came south and turned his attention to black gold. In November 1868, he took title to an old stagecoach station just north of the Newhall Pass which would come to be known as Lyon's Station. Today the station's location would be described as the entrance to Eternal Valley Cemetery off Sierra Highway. He spent his spare time galavanting about the territory looking for oil, with moderate success. He sold his interest in the station a just year later, in December 1869 — ironic that his name would stick to it — and moved west to the vicinity of Towsley Canyon.
Sanford died November 30, 1882, in what was now Newhall. He was buried in the Lyon's Station cemetery. Reynolds describes its location thusly: "By 1868, [Lyon's Station] consisted of a large-frame building housing a store, post office, stage depot and tavern. Behind that the family cottage was hidden among stately oaks, while up the hill were some board-and-batten residences for twenty of Lyon's employees and their families. There a cemetery was established, where such names as Rivera, Whitney and even Lyon were eventually inscribed into headstones. Across the road that would one day be known as Sierra Highway loomed a red, New England-style barn, surrounded by corrals and sheep pens, with cattle roaming free over the steep hills. Today the place goes by the name of Eternal Valley."
In 1888, Kansas Gov. John St. John purchased a 10,000-acre swath of land from The Newhall Land and Farming Company that included the former Lyon holdings, which stretched from today's Old Road (just west of Interstate 5) to roughly the 14 Freeway. St. John eventually gave up on his plans to turn Newhall into a prohibition colony, but his ranch foreman, Henry Clay Needham, remained in the area and retained 750 acres that included the former station and burial site. The acreage stretches from Sierra Highway to Pine Street.
Needham died in 1936, and the property came into the possession of San Fernando Valley trash king Louis "Louie" Visco, father of Antelope Valley political kingmaker Frank Visco. The elder Visco owned the property just long enough to enrage everybody in Newhall when he proposed to turn the Railroad Canyon (Pine Street) side into a giant trash dump. County Supervisor Warren Dorn stopped the plan dead in its tracks, so Visco unloaded the 750-acre property in 1957 — to Gates, Kingsley and Gates Inc., a family-owned funeral directorship headed by Mark T. Gates Sr. In 1958, the County of Los Angeles approved Gates' application to establish Eternal Valley Cemetery on a 220-acre section of the property.
The Gates group graded the cemetery property in 1958 and moved the burials, including Sanford Lyon's, from their original location at what Perkins described in 1949 as "the hillside to the south" to the new Garden of Pioneers a short distance away. Headstones which had been allowed to fall into disrepair were mended and uprighted; it's the only section of the cemetery where upright markers are allowed.
Gates, Kingsley, Gates sold the Eternal Valley property to Service Corporation International in 1972, when Mark Sr. died (b. Dec. 29, 1907 in Nebraska; d. July 12, 1972, in Los Angeles; interred at Eternal Valley) — but retained 584 acres of the former Needham Ranch. Under SCI ownership, Eternal Valley has continued to expand within the confines of its original 220 acres.
Meanwhile, in 2003, the City of Santa Clarita approved plans for the development of a business park by Gate King Properties LLC — a new iteration of Gates, Kingsley headed by Gates' son, Mark Jr., in partnership with the new cemetery owner and with another adjacent property owner (on the Pine Street side), Hank Arklin.