Digital images of original document (in sections):
[ 1 ] [ 2 ] [ 3 ] [ 4 ] [ 5 ] [ 6 ]
An Address by Senator R.F. Del Valle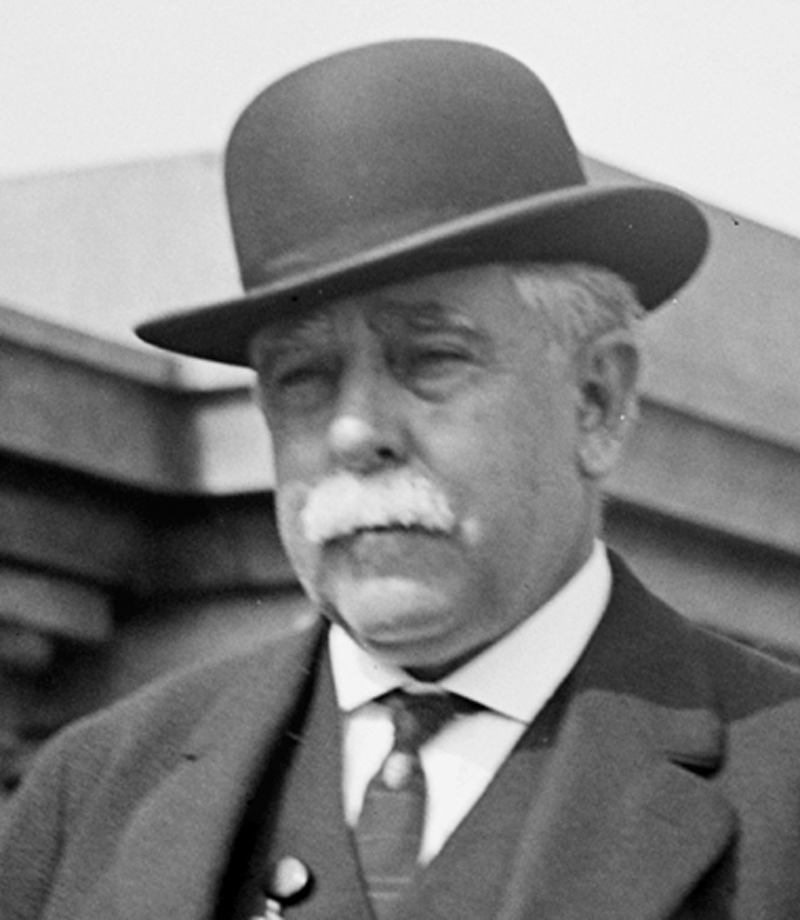 March 9, 1930 in Placeritos Canyon, before an assembly of about 500 people gathered under auspices of the Historical Landmarks Committee of Ramona Parlor No. 109, Native Sons of the Golden West, The Kiwanis club, the Newhall-Saugus Chamber of Commerce, and La Mesa Club of Los Angeles, at a spot where GOLD WAS FIRST DISCOVERED IN CALIFORNIA on March 9, 1842, by Francisco Lopez, a native of California:
Mr. Chairman, Ladies and Gentlemen: Under this beautiful California sky, in the midst of this silence, surrounded by nature, at this particular moment, free from the cares of a busy life, free from the sounds that attract our attention in our daily walk; we are in communion with nature and the God that created it, and especially on this Sabbath Day. What has been presented to you in a most accurate and beautiful panorama, you have seen grow from one to the other in the different steps that have been taken today. We are brought in contact with another new history concerning our own section of the State, and touching our own lives.
We see today the particular spot where by proven facts, by evidence we cannot deny, one of the great Historical Events of the State of California took place. I was delighted, then, knowing even as I do know, the age and history of my own State, and especially this particular locality where we are now, to consider those ties from the days of my childhood to the present time. The narrative by Miss Belderrain of the Discovery of gold has not only been a delight, but it has been a revelation, because History in California fails to give you notice except in very few lines. And as we are to do our speaking in one language,— all of us in the language of Californians, I will continue a little. What has occurred here has inspired me to say to you what I am going to say. It is a very extraordinary fact that until the last fifteen or twenty years no historian of California has been a resident South of Monterey. Pardon me for my personal allusion to the matter. I served in the Senate of California with Senator Littell, a historian of California, and most reliable, and he informed me he was South of Monterey only once, when he went to San Diego for one or two weeks. I sat, then, by the side of John Dwinnell, another historian of California, a resident of San Francisco, and one of the most important, who is now writing a history of California, after a Sixty years' residence in Alameda County and its vicinity.
The History of California was born when those fearless men came with the Cross and planted it at San Diego,— forerunners of the Missions of California. They were the Pioneers of this land. Following their footsteps, others came and wrought a praiseworthy and lasting work, but, by accident, those who wrote this history of the State resided in the North.
— 2 —
I will tell you another personal incident. The history of California was based on a record of John Bielow [sic: s/b Bigelow] who transmitted to Bancroft that on which his history of California was founded, and which was the most correct of all. And, by accident, the contract was made, is in my own handwriting, because I was a student of law in his office, and I was instructed to write it, so I know what I am talking about.
Bancroft says that Gold was discovered in the South by a man whose biography sounds beautiful, — and he is correct. I heard the paper written by Mrs. Belderrain, — and no one in California knows better where Gold was found. I handed with my own hand to Mr. Savage Baker, in the 80s, a record and history of California, showing the appointment of my father.
Now, after two hundred years, it has been said by historians that an English navigator said there was gold in abundance here. There is no record however of its having been found. About one hundred years later, however, gold was definitely discovered, and it was at the time and place, and by the person narrated in this beautiful document read to you, and we appreciate it greatly. Therefore it is a very important thing. Of course there was no noise made except in the local part of the State when Francisco Lopez discovered Gold here. There was no promotion scheme in its development. When Marshall discovered Gold in the North, he also discovered some good advertisers, — almost as good as the Real Estate advertisers of Los Angeles! — He found Mr. Sutter and those who were building up the site of San Francisco.
At this moment there is being written a story or history of California,— seven volumes of which are already out. I spent a few hours reading of the Gold excitement. But there are only three lines in regard to Mr. Lopez. It was this wonderful statement,— that Gold was discovered by Lopez somewhere between Santa Barbara and San Pedro! Therefore the statement made by our Chairman, in defence of this particular statement, and the wisdom of coming here today with affidavits and proof. That fact is very material to some of us who have lived in this part of the State and imbibed its atmosphere and have prospered somewhat in its blessings. It is, however, amazing to read of wonderful, false statements made by people who do not know what they are talking about. A biographer comes to your office and says "I was instructed to come and write your biography." Yes? "It is essential that your name and biography goes in this book." I say "Yes, and when did you come?" He says "I left day before yesterday. Came here from Oregon with instructions to write a history." My friends, no man can write a history or biography of another unless he knows him, fishes with him, and eats three or four meals with him.
---
Webmaster's note.
Reginaldo F. Del Valle, originally of Rancho Camulos, served in the state Senate from 1882-1886 after serving in the Assembly, as a representative from Los Angeles County. In 1930 he would have just retired from the L.A. Public Services Commission, aka Water and Power Commission, which brought water to Los Angeles from the Owens Valley. Del Valle served on that board for 21 years. Obviously the term "senator," signifying the highest office he attained, was used as an honorific the rest of his life. Del Valle was also a founding member of Charles Landmarks Club, which goal was to salvage the crumbling Spanish missions; and he was one of the 40 founding members of the Southern California Historical Society.
The "Chairman" herein referenced is Adolfo G. Rivera of La Mesa Club.
---
AP9011a-d: 19200 dpi jpegs from digital images by Leon Worden, 3-2-2008, of original document in A.B. Perkins private collection.