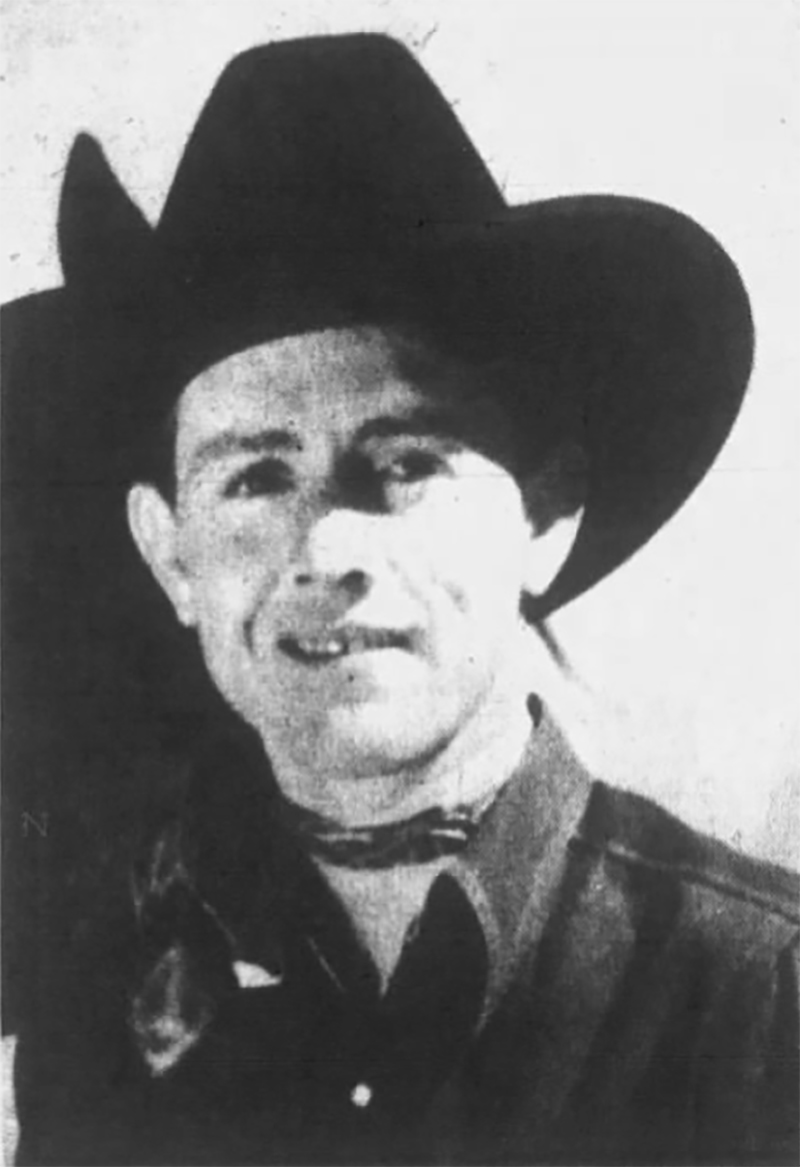 Family and friends paid final tribute to William "Red" Lamoreaux Monday at Chapel of the Oaks, Eternal Valley Memorial Park.
He died November 20 [in Reseda] after a prolonged illness
"Red," as he was known to all his friends, was born in Galletin, Missouri, on September 3, 1913.
At age of seven he came west with his parents, Myrtle and Floyd, and sisters Lucille and Betty and settled in Newhall.
At eleven, Red got a job doubling for child actor Frankie Darrow, and at 13 became one of the highest paid child movie stars of the era, creating the western character of Buzz Barton.
His meteoric career began in Newhall, initiated by his life-long friend, Andy Jauregui, who acted as his manager, when Andy negotiated a contract for young Red with FBO studio (later to become RKO).
A Hollywood paper dated July 20, 1927, printed: "FBO Studio signed Buzz Barton to a long term contract. Barton is unique insomuch as he is the first and only boy western star on the screen today. The freckle-faced 13-year-old youngster rides like fury and dares more death-defying stunts on a horse than any grown cowboy. They call him the 'ridin' fool of Hollywood.'
"Buzz makes his bow in 'Saddles and Spurs.' The studio plans to create a boy Tom Mix or Bill Haft of Barton."
Young Buzz was best known for a series of westerns he starred in with fine character actor Jack Perrin.
He also played opposite western stars Rex Bell, Francis X. Bushman Jr., Ken Maynard, Bob Steele, Hoot Gibson and Ruth Mix (daughter of Tom.)
Among his close friends was movie cowhand and Oscar winner Ben Johnson.
As a boy and young man, Lamoreaux shared a close friendship with William S. Hart and the great character actor Harry Carey.
In his late teens and twenties he was a fine cowboy and won a silver buckle in the steer wrestling event at the July 6, 1940 Bend, Oregon Rodeo and a championship saddle in the saddle bronc riding event in Lakeside, California, the same year.
His film career came to a halt with the onset of World War II, when he enlisted in the U.S. Navy and served in the South Pacific.
He was aboard the famed battle ship Missouri bound for Japan when word came that the war had ended. He witnessed the boarding of the Missouri by General MacArthur and Admiral Tojo and their signing the Peace Treaty that ended World War II [sic; Tojo wasn't there].
Lamoreaux married Thelma Doyle on June 22, 1947. They moved to Chloride, Arizona, where he managed a large ranch for William G. Bonelli.
Returning to California in 1956 with their daughter Linda, he again worked in the motion picture industry as a top wrangler, out of the Randall Ranch in Newhall, until poor health forced his retirement in 1979.
The Lamoreaux have resided in Sylmar since 1962. He is survived by his wife and daughter.