16. Golden Dreams
Spring was the time of year when friends and relatives of the great land owners would gather for the annual cattle roundup. It was a colorful spectacle of barbecues, dashing vaqueros on richly caparisoned steeds, and flirtatious señoritas with dark and flashing eyes.
Juan José Francisco de Gracia ("Chico") Lopez, the uncle of Doña Jacoba del Valle, often visited Rancho San Francisco, where he leased a section of land to graze his own herd.
But Francisco Lopez was no simple rancher. Educated at the university in Sonora, Mexico, where he studied mineralogy, he systematically searched for gold throughout Rancho San Francisco. That fact is often overshadowed by the legend of how he finally discovered the shiny metal.
Early in the morning of March 9, 1842, Lopez and two companions, Manuél Cota and Domingo Bermudez, rode out into the Cañon de los Encinos (Live Oak Canyon) in search of half-wild range cattle. Around noon, they paused to rest under a massive oak tree where, according to legend, Lopez fell asleep and dreamed he was floating on a pool of gold.
Whatever the truth about the "dream" legend, when Lopez awoke he walked over to some nearby sycamore trees and began pulling wild onions to enhance the flavor of the beef jerky his niece had packed for lunch. Something glittered in the roots.
"I with my sheath knife," Lopez would later say, "dug up some wild onions, and in the earth discovered a piece of gold, and, searching further, found some more."
Cows were forgotten as the three men rushed back to the ranch house. Doña Jacoba was skeptical and suggested that the sample be taken down to Abel Stearns, the Yankee merchant in Los Angeles who would know if it was really gold or something else.
The next day, Francisco rode to Mission San Fernando where his brother, Pedro Lopez, was majordomo. Together they rode into town, where Stearns ran tests that confirmed the existence of "a placer of gold."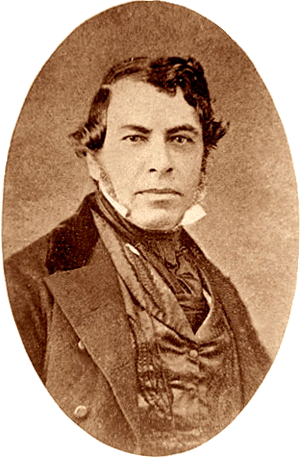 Ygnacio del Valle
Stearns sent the sample via Alfred Robinson to the United States Mint in Philadelphia, where it was assayed at .926 fine gold, worth $19 an ounce. Other samples found their way to Mexico City and were made into coins.
Within a few months, California's first gold rush was under way. Most of the two thousand miners came from the Mexican state of Sonora. They literally tore up the canyon, which was by then renamed Placerita.
Just as during the gold strike at Sutter's Mill six years later, there were claim jumpers, shoot-outs and swindlers. On May 3, 1842, Governor Santiago Arguello named Ygnacio del Valle "encargado de justicia del placer de Rancho San Francisco." Thus was the state's first mining district established.
By November, two hundred ounces had been exported from Rancho San Francisco. Del Valle kept accurate records, sorted out the often-conflicting claims, and recorded that 125 pounds of ore were quarried before the mines petered out in 1848[6].
Meanwhile, Lopez was busily petitioning the government for rights to his claim. Eventually he was awarded Rancho Temescal, which ran through the mountains from present-day Castaic to Piru. Of the $616,000 in gold mined in Placerita (at present values), the discoverer's share would bring less than $100.
The Placerita rush was overshadowed by the better-known find on the American River, yet its place in history as the first gold rush in California is secure[7].