"A Range Rider of the Yellowstone" by Charles C. Cristadoro at the municipal airport in Billings, Mont.
Bronze, 6-foot 7½-inch statue depicts William S. Hart, who commissioned the piece for $20,000. Modeled from life.
Cristadoro was working on the sculpture in Newhall in late August-early September 1925. At the time, Hart would have been living in the ranch house at the bottom of he hill where he'd soon build his mansion.
Plaque at the monument reads:
Range Rider of the Yellowstone
"A Range Rider of the Yellowstone" was made from life and posed by William S. Hart and his horse. It was donated to the city of Billings by Mr. Hart and was dedicated July 4, 1927, the 45th anniversary of the founding of the city.
The figure expressed by Mr. Hart as "a symbol of the old cattle days of the valley of the Yellowstone," looks with far-reaching eye over the country made famous by the Fort Dodge Trail, the Texas Trail days and the extensive cattle ranching operations which followed them.
Presented by Billings Chamber of Commerce
Although the plaque says Hart donated the statue, the Smithsonian American Art Museum's Inventories of American Painting and Sculpture notes that another nearby plaque says the statue was donated by a Mr. and Mrs. John Popovich. The Smithsonian also records a discrepancy in the date of execution of the statue: A 1988 report from the Hart Museum says it was sculpted in 1927, while a 1994 survey of outdoor sculpture in Montana gives a date of 1926.
According to Smithsonian records, both Hart and his horse Fritz attended the dedication on July 4, 1927.
A sculptor of character models for The Walt Disney Co. in the 1930s and '40s (Pinocchio, Dumbo and more), Charles Cristadoro was a second-generation Italian American born Nov. 18, 1881, in New York City. His father was a successful writer. Charles developed an interest in sculpting at the 1893 Columbian Exposition and eventually made it into the Art Students League. Long story short, he ended up in Los Angeles and was hired to work on a sculpture in the 1915 Pan-Pacific Exposition in San Francisco, specifically a kneeling figure that was part of the Tower of Jewels.
In a published 2012 biography of Christodoro, writer Vincent Romo says: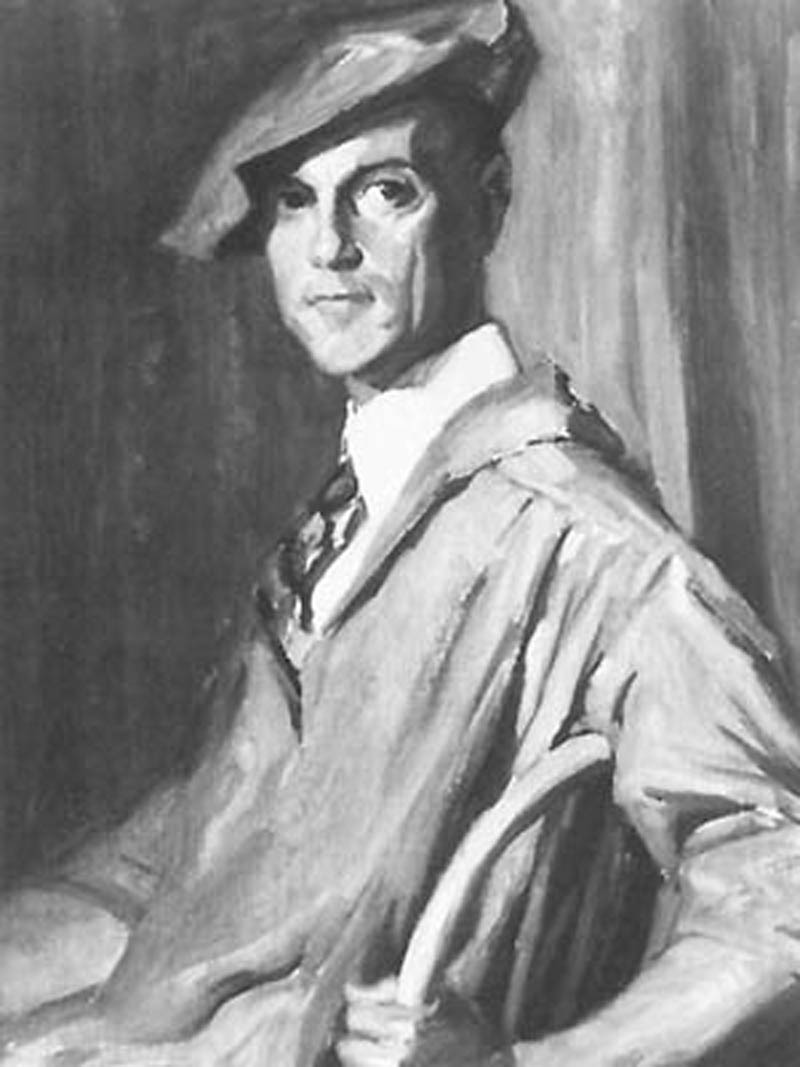 Portrait of Charles "Cris" Cristadoro by San Diego-area artist Aloys Bohnen, early 1920s. Painting destroyed in a fire at Bohnen's Point Loma studio. Source: San Diego History Center.
Cristadoro's next big assignment came from cowboy megastar William S. Hart. Cristadoro would work on a set of miniatures, one of which was a depiction of Hart carved out of a billiard ball, which were carved out of ivory and bone. The miniature Hart carving is two and one-eleventh inches in height, 46,676 times smaller than Hart. The miniatures garnered enough attention to have a full page dedicated in Vanity Fair. Cristadoro worked for Hart over the next fifteen years, creating numerous sculptures. Most famous are his Two-Gun-Bill and Range Rider of the Yellowstone. The Bronze version of Two-Gun-Bill would have a number of copies made. In 1926, the three-foot statue would become the "Bill Hart Trophy," awarded to the winner of the saddle bronco competition at the 1925 Cheyenne Frontier Days Rodeo. Billy Wilkinson was awarded the trophy, the only recipient. Hart's generosity was not repeated in subsequent years and did not initiate a tradition.
Range Rider of the Yellowstone cost Hart $20,000 out of his own pocket, equaling almost a quarter of a million dollars by today's standards. More than just the price was hefty. The bronze statue was massive, the finished product measuring 6-foot, 7.5-inches in height. "The artist has caught a look of distance in the eyes that would match the location we seek," Hart said of Cristadoro's piece in September 1926, "as though the work was modeled on that very spot where God made life in death." His final favor to Hart was to create a bust of mutual friend C.M. Russell for Nancy Russell and the C.M. Russell Museum. The Russell bust is still on display on that old cedar post sent to Cristadoro by Nancy Russell.
Read Romo's full biography of Christodoro here.
Early 1930s colorized linen postcard titled "Bill Hart Monument and Airport, Billings, Mont.," distributed Robbins-Tillquist Co. of Spokane, Wash.; colored by C.T. Art-Colortone. No descriptive information on back of card.
---
William S. Hart
When William S. Hart began his film career in 1914, he initiated a fresh approach to Westerns that continues to influence the genre today. Although Western motion pictures were already very popular, for the most part they were exercises in mediocrity, filled with "impossibilities or libels on the West," according to Hart in his 1929 autobiography, My Life East and West. But in the course of appearing in or producing more than 60 movies over an eleven-year span, William S. Hart created a film style that revealed a more authentic vision of the Old West. At the same time, he made a major contribution to film history by developing and embodying the prototype of the frontier hero. Fame, artistic recognition, and wealth were Hart's rewards.
A Childhood in the West
William Surrey Hart was born in Newburgh, New York, probably in 1864. During his boyhood, his family traveled extensively in the Midwest as his father searched unsuccessfully for the ideal site to build a gristmill and make a permanent home for his family. Young Bill was raised in a pioneer atmosphere; he had contact with Indians, ranchers, and cowboys and learned Indian sign language and a little of the Sioux language from his playmates. He gained a respect for Indians and their cultures that he never lost.
Hart's First Career
The Hart family returned to New York while Bill was in his early teens, and it was there that he developed an interest in the stage. By 1900 he had appeared in productions from New York to San Francisco to Montreal. He received critical acclaim for his own production of The Man in the Iron Mask and his creation of the role of Messala in Ben Hur.
Hart's first Western role was also in a stage production: in 1905, he was cast as "Cash" Hawkins in The Squaw Man. His subsequent stage roles were primarily Western and included the lead in an enormously successful production of The Virginian.
Two Gun Bill
While touring with the company of The Trail of the Lonesome Pine in 1914, Hart decided to move to California to make Western films. In his autobiography, he wrote, "I was an actor and I know the West. ... I had to bend every endeavor to get a chance to make Western motion pictures." Hart obtained parts in several Westerns and collaborated in writing screenplays, and his film career was launched.
As a filmmaker, Hart drew on his childhood experiences, insisting on using realistic costumes, locales, and situation. The public loved "Two Gun Bill" and his movies, and he obliged the fans with one success after another. He became one of Hollywood's top actors and most successful directors.
La Loma del los Vientos
Some of Hart's Westerns were shot on and around a ranch in Newhall, California. In 1921[1] he purchased the property from Babcock Smith. After completing Tumbleweeds (1925), his final film and one of his finest, Hart commissioned Los Angeles architect Arthur Kelly to design a magnifient Spanish colonial-style mansion, which Hart christened La Loma de los Vientos (Hill of the Winds) and occupied in 1927.
Hart filled his home with treasure reflecting his interest in the West, including Navajo textiles, Indian costumes, guns and weapons, and Western paintings and sculptures. In his retirement, he became active in the operation of his ranch and deeply involved in Santa Clarita Valley community affairs.
He wrote more than a dozen novels and short stories as well as his fascinating autobiography, My Life East and West.
Hart's reputation as a Western figure put him in contact with other prominent personalities of the day. Western enthusiasts, such as Will Rogers and Wyatt Earp, and important artists, including Charles M. Russell, C. C. Crisadoro, and James Montgomery Flagg, visited the ranch or corresponded with Hart.
The Hart Legacy
True to the spirit of Western heroes he had portrayed on screen, Hart was humbly grateful to the fans who had supported his film career. "While I was making pictures, the people gave me their nickels, dimes, and quarters. When I am gone, I want them to have my home." When he died in 1946, he left the bulk of his estate to the County of Los Angeles, stipulating that his house and the ranch property were to be used as a museum and public park.
Today, the Parks and Recreation Department of Los Angeles County operates and maintains William S. Hart Park, which includes hiking and nature trails, a large picnic area, a campground, an exhibit of farm machinery, an assortment of live animals including a herd of bison, and approximately 110 acres set aside as a wilderness area.
The Natural History Museum of Los Angles County is responsible for the interpretation of the historical portion of Hart's bequest, which includes his home and its contents and several other buildings. The Friends of Hart Park and Museum, an active group of local citizens, provides volunteer support services.
La Loma de los Vientos stands today not only as a tribute to William S. Hart but as a valuable and edifying museum. Hart's personal effects and movie paraphernalia are displayed in his home along with Indian artifacts and Western American art that he amassed. These materials form a major resource for understanding the American West as it was perceived in the early part of the century.
1. Note: Original piece from Friends of Hart Park said 1925.
Hart biography ©Friends of Hart Park • Used by permission.