Southern California history is ornamented with romantic tales, real and mythic, but perhaps no place has been home to more such romances than Rancho Camulos.
In 1884, writer Helen Hunt Jackson became enchanted by the tree-shaded Ventura County ranch during a visit there. She used it as the setting for the fictional Moreno Rancho in her quintessential California romance, "Ramona," a fanciful novel that shaped the nation's idea of California for decades.
Because of the book's instant and enduring popularity — enhanced by sketches of the setting — the rancho created a small tourist and film industry boomlet all by itself. The place soon became known as the "Home of Ramona" and a physical incarnation of the vanished californio pioneer lifestyle and of its version of Romeo and Juliet: the tragic Ramona and her dashing Indian lover, the doomed Alessandro.
But in real life, Rancho Camulos is where three generations of Del Valle pioneers built their families and political careers over almost a century, with love stories of their own and California's first gold strike.
Most of the ancestral Del Valle spread has long since been sold. But from the last years of Mexican rule through the first 74 years of California statehood — 1839 to 1924 — the Del Valles were among the most prominent families in Southern California.
In 1839, Gov. Juan B. Alvarado awarded soldier Antonio Seferino del Valle 48,612 acres of Rancho San Francisco, a swath running 22 miles from what is now Valencia to Piru, not far from where Piru Creek empties into the Santa Clara River.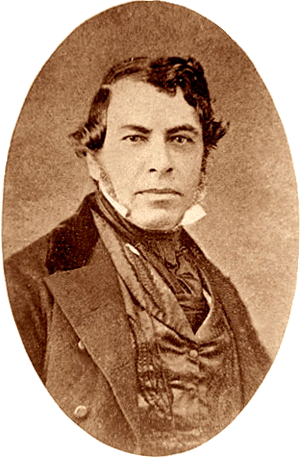 Ygnacio del Valle
When Del Valle died two years later, the property was divided among his second wife, Jacoba, and the children from his two marriages. Ygnacio, the oldest son, carved out 1,800 acres on the western edge surrounding the former Indian village of Camulos, which means juniper tree. He built corrals and stocked them with cattle.
His ranch foreman, Francisco Lopez, was out searching for stray cattle in 1842 when he yanked a few wild onions out of the ground and found flakes of gold among the roots — half a dozen years before the gold strike up north.
It was nowhere near as spectacular as Sutter's Mill, but it spurred a minor gold rush that drained workers from ranches throughout the region. The Del Valles mined too, and family members fashioned rosary beads and jewelry from the takings. Mining came to a stop during the Mexican War, when Ygnacio Del Valle blew up the mine's entrance, fearing that Yankee troops would steal the gold.
But it was the green gold of agriculture that eventually brought the rancho prosperity. Thousands of cattle and a cornucopia of fruits, including acres of orange groves and vineyards, soon supported close to 200 residents.
As Rancho Camulos prospered, however, hunger and exhaustion were taking a toll on the '49ers who found their way there, straggling in from the hellish place they named Death Valley.
The rancho, 10 miles west of what is now Magic Mountain, was becoming a turnstile for Easterners heading north to the Gold Rush.
In 1850, when skeleton-thin survivors of the Jayhawker party crawled out of the cactus-studded terrain after a nightmare journey, the Del Valles offered them refuge. Revived, the travelers returned to that desert sink to rescue their companions with two horses and a one-eyed mule loaded with food and supplies, courtesy of the Del Valles.
The horses died, but the hardy mule, bearing the entire load, made it in time to save the dying, who lay on the scorched sand under their wagons. (The mule lived several years more, hauling gold for a '49er.) For the dead, Senor Del Valle generously opened his family cemetery.
Throughout a long political career, Ygnacio Del Valle was one of the Los Angeles Rangers, a vigilante committee formed to deal with "Mexican bandits." Under Mexican and American rule, he served as a mayor, treasurer, councilman, recorder and state legislator.
In 1852, a few years after his first wife died in childbirth, the 44-year-old Del Valle married 15-year-old Ysabel Varela. Living near where Union Station now stands, Ysabel helped to feed and care for the city's sick and poor, while her husband attended to his civic duties. Up at Rancho Camulos, they soon built the first four rooms of what would become the grand, legendary 20-room hacienda.
The old mission system had been dismantled, but a generous host and an ample number of local Indians to convert drew Franciscan priests monthly to the tiny Chapel del Valle, built for his wife.
Near the chapel Del Valle built a brick fountain. One of his sons planted a black walnut tree, under whose branches generations of family and friends would gather. The rancho was soon hailed as the "lost mission," a spot for worship in the miles between the San Fernando and San Buenaventura missions.
By 1871, the rancho was producing 15,000 gallons of wine and brandy per year. It would later capitalize on its ties to Jackson's novel, bottling the wine and crating oranges under the Home of Ramona label.
When Del Valle died in 1880, at age 72, his wife assumed control of the rancho with the help of her sons Reginaldo, a state legislator; Juventino, Ygnacio's illegitimate son; and Ulpiano, who managed the rancho and raised sleek thoroughbred race horses. (Ysabel and Ygnacio had 12 children, five of whom lived to adulthood.)
In 1888, four years after "Ramona" was published, Charles Fletcher Lummis, 19th century Southern California's most influential cultural figure and propagandist, went to the site and fell in love with both Rancho Camulos and the Del Valle family's teenage granddaughter. Although he had divorced and remarried, he wooed and won the girl, but her grandmother, Ysabel, put her foot down and quashed the match.
That same year, Lummis published his own book, "Home of Ramona," photographing and detailing what Jackson captured in her novel. As a love token, he assembled a leather-bound scrapbook for "Susanita," the teenager's nickname. It was embossed with her name in gold and filled with love poems and his original blue-tinted photographs.
Lummis was never banished from the rancho, but his visits grew less frequent. Heartbroken, Susanita refused to marry until the unheard-of age of 35, when she wed Edson Carter, a Los Angeles real estate broker. (The following year, in 1907, she and her baby died in childbirth.)
In 1905, the ailing Ysabel, then 68, was living in Los Angeles with a daughter. She had mourned her husband for 25 years, but she refused to die until his coffin had been dug up at Rancho Camulos and brought to her. She died soon after Ygnacio's remains were hauled into her room and set down beside her. She was buried with him in his coffin.
As the funeral cortege passed the Boyle Heights orphanage on its way to New Calvary Cemetery, 300 children stood outside to say goodbye to the woman whose work among the homeless was legendary.
America's Sweetheart Stars as Ramona
In 1910, director D.W. Griffith took America's blond sweetheart, Mary Pickford, to Rancho Camulos, where she starred in the first of several Hollywood versions of the story of the black-haired Ramona.
Two years later, Ysabel's granddaughter Lucretia, wearing her grandmother's period clothes, debuted in John Steven McGroarty's outdoor pageant "The Mission Play," a drama of early California. Passing trains rattled so violently that she had to hold her lines until the engine sound faded. Lucretia starred in 850 performances at the rickety playhouse at Mission San Gabriel, where the pageant ran for 16 years — 3,200 performances seen by more than 2 million people.
Even as Rancho Camulos' glory grew onstage, the rancho itself, mortgaged and poorly managed, was plagued by family feuds. In 1924, it passed out of Del Valle hands for $300,000, bought by oil baron August Rubel, who added a schoolhouse for his children. The Rubel family still owns the 1,800-acre citrus ranch. Family members worked to preserve its charm and history by carving out a 40-acre nonprofit park and museum, recently designated a National Historic Landmark.
Today, much of Rancho Camulos is open to the public and looks as it did more than a century ago, one of the few surviving examples of an early California rancho in its rural setting.