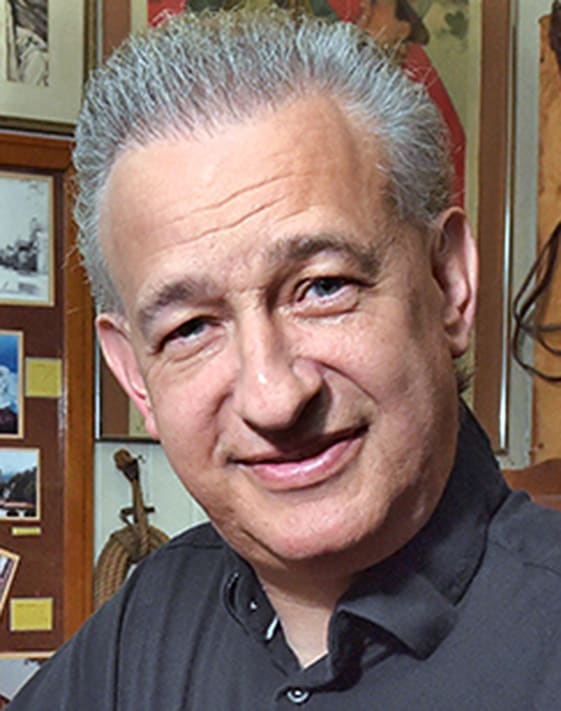 He owned the first general store in the new town of Newhall.
Hailing from the West Indies where he was born in 1839, George Campton moved with his father Thomas to Toronto, Canada, when he was 2 years old. Thomas Campton had been stationed in the West Indies as an officer in the British Army.

George Campton, believed to be the man at right, is seen in front of his store in about 1877. Click photos to enlarge. (AP0415)
After his father opened a mercantile business in Toronto, George Campton started his entrepreneurial career at age 16, when he opened a successful butcher shop, also in Toronto. Five years later, in 1861, he emigrated by steamer to San Francisco where he continued in the butcher business.
As did many California emigrants before him, George Campton had to take a shot at mining in 1868, but by then the "easy" gold was long gone. He drifted back to Monterey County by way of San Francisco, and there he had his first experience in merchandising, becoming a clerk in a general store. One year later, he was made the general manager of a large ranch dealing in stock and agriculture.
Campton's General Store
In 1875, a wealthy San Francisco businessman, Henry Mayo Newhall, purchased the Rancho San Francisco in a valley just north of the pueblo of Los Angeles. This valley more recently has been known as the Santa Clarita Valley.
Newhall hired Campton as superintendent of the rancho in May, 1875. The next year, the Western Development Co., a real estate subsidiary of the Southern Pacific Railroad, founded the town of Newhall at the current location of Saugus.
Campton left Newhall's employ to open up his own general store in the new community at the junction of modern-day Bouquet Canyon Road and Magic Mountain Parkway in September 1876. Two years later, the entire town, including Campton's General Store, was picked up and moved down to its present location centered around Railroad Avenue and Market Street.
Campton continued a flourishing business which included dry goods, general merchandise, lumber and farm implements, groceries, clothing, boots and shoes, and crockery. This second version of Campton's store was located at 8th Street and Railroad Avenue.
But Campton's commitment to the community did not stop with his store. He served as the first postmaster of Newhall for nine years. He also served a number of times on the school board of Newhall. In his spare time, he was also an insurance agent.
A photo of Campton's store from the 1880s identifies the store as an agency for the German-American Insurance Co. of New York and the American Central Insurance Co. of St. Louis.  
Campton and Forker: Brothers-In-Law
While living in Newhall, Campton met and married Gregoria de Soto, a member of a pioneer Spanish family from San Francisco. They, along with their three sons and a daughter, had a home at the northeast corner of 8th Street and Spruce Street (now called Main Street) in downtown Newhall.

In partership with William Forker, Campton operated a one-stop shop. (AP0411)
Gregoria's sister, Docliciana Fermina Soto, married a Pennsylvania emigrant named William Nelson Forker in 1886. They had four children: Alma Lenora, Wilfred Milton, Benjamin Leslie and Ysabel Hermina, the last three of whom were born in Newhall. The Forkers lived at the northeast corner of 9th and Chestnut streets in Newhall.
Forker had been the first oil commissioner of Kern County. He later served as a notary public in his brother-in-law Campton's store after moving to Newhall.
Campton, as an insurance agent for The Fireman's Fund Insurance Co. of San Francisco, actually issued a fire insurance policy in June 1899  to Forker to protect his home in Newhall. The policy covered Forker for fire damage to his home up to a maximum of $500, which included $400 on the structure itself and $100 for a piano in the house. The insurance policy cost Forker $7.50.
Forker got a payout from the policy for a fire in his home which occurred April 7, 1902. He received $17.50 from the insurance company for fire damage to the building.
Store Burns Down — First Time
Life had its ups and downs for George Campton and his family. An arsonist set his store on fire on the evening of March 3, 1882.
As reported in the next day's edition of the Los Angeles Herald: "About one o'clock yesterday morning the family of George Compton (sic), storekeeper and Postmaster at Newhall, was awakened by an explosion and found the house on fire, which had made such headway that they barely escaped with their lives. A few minutes afterwards the entire building was in ashes.
"The fire, which is supposed to have been the work of an incendiary, started in the rear of the store and soon reached some powder which was stored there. The explosion of this roused the inmates and scattered the fire in every direction. But for this they would undoubtedly have been burned to death, for in less than five minutes after they got out the whole building was a mass of flames.
"There was no water at hand and nothing whatever could be done to save the property, which was a total loss, amounting to $10,000. The house was insured for $4,000."
Also on March 4, the Los Angeles Times reported: "Night before last there was quite a fire at Newhall about one o'clock. It is supposed that some enemy to George Campton set fire to his store. Mr. Campton's dwelling house was adjoining the store and was also completely destroyed.
"The family were aroused by the explosion of gunpowder in the store, and came near getting caught by the flames before they got out of the house. The post office was in the store and everything was lost. The property was valued at ten thousand dollars and insured for four thousand."
Campton was determined to rebuild. On April 30, 1882, an article in the Los Angeles Times stated: "Mr. Campton, whose heavy loss by the burning of his large store with all its contents, which was reported in the Times at the time of its occurrence in February (sic), has just completed and taken possession of a better built and more commodious store building on the site of the old one."
In June 1882, Campton purchased more land from the Western Development Co. — Lots 1 and 2 in Block 25 (southwest corner of 8th and Railroad) and Lots 2 and 3 in Block 24 (one parcel distant from the northwest corner of 8th and Spruce). It is unclear what he did with this land, but the latter parcel may have been for a new house.
Campton was also appointed as the representative from Newhall to the general committee to receive President Benjamin Harrison when he passed through Los Angeles, including Newhall and Saugus, on his whistle-stop railway presidential campaign tour of 1891. The tour was of no help to Harrison, as he ended up losing his reelection bid to Grover Cleveland in 1892.  

Campton's fourth store as seen in the 1890s, after the third version exploded in 1891. (AP0901, same as AP0421)
Later Incarnations
Campton's new store exploded yet again in 1891 when a fire reached ammunition in the building. He rebuilt a fourth version of the store, which he eventually sold to his bookkeeper Frank Landell around the turn of the century.
Landell succeeded Campton as Newhall's postmaster and, in partnership with Nick Lindenfeld, took over the operation of the store. The store was renamed to Lindenfeld & Landell General Merchandise.
By February 1912, Landell's store had been purchased by Edgar B. Lewman and renamed Lewman & Co. General Merchandise. Lewman also took over as postmaster.
Up until 1914, the front of the store pointed toward Railroad Avenue. After 1914, the store was purchased by H.W. Bricker, becoming H.W. Bricker General Merchandise, and was reoriented to face Spruce Street (Main Street).
Spruce Street was widened in 1935, after which the old Campton store site became People's Market. Subsequent incarnations of the building included Chitwood's Furniture Store No. 2 and Hilburn Funeral Home.
The circa-1914 building burned down in 1961. The site of Campton's old store on Spruce Street is now Abe's Pawn Shop at 24336 Main Street.
George Campton died in March 1923. An obituary in the Newhall Signal of March 9, 1923 reads: "George Campton, one of the pioneer citizens of Newhall, passed away recently in Los Angeles at the age of 83. Mr. Campton located at Saugus the former site of Newhall about 50 years ago and ran a store which was moved here when the town moved. This was the first store in Newhall. Later he was appointed postmaster, an office which he held for many years.
"Mrs. Campton was Miss De Soto of San Francisco and came from an old Spanish family. The Camptons were very generous and thru them many needy persons received assistance. Mr. Campton is survived by a daughter and three sons."
---
Alan Pollack, M.D., is president of the Santa Clarita Valley Historical Society.