Webmaster's note.
The Live Oak Manor Cacti Gardens were created by retired Los Angeles contractor John Evans Olmstead in the mid-1920s on a section of the Needham Ranch that he called Live Oak Manor. We're unsure whether he owned or leased the property from the Needham family. Olmstead collected weirdly shaped rocks which he found in the desert and displayed in his gardens, where he offered cacti for sale. He closed the gardens in 1939 after the 1938 removal of the Newhall Auto Tunnel and the corresponding widening of Highway 6 (Sierra Highway) hindered vehicular access. All that remains is his Live Oak Manor rock archway, south of today's Eternal Valley Cemetery and north of the historic auto tunnel. The archway is to be preserved and incorporated into the south entrance of the planned Gate-King Industrial Park.
Olmstead built the "Live Oak Manor" rock archway in 1926 in the middle of what is now Sierra Highway. He moved it in 1930 to its present location to make way for the first of a few road improvement projects.
According to historian Stan Walker, the 1928 voter roll for Newhall shows Olmstead with an address of Live Oak Manor. Subsequent voter rolls, through 1944, show him living at 16413 and then 16813 San Fernando Road — which is how Live Oak Manor was addressed at the time. (Of the two, 16813 was probably correct.) Sierra Highway, aka U.S. Highway 6, was called San Fernando Road in the 1930s-40s-50s.
---

Click to enlarge.
Stone 'Zoo' Attracts Visitors.
Grotesque Figures in Odd Rock Garden.
Los Angeles Times | July 8, 1932.
San Fernando, July 7. — Buffaloes, snakes, fish, dogs, gophers and rabbits, to say nothing of chickens, lizards and likenesses of comic supplement characters, all in natural stone comprise one of the most unusual rock gardens in the West.
The novel zoo and "rogue's gallery" are the work of John Olmstead, retired Los Angeles contractor, at his home "Live Oak Manor," a mile [sic] west of the Newhall tunnel on San Fernando Road. Scores of visitors throng the gardens every Sunday, many doubting that the stones are just as Mr. Olmstead found them in his frequent trips into the desert.
A lover of the desert, Mr. Olmstead has been a collector of weird-shaped rocks found in Death Valley and in the vicinity of the Salton Sea for the past five or six years. Illness forced him to live in the desert for many months and while fighting his way back to health, he became interested in what the desert had to offer in the way of petrified woods, rare cacti and grotesquely shaped stones.
His rock garden is located near the highway, surrounded by a high wire fence over which rose vines trail. A large "welcome" sign hangs above the gate, for Mr. Olmstead makes no charge for admission and welcomes the public into his "menagerie."
A long arm, with a finger extending from the closed fist, points the way into the gate. The arm and finger are of natural stone, just as Mr. Olmstead found the freak.
The paths are bordered with a rabbit here, a dog there and with dolphins, whales and storks interspersed — all these of sandstone. Mr. Olmstead, to further carry out the illusion of animals, fish and fowls, has painted eyes on some of the rocks.
The visitor is struck with the resemblance that even the unpainted rocks bear to certain members of the animal or fish kingdoms.
The most-prized piece of nature's statuary in the collection is an intricately curved stone which is a masterpiece of natural carving. It is as if a skilled sculptor had fashioned the pattern from clay. This piece was found a few miles from the Salton Sea.
News story courtesy of Stan Walker.
---

Click to enlarge.
Cactus and Succulent Journal.
(Top to Bottom): June 1934, September 1935, February 1936, March 1936, April 1937.
John Olmstead, of the Live Oak Manor Cactus Gardens, Newhall, showed his collection of curious shaped rocks cut out by Mother Nature, fossil shells, and a fine group of Euphorbias.
* * *
J.E. Olmstead of Live Oak Manor Cacti Gardens, Newhall, Calif., will send a free package of 100 seeds of Scerocactus polyancistrus to any Society member sending him a self-addressed stamped envelope.
* * *
One of Mr. Baxter's pet ambitions was achieved when on Sunday, Jan. 19. 1936, at the regular meeting of the Society at John Olmstead's Live Oak Manor in Newhall, the final steps completing the incorporation of the Society were taken.
* * *
Live Oak Manor Cacti Gardens
We now have for sale, in addition to our large variety of cacti and succulents, 2 of the rarest native plants that grow in the U.S., Opuntia pulchella and Helianthielle (Panamint Daisy). Call to see one of the prettiest cactus gardens in California — covers about 2 acres — located ¼ mile north of Newhall Tunnel, on San Fernando Road, Newahll. Post Office Box 332, San Fernando, Calif.
* * *
Meetings of Cactus and Succulent Society of America
Sunday, April 25th, 10:30 a.m., joint meeting with the San Fernando Valley Society at Olmstead's Live Oak Manor Cactus Gardens, Old State Highway, Newhall. Bring your picnic lunch. Hot coffee will be provided.
Sunday, May 30th, joint meeting with Arizona Cactus and Native Flora Society at Phoenix, and Boyce Thompson Arboretum. Send to Howard E. Gates, Anaheim, Calif., for information sheet.
Entries courtesy of Stan Walker.
---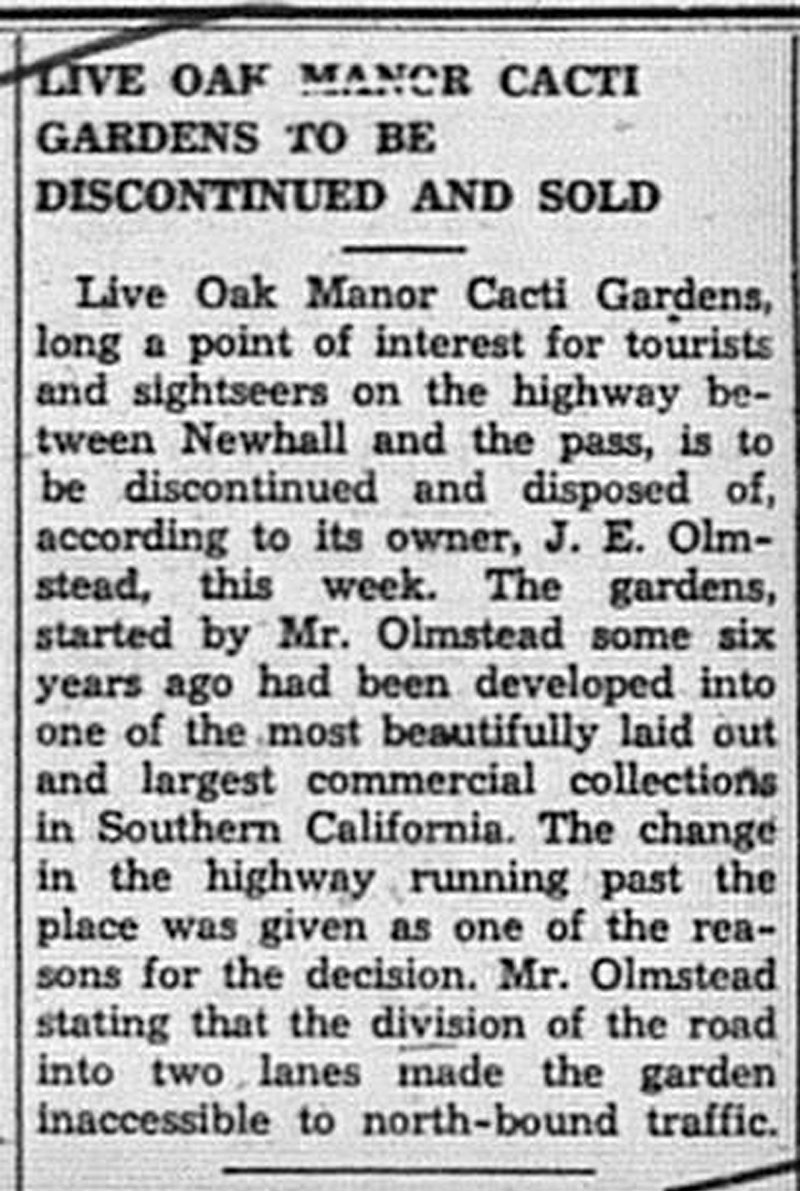 Click to enlarge.
Live Oak Manor Cacti Gardens to be Discontinued and Sold.
The Newhall Signal | March 10, 1939.
Live Oak Manor Cacti Gardens, long a point of interest for tourists and sightseers on the highway between Newhall and the pass, is to be discontinued and disposed of, according to its owner, J.E. Olmstead, this week. The gardens, started by Mr. Olmstead some six years ago had been developed into one of the most beautifully laid out and largest commercial collections in Southern California. The change in the highway running past the place was given as one of the reasons for the decision, Mr. Olmstead stating that the division of the road into two lanes made the garden inaccessible to north-bound traffic.
News story courtesy of Tricia Lemon Putnam.